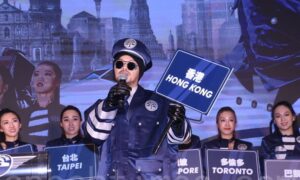 Wee: You may say that artists and singers should not be involved in politics, but the problem is that politics has always involved artists and singers, this is the truth
Malaysian singer Namewee Wee Meng-Chee's "Namewee Big Bird World Tour" will be held in more than ten cities around the world, but he expressed regret on March 14 that his "Application for a Hong Kong (venue) was not successful," he thought it "maybe due to some pressure (from somewhere)."
During an interview, he mentioned that the Hong Kong session was the first to apply for this tour, but unfortunately, he was restricted and unable to perform in Hong Kong. In Taiwan, it is much easier to apply for a concert venue no matter where it is, and there is never such a problem. He added, "I have a lot of fans in Hong Kong, and to be fair, it (Hong Kong's handover) has not yet been 50 years, it should still be free, and there should not be any restriction on holding any concert."
Wee then said on Facebook, "Hong Kong is free, at least for the next 24 years, no concerts should be restricted!"
"Beyond the Edge," created by Wee in 2020, was banned promptly by the Chinese Communist Party (CCP) on Weibo as soon as it was released. At that time, Wee said through Facebook: "The song's content conveys the determination to pursue freedom and ideals, and it portrays the mood and contradiction when facing problems. How the audience interprets and judges are beyond the control of the songwriter. You may say that artists and singers should not be involved in politics, but the problem is that politics has always involved artists and singers, and this is the truth. Music is free, regardless of one's stance, race, or language, but politics can never do that."
He also shared the content of his interview with the media: "Today's press conference announced the 16 cities of "Namewee Wee's Big Bird World Tour." Hong Kong is the odd one out! We are still working hard… Call on the Hong Kong businessmen and politicians, if you are willing to help, you can contact us, we are always open to any terms."
For this tour, Wee is expected to travel to 16 cities worldwide, including Asian cities such as Taipei, Kaohsiung, Bangkok, and Osaka, as well as cities such as Paris, London, Sydney, and Vancouver, hoping to meet fans from all over the world.
Namewee Wee is a singer-songwriter, director, Internet celebrity, Youtuber, and host from Malaysia. His works have won many international awards.
He has publicly criticized the social phenomenon in Malaysia a number of times, which led to his being wanted by the Malaysian police and being repeatedly investigated. In October 2021, he released his Chinese single "Fragile" mimicking the CCP and the "Little Pink (blindly patriotic)" group. After the song was released, it was banned in mainland China, and the Weibo accounts of Wee and co-singer Kimberley Chen were both banned. All the works of the duo have also been completely removed from the search list.