South Korea Removes China as 'Strategic Partner' in Its Latest National Security Strategy Report
Amid growing tensions between South Korea and China, Seoul removed the phrase "strategic partnership" describing the two countries' relations from its latest national security document.
Moreover, a recent opinion poll found that nearly 80 percent of South Koreans do not trust communist China.
On June 7, the Yoon Suk-yeol administration released the latest version of South Korea's National Security Strategy, a top-level document on the country's foreign and security policy directions.
The new strategy document labeled North Korea's increased nuclear missile capability as "the most serious challenge" and emphasized strong countermeasures, with a new policy focus on the Korea-U.S. alliance and Korea-U.S.-Japan cooperation.
The paper removed the "strategic partnership" wording describing the country's relations with China during the previous Lee, Park, and Moon administrations. Instead, it was replaced with "moving toward a healthier and more mature relationship based on mutual respect and reciprocity."
It also proposed to adopt "an upright diplomatic tone based on national interests and principles" and added that "THAAD is an issue of South Korea's security sovereignty."
THAAD (Terminal High Altitude Area Defense) is a U.S.-designed and manufactured anti-missile system installed in South Korea between 2016 and 2017 as a bulwark against a potential North Korean missile attack.
But Beijing has insisted that the deployment of THAAD affects China's security and has since adopted a series of countermeasures against South Korea.
In addition, the order of countries in East Asian diplomacy has been changed from "China, Japan, and Russia" in the previous administrations to "Japan, China, and Russia."
A senior source in the South Korean presidential office told The Korean Herald that it is customary to list diplomatic countries in the order of allied and friendly relations, adding that "it is the standard to arrange countries in the orders that are closer to South Korea in terms of the rule of law, constitution, freedom, and value orientation."
Beijing Envoy's Remarks Spark Criticism
On June 8, Chinese Ambassador to South Korea Xing Haiming met with the main opposition party leader, Lee Jae-myung, during which Xing indirectly criticized the South Korean government.
"Some people bet on the United States to win and China to lose, but this is clearly the wrong judgment. What can be said with certainty is that those who bet on China's defeat will surely regret it later," Xing said.
Xing's remarks sparked widespread criticism and controversy in South Korea.
The South Korean Ministry of Foreign Affairs summoned him the next day and warned him about his "senseless and provocative" remarks. The ministry accused him of violating diplomatic protocols and interfering in domestic affairs.
On June 10, Chinese Foreign Minister Nong Rong met with South Korean Ambassador to China Jeong Jae-Ho to protest Seoul's summoning of Xing, displaying tit-for-tat diplomacy.
According to Yonhap News, President Yoon directly criticized Xing's behavior in a closed-door meeting on June 13.
"Judging from the attitude of Chinese Ambassador Xing Haiming, it is doubtful whether he, as a diplomat, understands mutual respect or friendship," Yoon reportedly said.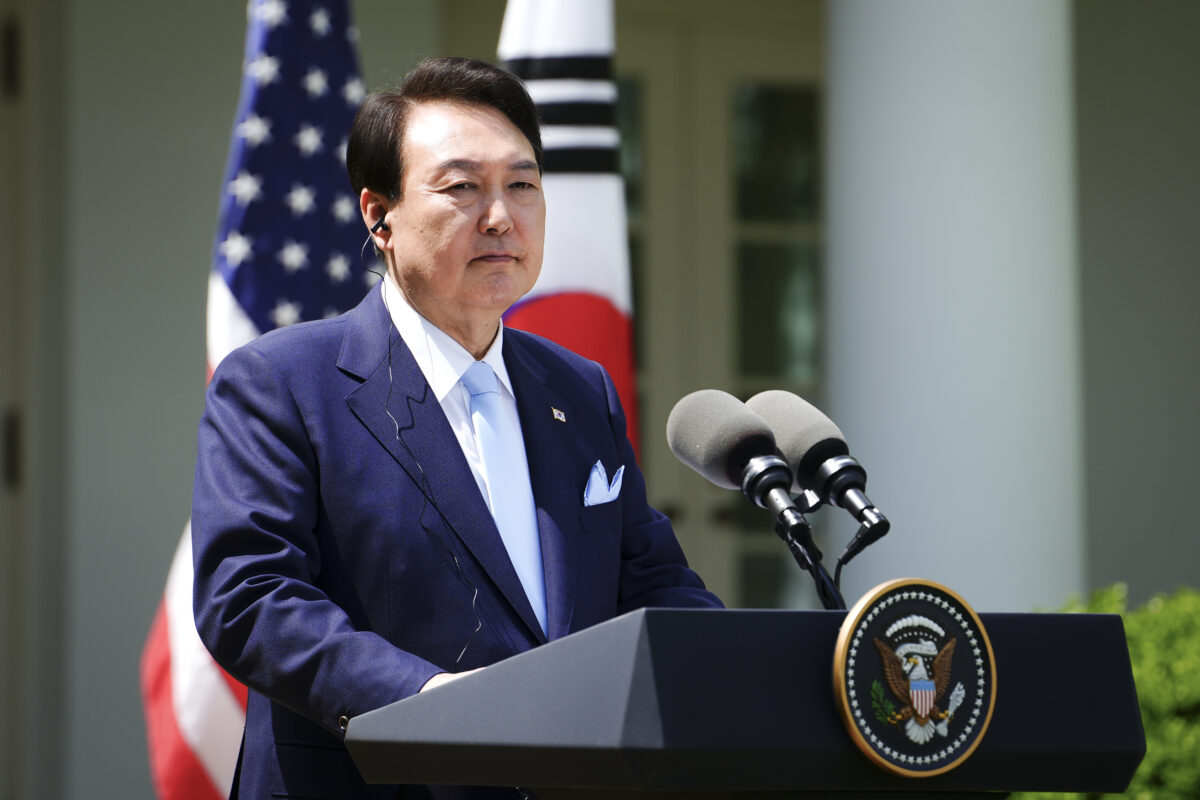 'Never Grovel to the CCP'
Kim Taewoo, former head of Seoul's Korea Institute for National Unification and a former senior research fellow at the Korea Institute for Defense Analyses, told The Epoch Times on June 18 that the new National Security Strategy reflects South Korea's "relationship with China" since Yoon took office.
"The new strategy document reflects the Yoon administration's will to reverse the Moon Jae-in administration's groveling attitude toward China, as evidenced by its recent handling of Chinese Ambassador Xing's provocative remarks," Kim said.
Kim said although some voices in South Korea worry about the further deterioration of Korea-China relations from economic and geopolitical perspectives, "the direction [of the strategy document] is correct, and we can only take a clear and explicit stance against the Chinese Communist Party [CCP]. Otherwise, cooperating with the U.S. and Japan to deal with North Korea will become difficult."
"We should understand that we should never grovel to the CCP, and the more South Korea gives in, the more it grovels, the more the CCP will gain ground," he added.
He believes the former Moon Jae-in administration once played an arbitrator role between the United States and China.
"If South Korea awkwardly walks the tightrope between the U.S. and China, the trust of both countries will be eventually lost," Kim said, "especially amid the new cold war confrontation between Washington and Beijing."
He cited the Winter War when the Soviet Union invaded Finland in 1939 as an example. At the time, Finland was walking a tightrope between Nazi Germany and the Soviet Union, eventually losing both countries' trust. When the Soviet Union invaded Finland, Nazi Germany did not help. Ultimately, one-tenth of Finland's land was occupied by the Soviet Union and had to surrender.
In light of this reality, the China policy adopted by the Moon Jae-in administration was not beneficial to South Korea, according to Kim.
"South Korea is currently facing a diplomatic issue with [the CCP], that is, South Korea can only deal with the security threat to North Korea if it gets closer to the United States and Japan. The CCP should recognize this fact," he emphasized.
Many Koreans Don't Trust China: Survey
A survey conducted by Korea Public Opinion Evaluation Research Institute (KOPRA), commissioned by the South Korean civic group Justice Media Citizen Action, suggested that over three-quarters of Koreans "do not trust China," regardless of political orientation.
Among 1,036 respondents, 76 percent said they "don't trust China," among them, 64 percent identified as "progressive," and 85 percent identified as "conservative."
Regarding age groups, 81 percent of those in their 20s, 82 percent in their 30s, and 74 percent in their 40s and 50s responded that they "do not trust China."
Regarding Xing's controversial remarks, 74 percent of the respondents said it was "inappropriate," while 20 percent answered it was "appropriate."
When asked what measure the Korean government should take against Xing, 43 percent said that "he should be strongly urged to pay attention to his words and actions," while 22 percent said that "he should be expelled from the country."