Taiwan Semiconductor Magnate Donates $100 Million for Defense To Help Thwart China Aggression
The chair of the world's second-largest microchip maker announced a $100 million donation to the Taiwan government for defense against China on Aug. 5, after Beijing initiated massive military drills around the island.
"$100 million is not much money to buy weapons," Robert Tsao, founder of chipmaker United Microelectronics Corp (UMC) who now lives in Singapore, said at a press conference in Taipei. "I hope it can awaken Taiwanese people from being greedy for money and fearful of death, and can fight to defend freedom, democracy, and human rights."
Tsao said the Chinese Communist Party (CCP) worships "totalitarianism, deceit, hatred, and violence," its members are "hooligans and rogues," and the regime is "an underworld."
The tycoon condemned Beijing's military exercises, which it used in retaliation for Nancy Pelosi, speaker of the House of Representatives, visiting Taiwan on Aug. 2 and 3. He exhorted the people of Taiwan to be brave and confront China's "verbal threats and intimidation by force."
The Chinese regime claims the island as its own, despite the fact that Taiwan is a de facto independent country, with its own military, democratically-elected government, and constitution.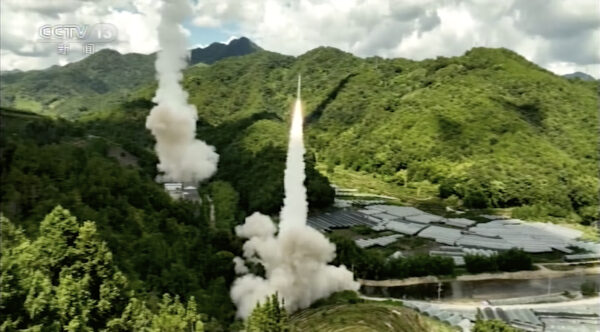 Private Donation
Tsao said that he gave the money because he saw dangerous phenomena in Taiwan, as Beijing has launched cognitive warfare, psychological warfare, and public opinion warfare against Taiwan on the island.
"Many Taiwanese become ostriches [when facing China]," The 75-year-old businessman said, "They think China won't launch a war if Taiwan doesn't anger it."
He then listed two other groups: The people who think that Taiwan isn't strong enough to go against China and want to surrender to save lives; and the people who think they would be protected by a big country if Taiwan became a part of China.
As a person who has invested in China for decades, Tsao warned the Taiwanese people that the Chinese regime lies.
"Look at the homicidal fierceness and haughtiness displayed before and after Pelosi's Taiwan visit by China's Foreign Affairs Ministry, Taiwan Affairs Office, and Hu Xijin [journalist]," Tsao said. "China's lies, including Taiwanese and Chinese are brothers and that Chinese won't engage in combat with Taiwanese, can't stand any test."
Tsao said that he has no interest in politics. He donates to maintain Taiwan as a clean land for Chinese speakers worldwide.
He quoted lyrics of the U.S. national anthem The Star-Spangled Banner: "the land of the free and the home of the brave" and said: "freedom belongs to the courageous. Cowardice ends up being enslaved."
Robert Tsao
Tsao was born in Mainland China, raised in Taiwan, holds Singapore citizenship, founded UMC in the early 1980s, and grew it into the world's second-largest semiconductor chip original equipment manufacturer (OEM).
In the late 1990s, Tsao wanted to invest in the mainland because of China's huge market. He routinely endorsed the Chinese authorities at that time. In the past 20 years, he set up two UMC factories in China. One in eastern China's Suzhou city, and the other in southern China's Xiamen city. Since his company invested in China, people believe Tsao should support Beijing.
In an interview with Wealth Magazine in December 2019 after leaving his executive position at UMC, Tsao said, "If we can do it all over again, I hope we don't go to the mainland to assist in setting up factories."
Tsao didn't mention details of his experiences in China, but has defended Taiwan's freedom and democracy since then.
In March, he publicly urged the Taiwanese citizens to defend the island themselves rather than rely on foreign powers. He said his two sons hold Taiwan citizenship. "They will both return to fight off the PLA (People's Liberation Army) forces if a confrontation occurs in Taiwan."