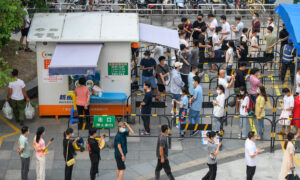 As China's Two Sessions meetings begin, the regime grapples with COVID's colossal price tag
China's annual "Two Sessions" meetings began on March 4. During the yearly meetings of the National People's Congress (NPC) and the Chinese People's Political Consultative Conference (CPPCC) National Committee, China's central government will deliver a progress report and set development targets for the upcoming period. This year's session is expected to be particularly significant, coming on the heels of COVID-19 lockdowns, massive unrest in China, and the sudden reversal of China's Zero-COVID policies, followed by months of a raging viral outbreak.
However, Chinese communist officials may choose to ignore the most serious issue China is facing: the huge cost of COVID-19-related measures over the past three years.
That cost includes a host of expenses surrounding prevention, pandemic control, testing, and treatment. It can be estimated from several different data sources.
Medical Expenses for COVID-19 Patients
According to a document released in August of 2021 by China's central propaganda department, the per capita medical expenses of hospitalized COVID-19 patients were about 20,000 yuan ($2,900), while the per capita treatment expenses for seriously ill patients exceeded 150,000 yuan (about $21,740).
The Chinese regime currently pays for hospitalization costs for COVID-19 patients, and is expected to do so until at least the end of this month, according to a January report on state media China Daily.
Figures released in mid-February by the Chinese Communist Party (CCP) claimed that more than 200 million people have been treated since November last year, of which nearly 800,000 were critically ill patients.
"More than 200 million people have been diagnosed and treated, nearly 800,000 severe patients have been effectively treated, the COVID-19 mortality rate has remained at the lowest level in the world, and a major decision has been made in epidemic prevention and control," according to a government report.
China has been criticized for a consistent lack of transparency with regard to its COVID-19 numbers. Despite the lack of reliable statistics, official numbers nonetheless provide some idea of the regime's astronomical pandemic costs.
A rough calculation based on the regime's per capita numbers indicates that the cost of treating severely ill COVID-19 patients totaled about 120 billion yuan (about $17.4 billion).
Not all those who received treatment were hospitalized, therefore the total medical expenditure for 200 million hospitalized—but not severely ill—patients should be less than 4 trillion yuan (about $580 billion). Nonetheless, it is estimated to be in the range of hundreds of billions or even trillions of yuan (one U.S. dollar equals 6.96 yuan).
COVID-19 Vaccines and Testing
The cost of vaccination and large-scale nucleic acid testing is also borne by the Chinese regime.
Last April, China Central Television reported that the average cost of a vaccine dose was about 40 yuan ($5.75), which was shared between the health insurance fund and the local government.
China has administered over 3.2 billion doses of the COVID-19 vaccine, according to official figures. Therefore, the total vaccine cost in the past three years was about 128 billion yuan (approx. $18 billion). That total reflects the purchase cost only and does not include the cost of administering the vaccine.
Quarantine and Other Epidemic Control Measures
According to official data, China's "health expenditure" was 1,979.7 billion yuan (about $284 billion) in 2019, prior to the pandemic. In 2022, health expenditure totaled about 2,254 billion yuan ($323 billion): a difference of $39 billion.
In addition to medical care, vaccines, and testing costs, that $39 billion difference included the cost of quarantine measures and salaries for epidemic control staff.
Some local expenditure data became available when many provinces recently released their "epidemic prevention accounting book" for last year. Among them, Guangdong Province spent 71.1 billion yuan (about $10.3) on epidemic prevention:  the most among the 20 provincial economies that reported their spending. This was followed by Henan Province with 48.9 billion yuan (about $7.5 billion); Zhejiang Province with 43.5 billion yuan (about $6.3 billion); and Jiangsu Province with 42.3 billion yuan (about $6.1 billion).
In all, Chinese provinces spent at least 352 billion yuan ($51.6 billion) on COVID-19 containment in 2022.
Additional Expenses
There are other costs that may not be reflected in the local government's epidemic prevention account books, such as the issuance of special bonds to build the large-scale, temporary facilities known as Fangcang shelter hospitals.
Bloomberg reported on Feb. 27 that based on official data, 17 of China's 31 provinces are facing a serious cash crunch, with outstanding loans set to exceed 120 percent of revenue in 2022. That is the warning line of excessive debt risk set by the Ministry of Finance.
Outstanding local government debt exceeded 35 trillion yuan ($5 trillion) at the end of 2022.
Much of this debt is in the form of special bonds. Typically meant to pay for infrastructure investment, special bonds can be key in creating jobs and bolstering the economy. The goal is to repay the bonds with earnings from the projects they finance.
While this is frequently a losing proposition, it became even more so during the pandemic, when special bonds financed the construction of quarantine facilities.
According to a report by Chinese state media at the end of November, the Shandong provincial government issued a total of more than 15 billion yuan (about $2.2 billion) in special bonds for the construction of permanent shelter hospitals and isolation sites. Shandong authorities had planned to invest 23 billion yuan (about $3.3 billion) to add 200,000 beds over nine years. The project was later abandoned after the central authorities suddenly reversed the zero-COVID approach.
An Unsustainable Proposition
Adding up these costs, China's epidemic prevention expenditures are already in the trillions of yuan.
However, the above calculations do not include indirect costs. For example, China's strict zero-COVID measures caused a severe slowdown in economic growth and a sharp reduction in consumption. Moreover, they triggered the loss of foreign capital as foreign companies withdrew from China.
The astronomical price tag caused speculation that one reason for the CCP's abrupt abandonment of its zero-COVID measures last December was simply that it had run out of money to sustain the extreme policies.