Thousand of Residents in China's Foshan Protest Against Lockdown
The Nanhai district of Foshan city, Guangdong Province, China, has been locked down for several weeks after an outbreak of the CCP virus. But after unexplained lockdown extensions and no official notices or testing from local authorities, multiple protests broke out simultaneously in various local communities on the evening of June 21, with over a thousand residents gathering at different intersections. According to locals who spoke to The Epoch Times, authorities sent SWAT teams to the sites and clashed with the protesters.
Opaque Government Information
Wang An (pseudonym), a resident of Dongting community, Dali town, Nanhai District, told The Epoch Times that there are neither confirmed cases of COVID-19 nor close contacts of a confirmed case. However, local authorities repeatedly extended the lockdown without any explanation and provided no official documents or updates during the shutdown time.
"We don't have any [COVID-19] cases here, no confirmed infections, we don't even have any confirmed close contact with a case either. We've cooperated with the 14-day lockdown and they have not lifted it," Wang said.
"Now that the 14 days have passed, they [the local authorities] have neither lifted the lockdown nor told us whether it would continue. What we hear is all hearsay. [The authorities] issued a document to the landlord, that's how we know that it's been extended for three more days. We tolerated the extra three days, but not a single COVID-19 test was arranged during the three extended days of lockdown … We learned from unofficial sources that the lockdown would be further extended, and that's why we could not bear it any more last night and we broke out," Wang said.
Liu Song (pseudonym), a villager from Luocun village of Huang Qi Community, told The Epoch Times that his village has been locked down since June 4.
According to Liu, "They originally told us the lockdown would end on [June] 18th, but there was no news on the 18th, then on the 20th [of June] a notice was posted on the sealed door, saying 'Lockdown will continue on [June] 19th and 20th until further notice.' Then on the evening of [June] 21st, it was said that there would be no lifting of restrictions, we were not given any reason, and no public announcement was issued."
Liu said that there was a COVID-19 test on June 22, but even his landlord didn't know about it. He himself read about it from Weibo (a popular social media platform in China), but he had no idea whether this would be the last test before the lockdown could be lifted.
"According to the earliest document, if all of the residents are tested with negative results for certain times, they would lift the ban. Now we have satisfied their requirements, but they just continue to seal us in without giving us an explanation," Liu said.
Five Local Communities Hold Simultaneous Protests
The interviewees told The Epoch Times that residents from five local communities of Dali Town—Huangqi, Dongxiu, Qiyang, Dongting, and Yongya—protested against the lockdown on the evening of June 21, with most gathering under the Xihuan Motorway bridge.
Gao Fan (pseudonym), a villager at the protest site, told The Epoch Times that local residents began to arrive under the bridge at around 8 p.m. or 9 p.m.
"Because it [the government] locked down these places, like Qiyang, Huangqi, Dongting, people from these places came out to protest—around one thousand to two thousand people—and they gathered under the Xihuan Motorway bridge," Gao said.
According to Gao, local authorities dispatched hundreds of riot police with shields to the protest sites. "The general public here asked for the ban to be lifted, but government officials could not clarify the situation, and gradually, [residents] became agitated, and people on our side began pushing into the barricades," Gao said.
Wang said when he arrived at the Xihuan Motorway bridge after 11 p.m., there were around 1,000 protesting residents.
"At that time, police had arrived from Guangzhou, and there were many SWAT vans. There were over 100 police at the site," Wang said.
He added that some police went to Luocun Village, which was a community opposite their protest location. It was also under lockdown, so the residents there were also protesting.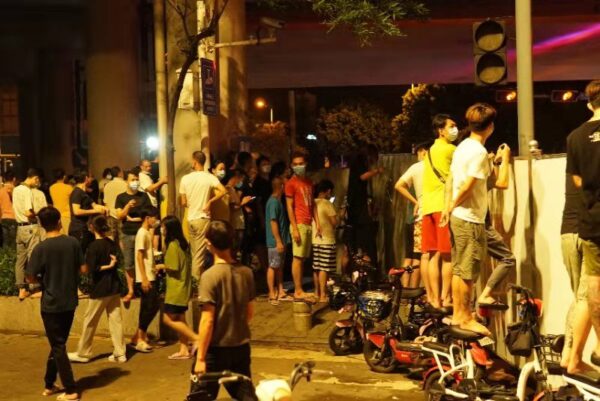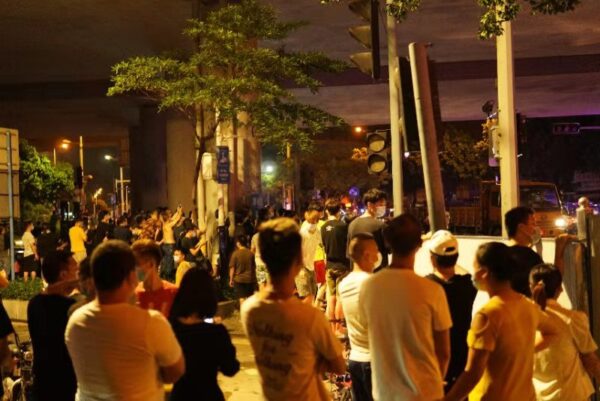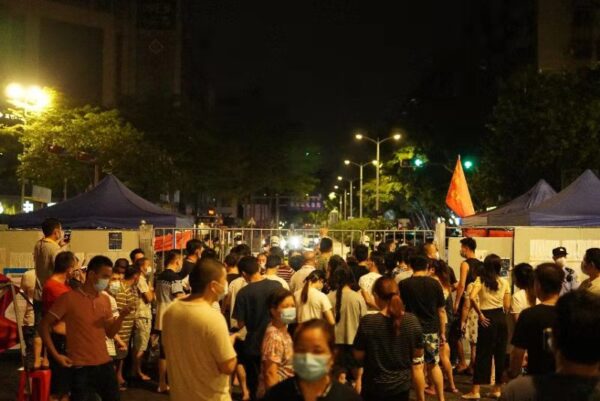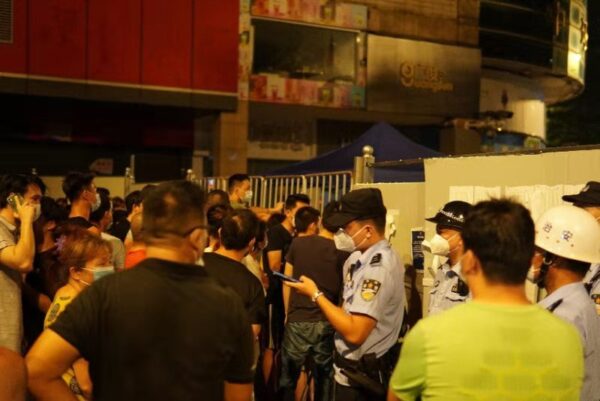 Liu was across from the bridge. He said there were approximately over 100 protesters in his village (Luocan). He said he saw people knocking open the barricades on the other side at around 1 a.m. to 2 a.m.
Wang said, "The police immediately pointed their batons and shields at us once they arrived, but we had nothing in our hands. There were too many people at the back, and they pushed from the back. The barricade burst open, and we were pushed toward the police. The police got one of us. We shouted 'free him, free him.'"
The protesting crowd began to disperse after 2 a.m., but the problems were not resolved. "It was getting late, so people gradually left and went back home to sleep," Gao said.
Wang told The Epoch Times that the protests continued up until around 3 a.m., with about 100 to 200 people staying behind. The police threatened them: "if you don't leave, we'll arrest you." In the end, they were all driven away.
After the people dispersed, the barricades that had been broken open were all closed up again, according to Gao.
Tens of Thousands Facing Unemployment
A common concern of the protesters is that they have been confined to their homes for a long time and are facing unemployment.
Wang said they have been prohibited from leaving the community for over 20 days, and they can not go to work.
"There are over 100,000 residents here in this community. I can tell you that tens of thousands are out of jobs. Some of them have businesses in Guangzhou, and they have to pay rent for their stalls there. They cannot open their doors for business. Others are migrant workers. Now they are all stuck here," Wang said.
Wang is in the construction and decoration business. He said that his product orders arrived in Guangzhou, but he has no idea where the delivered products are, or if the delivery was taken away by someone, or if it was left outside his stall.
"Someone in our (Wechat) group has lost over $15,000. This person is a freelance photographer. He can't go to take photographs for his clients, and that means he has broken the contract because he is not able to take photographs for them," Wang said.
Liu said, "We have been on lockdown for so many days, with no income and no job. No one from the government comes forward to communicate with us. The government hasn't given us a clear notice. Everyone is very anxious."
"In fact, it's not that we can't accept a lockdown; we can if there is danger. But it [the government authority] has no reason and is treating us like dogs. It says lock down, then we are locked down. Then it says no lifting of the lockdown, then there is no lifting, without any reason. That's why many people cannot accept it," Liu said.
Protest Outcome Still Unknown
"Yesterday, the leading official of the government team said by this time today, the closure will definitely be lifted. But if they don't open up tonight, there is surely going to be a riot," Wang said.
Liu was also worried that there might be more violent clashes if the quarantine continues.
The Epoch Times's Chinese edition reporter (using a pseudonym) called Dali Town Pandemic Prevention and Control Command, and a female employee there stated that the lifting of the lockdown is yet to be announced, as testing of the virus takes time and she has no definite answer.
This government employee told the reporter that even if the lockdown is lifted, there wouldn't be a complete lifting of restrictions.
"[People] can go to Guangzhou, but we have guards 24 hours at our checkpoints, and we will ensure that people coming in and out will go through a body temperature check, have their health QR code scanned, and wear masks, just like that. If [people] go to Guangzhou and then come back, they must provide a negative testing certificate within 24 hours," according to the government employee.