US Military Dominance in Space Faces 'Most Immediate Threat' From China: Top Space Force General
The Chinese regime's aggressive efforts to dominate outer space posed "the most immediate threat" to the U.S. satellite capabilities and ground infrastructure, according to the general nominated to lead the U.S. Space Force.
"The most immediate threat, in my opinion, is the pace with which our strategic challengers, first and foremost the Chinese, are aggressively pursuing capabilities that can disrupt, degrade and ultimately even destroy our satellite capabilities and disrupt our ground infrastructure," Lt. Gen. Bradley C. Saltzman said.
Saltzman, President Joe Biden's nominee to the Space Force's chief of space operations, made the remarks on Sept. 14 before the Senate Armed Services Committee. During his first confirmation hearing, he was questioned about U.S. satellite capabilities in the face of threats from the Chinese regime and Russia.
Sen. Jim Inhofe (R-Okla.) noted that the United States has "gone from the unquestioned leader in space to merely one of two peers in a competition" during the past decade, and most of the public doesn't realize the situation.
Saltzman, who currently serves as the deputy chief of space operations, said he is confident about U.S. military dominance, though he can't talk specifics given the hearing's public nature.
"We are still the greatest spacefaring nation on the planet," Saltzman told the senators. "The Space Force's capabilities, what we can provide to the joint force, are extremely capable, and I still put us at the head of the table."
However, Saltzman noted the pacing advancement by China and Russia in their space capability is worrisome.
"Unfortunately, our adversaries are investing heavily to close that gap and supersede us. I'm worried about the pace with which they are making those changes," Saltzman said. "China [is] first amongst them, but Russia is also committed to investing heavily in the kinds of capabilities that are going to disrupt, degrade, and even destroy our on-orbit capabilities. And so it's that pace of change and their commitment to disabling it that's most concerning to me."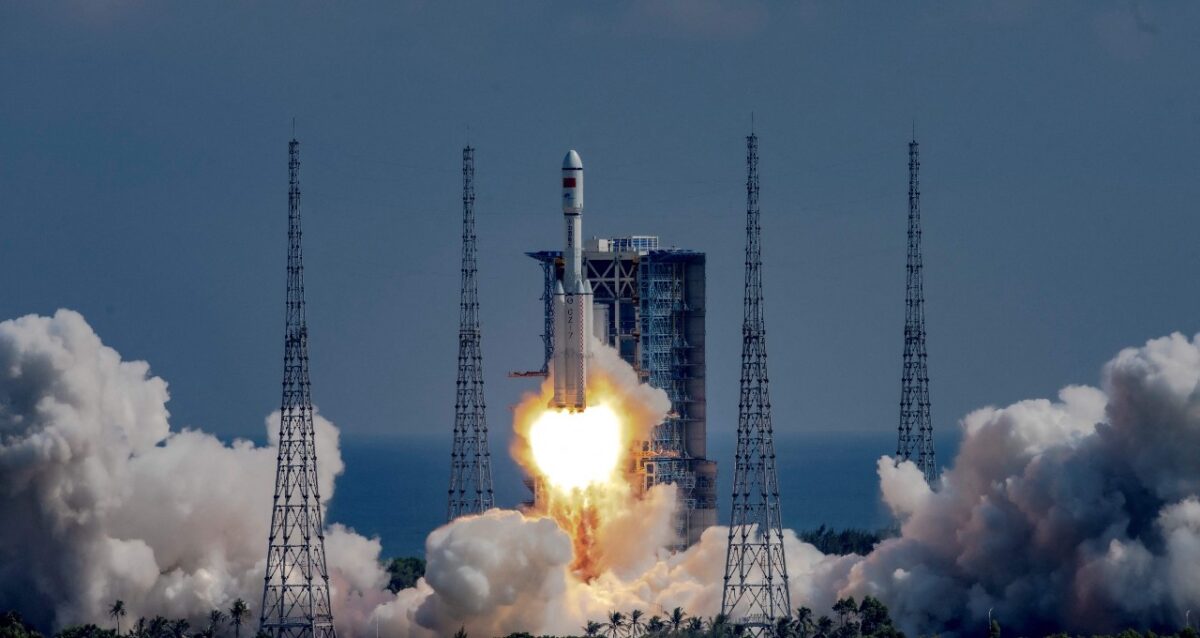 'Warfighting Domain'
While Saltzman said neither the Chinese regime nor Russia would cripple the United States today, he urged a shift to a more defensible architecture as the space has become a "warfighting domain."
"I think the best way to state that is the current attacks that we are seeing are not sufficient to take out our capabilities," he said. "We are resilient and [as of] today."
"As soon as we go into a crisis contingency, I do not believe we designed our system to operate in that level of a contested environment," he continued. "So we need to change to a more defensible architecture to account for the fact that space has shifted from a benign environment to a more contested warfighting domain."
According to Saltzman, such a resilient architecture would be proliferated constellations comprising many small satellites instead of a few large ones, like the current structure of the U.S. forces.
"I think we can look at some of the observations we're seeing in Ukraine, that a distributed architecture where there are more satellites, with proliferated missions, that's harder to attack," he said. "Big single satellites are much easier to attack than a distributed proliferated constellation of capabilities and becomes a tougher targeting problem."
Saltzman also agreed that the U.S forces could leverage space technology from commercial markets to ensure space dominance.
In July, Gen. John Raymond, current Space Force's chief of space operations, warned that the Chinese regime is reaching "near parity" with the United States regarding its space capabilities. Raymond added that the regime is working to develop technologies that could seize the military, civil, or commercial advantage in space.
Saltzman, who would replace Raymond if confirmed by the Senate, said one of his top priorities would be to ensure that "we're on track to build and field effective capabilities and then train the guardians to operate in a contested domain so that we can counter this activity by our strategic competitors."
Andrew Thornebrooke contributed to this report.