US Sanctions Bite as China's Largest Chipmaker Replaces Chairman for Second Time in Two Years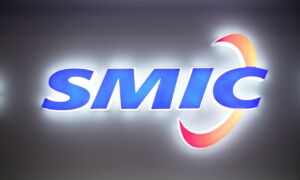 China's largest chipmaker, Semiconductor Manufacturing International Corporation (SMIC), announced the appointment of its new chairman on July 17.
Vice chairman Liu Xunfeng replaced former chairman Gao Yonggang, who the company said had resigned due to "work adjustment." SMIC did not offer any further explanation in it's statement to the Hong Kong Stock Exchange.
Mr. Gao was appointed acting chairman in September 2021 when the previous chairman Zhou Zixue resigned, citing health reasons.
This is the second time that SMIC has appointed a new top executive in just two years. Chinese media have claimed that the appointment is associated with Beijing's being forced to deal with the increased pressure from U.S. chip sanctions.
The new chairman, 58-year-old Mr. Liu, has a chemistry background, and used to work for government-funded energy companies such as Shanghai Petrochemical, Shanghai Huayi (Group), and more.
Heavy Impact of US Sanctions
SMIC has lost several top executives since 2020, when U.S. sanctions restricted its access to advanced equipment for cutting-edge chip production.
Between 2021 and 2022, the company experienced the resignation of Mr. Zhou as well as that of Taiwanese semiconductor industry veteran and former TSMC executive Chiang Shang-yi. In addition, three members of the technical board left, as did former Arm executive and founder William Tudor Brown.
After the new appointment at SMIC, one netizen responded that the resignation of two top executives in two years can only mean one thing: "That China's best chip maker can't produce the 7nm chip as their propaganda machine would have you believe."
Last year, a TechInsights report concluded that China may have successfully created 7nm chips as early as 2021.
However, SMIC still seems to be unable to competitively manufacture true 7nm chips without the state-of-art Extreme Ultraviolet (EUV) lithography machines made by Dutch company ASML.
In 2022, to protect U.S. national security and foreign policy interests, the United States further introduced export controls that restrict China's ability to obtain advanced computing chips, develop and maintain supercomputers, and manufacture advanced semiconductors.
SMIC's poor performance has also illustrated the impact of the sanctions.
On July 17, SMIC's stock closed at 48.77 yuan per share. The company's total market value stood at 386.55 billion yuan, less than 60 percent of its market value of over 650 billion yuan on the day of its IPO in 2020.
SMIC's May report showed that the company's Q1 revenue was approximately 10.209 billion yuan—a year-on-year decrease of 13.9 percent. The net profit attributable to the parent company was about 1.591 billion yuan, a year-on-year decrease of 44 percent. The loss was due to the decline in capacity utilization, according to the Chinese report.
Haizhong Ning contributed to this report.