US Senators Want Automatic Sanctions on China Should It 'Follow in Putin's Footsteps' by Invading Taiwan
On day seven of Russia's invasion of Ukraine, three U.S. senators introduced legislation that would impose "devastating" financial sanctions against the communist regime in China if it were to try to "follow in Putin's footsteps" and invade democratic Taiwan.
"As Beijing quietly watches Putin's invasion of and assault on Ukraine, America must stand strongly behind our partners in democracy and leave no ambiguity as to our resolve to condemn and punish tyrants who attack our partners," said Sen. Rick Scott (R-Fla.), one of the lawmakers who introduced the bill, according to a March 2 press release.
Passing the bill would send a signal to the leader of the Chinese Communist Party Xi Jinping that "if he mimics Putin's invasion then he will be met with economic isolation and severe financial sanctions," said Scott.
The bill, named "Deterring Communist Chinese Aggression Against Taiwan Through Financial Sanctions Act," would sever all financial transactions between the United States and China should the regime invade or blockade Taiwan, or attempt to change the status of Taiwan's governance through the use of force.
The move comes amid growing fear that the Ukraine crisis could be used by the communist regime in China to hasten its designs to seize Taiwan.
The regime views the self-ruled island as its own territory to be taken by force if necessary.
Over the past two years, Taiwan has been bearing escalated military harrassment from Beijing, which continues to send warplanes flying near the island on a regular basis. The latest incursion occurred on March 1, when eight Chinese military aircraft entered Taiwan's southwest in its air defense identification zone.
Amid the Ukraine invasion, Taiwanese President Tsai Ing-wen ordered its military forces to strengthen their combat readiness during a high-level national security meeting on Feb. 24.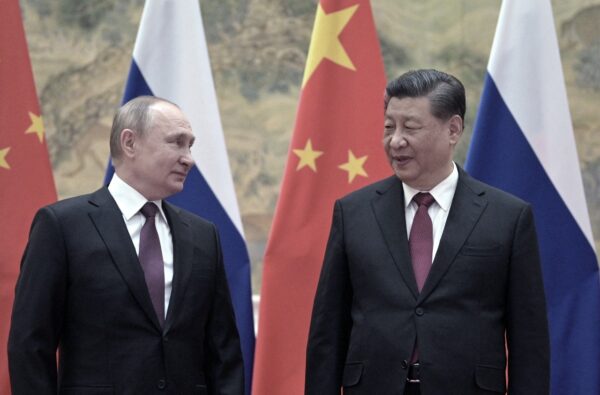 Experts suggest that Beijing is closely watching how the United States and its allies respond to Russia's invasion to inform its strategy toward Taiwan.
Lawmakers have raised concerns over Washington's longstanding policy towards Taiwan, known as "strategic ambiguity," meaning that U.S. administrations have been deliberately vague on whether it would defend the island in the event of a Chinese invasion.
"Now more than ever, we must make it clear to the Chinese Communist Party that armed aggression towards Taiwan would deal a devastating blow to China's economy," said Sen. John Kennedy (R-La.). Kennedy, Scott, and Sen. Kevin Cramer (R-N.D.) jointly proposed the bill.
Sanctions outlined in the bill include a ban on transactions of property, revocation and restriction of visas of Chinese nationals involved in the use of force against Taiwan, prohibition on transfers of credit or payments between financial institutions with China, and a ban on investment in equity or debt of sanctioned persons.
Additionally, it would also ban financial engagements with Chinese military companies, software companies, financial messaging systems, and digital currencies, according to the press release.
If it becomes law, this bill will obligate the president to implement such sanctions 30 days after a triggering event launched by Beijing.
"As we know, waiting too long to sanction bad actors can create major national security risks at home," said Kennedy.
"We can't let China seize the moment to attack one of America's key partners in the Pacific," he added.
Washington has maintained robust ties with the democratic Taiwan under a framework set out in the Taiwan Relations Act, which obliges it to provide Taipei with the means to defend itself.
The Biden administration sent former top defense officials to the island on March 1, an effort to show that the United States "stands firm behind its commitments."