'Victims of Communism' Panel on Organ Harvesting in China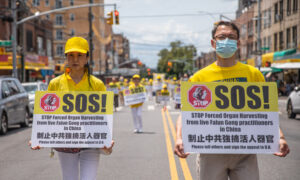 The Victims of Communism Memorial Foundation (VOC) and The International Coalition to End Transplant Abuse in China (ETAC) will host an online event with top China experts as they discuss Beijing's crimes against humanity as it relates to forced organ harvesting in China.
Watch here on Thursday, April 7 at 9:00 a.m. ET.
Featured participants include:
Ambassador Andrew Bremberg (moderator), President and CEO, Victims of Communism Memorial Foundation
Teng Biao, Pozen Visiting Professor, University of Chicago and President, China Against the Death Penalty
Susie Hughes, Executive Director, End Transplant Abuse Coalition
Dr. Jacob Lavee, Director, Heart Transplantation Unit at the Sheba Medical Centre in Israel
Matthew P. Robertson, China Studies Fellow, Victims of Communism Memorial Foundation
The event will be livestreamed on this page and on The Epoch Times and NTD home pages.
For information, visit victimsofcommunism.org