Video of Mentally-Ill Mother-of-8 Chained in Hut Sparks Outrage in China
A video of a mentally-ill Chinese mother of eight locked in a village shack and chained around her neck has ignited outrage in the country.
The footage, posted last week on Douyin, China's version of TikTok, showed the woman wearing a light layer of clothing despite freezing winter temperatures. A man visiting her then gives her a warm jacket and some food and asks her some questions. She nods or shakes her head in response but her answers are slurred and barely comprehensible.
The viral video stirred anger on Chinese social media, with many demanding that authorities step in to help the woman. The outcry promoted Twitter-like Weibo to temporarily remove the relevant hashtag #MotherOfEight from popular search results to downplay negative comments.
It also prompted heated speculation that the woman was a victim of human trafficking and forced marriage.
"This is trafficking, rape, and captivity," a netizen wrote on Weibo on Jan. 28.
But the woman's husband and local officials have denied this charge, saying that she was mentally ill which caused her to be violent towards her children.
Local authorities in Xuzhou of eastern China's Jiangsu Province issued a short notice on Jan. 28 saying that the woman, surnamed Yang married her husband in 1998, adding that she was not a victim of human trafficking. It said the woman was diagnosed with mental illness and had received treatment.
But the official response only prompted a further outcry, with netizens criticizing officials for not addressing the woman's treatment nor her general welfare. Many questioned whether she consented to bear eight children, with one netizen suggesting that she had been exploited as a "baby-making machine."
Decades of the Chinese Communist Party's one-child policy have resulted in a shortage of women—out of its 1.4 billion population, there are nearly 34 million more men than women—owing to traditional views that favor male children. This has spawned a bride-trafficking industry.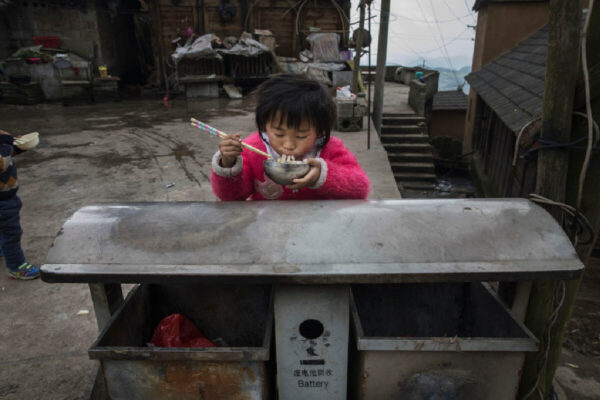 A 2019 investigation by Human Rights Watch found a bride trafficking network from northern Burma (Myanmar) into China. It found that Burmese women and girls were tricked by brokers and then sold for around $3,000 to $13,000 to Chinese families.
Once purchased, the females can be held prisoner and pressured to produce babies as quickly as possible, the group said.
"This is clearly a crime—suspected trafficking of women, … and the use of women as sex and fertility slaves," a blogger named Financial Lady Yingying with over 1 million followers wrote on Jan. 29.
In separate videos posted on social media last year, the woman's 56-year-old husband Dong Zhimin boasts about having eight children, seven of which are boys.
"I wouldn't mind a few more," he said. "As long as she can give birth, I can raise them all."
In one video, Dong said he married after feeling social pressure as a result of his single status in his early thirties. "[Villagers] looked down upon me," he told a vlogger.
According to locals, Yang came into Dong's family as a well-educated school student and could speak English, which is rare in the area, Chinese media reported.
In response to the growing controversy, Chinese authorities released a longer statement on Sunday that contained further information about the family's history.
It said that in 1998, the husband's father initially took in Yang after the father found her begging on the street. When Yang and Dong registered their marriage, local officials "did not strictly verify their identity information," it added.
Over time, Yang showed signs of mental disability but that she could still take care of herself, the statement said. Dong began locking Yang up in mid-2021 when her condition worsened, it added.
Officials added that they are now investigating the husband.
Yang is now in hospital for treatment, and she was recently diagnosed with schizophrenia, officials said, adding that her children had been taken state care of.
However, netizens were not placated, with some saying that such actions had come too little too late. "Shameful," a Weibo user said.
Mary Hong and Li Jing contributed to this report.