Vulnerabilities in Solar Panels Could Be Exposed by Chinese Hackers: Senator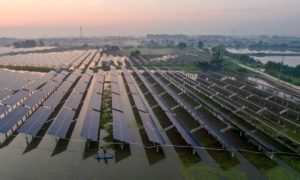 The rush to net zero could leave gaping holes for Chinese-backed hackers to disrupt Australia's energy grid, warns Senator James Paterson.
Solar power is a key pillar in the march towards reducing emissions with Australia estimated to need 2.7 billion solar panels to reach net zero by 2050, according to estimates from the University of Queensland and Circular PV Alliance (pdf).
An intrinsic part of using solar power is the installation of "smart inverters," which connect panels to the electricity grid that can be controlled remotely over the internet.
Currently, 60 percent of Australia's smart inverters are supplied by Chinese manufacturers Sungrow, Goodwe, and Huawei, which was banned from supplying 5G equipment to the country's future telecommunications network.
All three firms are also subject to Beijing's National Intelligence Laws, which require all Chinese companies to "support, assist, and cooperate" with the espionage and intelligence-gathering efforts of the Chinese Communist Party (CCP).
Senator Paterson says the smart inverters supplied by Beijing contain "exploitable flaws which are vulnerable to cyber-attacks."
"We know that critical infrastructure networks like our power grid are of great interest to signals intelligence agencies in foreign authoritarian states, including China," he said in a statement on July 21.
"The consequences for our energy security of a coordinated cyber attack on these systems could be catastrophic, particularly during a regional geopolitical crisis, and the [Labor] government must act now before it is too late."
US Faces Similar Problems
Similar concerns have also been raised about the United States' energy grid, with U.S. utility companies importing 171 million inverters from China between 2002 to 2021.
While software can often be blocked and patched, hardware vulnerabilities are more difficult to deal with.
Chinese-built components can often have "back doors" built into the computer chips that can then be exploited by CCP-backed hackers.
Under the Trump presidency, the import of Chinese equipment for use in the country's power grid was banned, however, this executive order was rescinded almost immediately under the Biden administration.
EV Roll-Out Comes with Hacking Risks
Another potential concern with increased electrification is just how vulnerable EVs are to hacking.
"Electric vehicles are packed with chips and software that control everything from their batteries and motors to cruise control and braking," said a report from the Wall Street Journal.
While Privacy4Cars, a tech firm tackling privacy issues in the EV ecosystem, says a single car has 60 onboard computers collecting about 25 gigabits of data per hour.
Swathes of personal data are transmitted through onboard computers via smartphone connections including text messages, call logs, social media posts, navigation history, and addresses.
These risks continue to grow as governments around the world push their societies towards a net zero future.
The U.S. government expects EVs to comprise 40 percent of total passenger car sales by 2030 with the Biden administration pushing a nationwide roll-out of charging stations.
While in Australia, EV sales have also ballooned increasing by 275.2 percent over 2022, incidentally with Chinese automakers—BYD, MG Motor, and Great Wall Motor—all steadily gaining market share with lower priced offerings.
Hurtling Towards Net Zero
The Labor government is also hoping to reach net zero by 2050 and to reduce the country's emissions by 43 percent by 2030 while denouncing the inclusion of nuclear power in its plans.
"The more subtle and nuanced members of the Coalition have moved on from out-right denial to distraction by promoting the nuclear fantasy story," Energy Minister Chris Bowen told the Clean Energy Council on July 18.
Mr. Bowen claimed that nuclear energy was too expensive, slow to build, unproven, not flexible, and produced "enormous waste."
While also saying small modular reactors, backed by the federal Opposition, produced more waste than large nuclear facilities.
"Stanford University found that small nuclear reactors would produce waste at up to 30 times more than large nuclear facilities," he said.