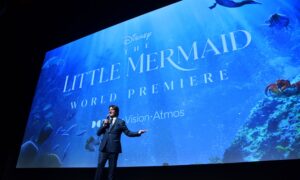 While Marvel's "Spider-Man: Across the Spider-Verse" broke the bank at the weekend box office earning top honors, Disney's live-action remake of "The Little Mermaid" sunk in comparison to its previous similar tentpole films.
That's according to box office analysts who noted the rarity of a Disney film based on a popular animated musical making a less than stellar showing over the Memorial Day holiday period, while also beckoning the question as to whether or not the Walt Disney Company's woke policies are coming back to bite them.
According to Deadline and other online publications, The Little Mermaid took in a three-day total of $40.6 million, which is a 57 percent decline from its May 26th opening weekend. So far it's grossed a total of $186.2 million in the two weeks it's been in theaters.
That's while Spider-Man: Across the Spider-Verse earned a whopping $120.5 million Memorial Day weekend opening, the best start for a summer tentpole year-to-date. Its opening day alone took in $51.7 million alone, the biggest single-day gross to date for a movie in 2023. That number even beats Disney/Marvel Studio's Guardians of the Galaxy Vol. 3, which was released on May 5 and grossed $48.1 million.
Meanwhile, reports are that The Little Mermaid's numbers are ultimately looking particularly troubling overseas. The film is expected to earn approximately $300 million in the United States/Canada compared to $260 million abroad. Considering the reported $250 million production cost and its $140 million global marketing campaign, Mermaid looks to likely only break even or could even take a loss of close to $20 million. It certainly looks unlikely to make the $1 billion mark that past Disney remakes like Beauty and the Beast and Aladdin did.
Controversy has surrounded Disney's The Little Mermaid for the last couple of years as some have criticized the live adaptation's "woke" story changes. Those criticisms have included alterations to the lyrics from classic songs (specifically actress Awkwafina's rap song The Scuttlebutt) to the racial recasting of what was the original fair-skinned character of Ariel from the original Danish story. Directed by Rob Marshall (Chicago, Mary Poppins Returns) this Disney interpretation stars Halle Bailey as Ariel, Melissa McCarthy as Ursula, and Jonah Hauer-King as Price Eric.
Strong reactions to the movie have even led the film/television online database IMDb (Internet Movie Database) to step in and post the following warning label: "Our rating mechanism has detected unusual voting activity on this title. To preserve the reliability of our rating system, an alternate weighting calculation has been applied."
Still, others haven't necessarily lambasted the film. For his part, well-known right-leaning critic Christian Toto from Hollywood in Toto didn't whole-heartedly object to it.
"The run-up to the film's release suggested another Disney woke-a-thon, but the film doesn't live down to that description," he told The Washington Times.  Addressing the lyrical changes to make the songs more accepted in today's current society he noted: "Yes, the film tweaked a song or two, but the story never stops to lecture us about the patriarchy or other modern ills. There's a brief suggestion of environmentalism, but it's woven gently into the story's fabric."
"This live-action yarn isn't perfect, but it doesn't stop cold to lecture us or push the kind of strained, girl-power shtick that immediately wears thin," he wrote in his review.
Controversies have plagued The Walt Disney Company and its brand for the last couple years, with many lifelong Disney fans exclaiming their dislike of the company's burgeoning "wokeness." As a longtime family-friendly brand, critics have accused the company of being too inclusive and including adult-themed sexualization and homosexuality in their films. This, they say, devalues the Disney brand. A specific example of a "woke" move in its movies includes the company's decision to incorporate a same-sex kiss in Pixar's latest Toy Story installation.
Political infractions have also swirled around Disney in recent years. In 2022, following the passage of Florida's Parental Rights in Education bill, Disney's now-ousted CEO Bob Chapek stepped back from his stance to not give in to woke demands after Disney employees demanded the company condemn the legislation. That was followed by a string of box office disappointments and the re-appointment of its former CEO Bob Iger. All this has led the watchdog organization the New Tolerance Campaign to include The Walt Disney Company in its 2022 ranking as the "Worst of the Woke" for the second year in a row, according to a report by Fox News.
Meanwhile, it's clear that big studio franchise films can still thrive in an age of streamers and on-demand releases. For its part, Spider-Man: Across the Spider-Verse put spider mania in full gear both domestically and internationally. Besides drawing huge crowds, it earned an A from market research firm CinemaScore and an 82 percent definite recommendation from polling service Comscore/Screen Engine PostTrak audiences.