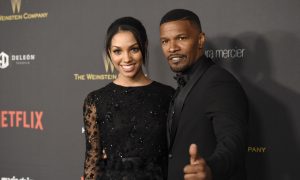 In a gratitude-filled Instagram video posted late Friday night, actor and comedian Jamie Foxx gave fans his first update since his hospitalization in early April.
"I cannot even begin to tell you how far it took me and how it brought me back. I went through something that I thought I would never, ever go through, and I know a lot of [people have] been waiting or wanting to hear updates—but to be honest with you, I just didn't want you to see me like that, man, I want you to see me laughing, having a good time, partying, cracking a joke, doing a movie or television show," Mr. Foxx said.
"I didn't want you to see me with tubes running in and out of me and trying to figure out if I was going to make it through."
"And to be honest with you, my sister Deondra Dixon and my daughter Corinne Marie saved my life," he said. "So to them, to God, to a lot of great medical people. I'm able to leave you this video."
"I went to hell and back," he said. "My road to recovery had some potholes as well. But I'm coming back."
Privacy
Mr. Foxx thanked his sister and daughter for keeping everything under wraps during the health scare so that he could recover privately. He was more recently spotted on a boat waving to fans.
"I cannot tell you how great it feels to have your family kicking in in such a way," he said. "And y'all know they kept it airtight, they didn't let nothing out, they protected me. And that's what I hope that everyone could have in moments like these."
A side effect of the silence was, perhaps, that rumors got a little "out of hand," Mr. Foxx said, dismissing speculations that he was blinded or paralyzed, or clone, he said jokingly.
His daughter had described his hospitalization as a "medical complication" when the news first broke, and the family hasn't offered specifics since. Mr. Foxx did not elaborate on what the complications were.
Grateful
Mr. Foxx became emotional in the video and said he would likely be so frequently in the future as well, given what he'd been through.
"I'm coming back, and I'm able to work, so I want to thank the people that let me work, and I just want to say that I love everybody, and I love all the love that I got," he said. "If you see me out from now on and every once in a while, I just burst into tears, it's because it's been tough, man. I was sick, man. But now I've got my legs underneath me. But like I said, I just want you to remember me for the jokes that I crack and the movies that I make."
"I'm here on earth because of some great people, I'm here on earth because of God, so I love all y'all. I just want to jump on here to let you know I'm on my way back," he said.
Recovery and Prayers
Fans and colleagues responded to Mr. Foxx's update with more love and prayers.
Queen Latifah recently told Entertainment Tonight she was "praying hard" for Mr. Foxx, whom she described as "one of the nicest people that you've ever met."
"He is secretly behind so many people's success in music, in Hollywood," Ms. Latifah said. "Jamie is a unicorn, and if you aired a whole show on him, you'd be surprised how many people had been put on because they came by Jamie's house and they invited him over to play piano or make some beats or make some music."
The same day Mr. Foxx posted his update, he previewed "BIG things coming soon" with a photo in Las Vegas.