Olivia Newton-John's Family Looking to Hold State Memorial in Australia
The niece of Olivia Newton-John has said her family has accepted the offer of a state funeral for the actress and singer in Australia.
Well-known Australian actress and singer Tottie Goldsmith, Newton-John's niece, told the Nine network's Today Show on Wednesday that the family would be meeting with the Victorian State Premier Daniel Andrews to discuss what form the service for the Hollywood star will take.
"I will be talking to the premier today, and my brother Brett and I will steer it," Goldsmith said. "We will make it absolutely beautiful for her."
Goldsmith had previously told the Nine Network's A Current Affair on Tuesday night that her family would accept the offer of a state funeral.
"On behalf of not just our family, but I think Australia needs it—she's so loved. I think our country needs it, so we're going to accept it," she said.
Newton-John, who was born in Britain but raised in Melbourne, Australia, died in her sleep at age 73 after a long battle with cancer inside her California home on Monday, her husband John Easterling announced on social media.
Melbourne and Adelaide Turn Pink For Olivia Newton-John
Meanwhile, famous landmarks in Adelaide and Melbourne—including Flinders Street Station, the Arts Centre, the MCG, and other sporting venues have been lit up in pink to remember Newton-John's contribution to cancer research in the country.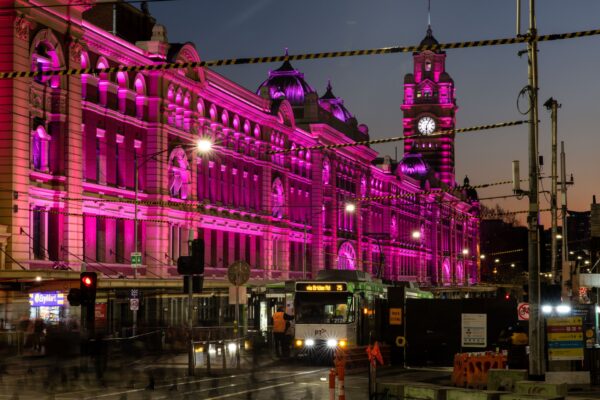 Andrews said on Aug. 9 that the government of Victoria would be looking to speak to the family about celebrating Newton-John's contributions, including her involvement in cancer awareness and research in Australia.
"Olivia Newton-John was one in a million," Andrews said in a Twitter post. "She gave the world her music and movies—but for Victorians, she was so much more. Her generosity through the ONJ Cancer Wellness and Research Centre has saved lives, and her advocacy has given Victorians hope as they battle cancer."
Newton-John was instrumental in the development of the Olivia Newton-John Cancer Wellness and Research Centre in Victoria, which worked to support people with cancer through supportive wellness therapies that treated the whole person, including their mind, spirit and body.
Staff at the centre said in a media release on Aug. 9 that while the actress touched the lives of many people around the world, she was a vital influence on "our cancer services staff and patients at the Olivia Newton-John Centre, who she encouraged, inspired and supported every day."
"We are incredibly grateful for the special relationship we had with Olivia for many years. Her generous support and gift provided hope and changed the lives of thousands of cancer patients here at Austin Health. She was the light at the end of the tunnel for many, many people," the centre said.