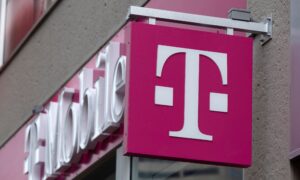 Telecom giant T-Mobile is set to buy Ka'ena Corporation, the owner of budget prepaid wireless provider Mint Mobile, in which actor Ryan Reynolds currently holds a minority ownership stake.
The mobile giant announced in a March 15 statement that it had entered into a definitive agreement to acquire Ka'ena Corp. and its subsidiaries and brands including Mint Mobile, for up to $1.35 billion.
It will also acquire international wireless service Ultra Mobile and wholesaler Plum as part of the agreement.
The deal will see T-Mobile take on the brand's sales, marketing, digital, and service operations, and help it to reach a larger share of the pay-as-you-go customer base, whose numbers are expected to surge amid the increasing cost of living and hefty monthly bills.
It will also likely provide a boost to T-Mobile's business at a time of increasing competition and a volatile economy that has seen rivals like Verizon and AT&T lose customers.
T-Mobile said it plans to use its supplier relationships and distribution scale to "help the brands to grow and offer competitive pricing and greater device inventory to more U.S. consumers seeking value offerings."
Deal to Boost Market Reach
"The Un-carrier will also be able to leverage Mint's industry-leading digital [direct-to-consumer] marketing expertise as part of its broader portfolio to reach new customer segments and geographies," the company said.
The deal, which is expected to close later this year, consists of 39 percent cash and 61 percent stock, with the final purchase price to be based upon  Ka'ena's performance during "certain periods" before and after the closing of the deal.
T-Mobile does not currently expect the deal to have any impact on the company guidance for this year or on its ongoing stock repurchase program, although it is expected to add slightly to T-Mobile's core adjusted earnings and free cash flow.
Mint's founders David Glickman and Rizwan Kassim will stay on at T-Mobile to manage the brands, which will operate as a separate business unit after the deal is finalized, the company added.
Reynolds, who owns a roughly 25 percent stake in Mint, according to Bloomberg, will also continue in his "creative role" on behalf of Mint, the company said.
In a YouTube video featuring Reynolds, T-Mobile CEO Mike Sievert assured customers that Mint's $15 per month pricing plan would remain in place.
Budget-Friendly Pricing to Remain
"Mint has built an incredibly successful digital direct-to-consumer business that continues to deliver for customers on the Un-carrier's leading 5G network and now we are excited to use our scale and owners' economics to help supercharge it—and Ultra Mobile—into the future," said Sievert.
"Over the long-term, we'll also benefit from applying the marketing formula Mint has become famous for across more parts of T-Mobile. We think customers are really going to win with a more competitive and expansive Mint and Ultra," he said.
Mint Mobile was founded in 2016 and has run on T-Mobile as a mobile virtual network operator since. Three years after it was founded, Reynolds first bought an ownership stake in the company.
Since then, the company has become widely known for its clever marketing tactics that often feature Reynolds, along with its more budget-friendly pricing. At the onset of the COVID-19 pandemic in 2020, the company granted customers unlimited free data.
Reynolds also owns British soccer club Wrexham and Aviation American Gin, which was sold to Diageo for about $610 million in 2020.
The actor, however, maintains an "ongoing ownership interest" in Aviation Gin.
After Wednesday's acquisition deal was announced, Reynolds wrote on Twitter: "I never dreamt I'd own a wireless company and I certainly never dreamt I'd sell it to T-Mobile. Life is strange and I'm incredibly proud and grateful."
Reuters contributed to this report.