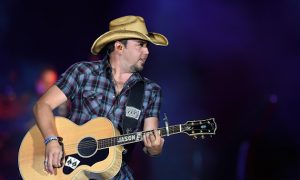 Former President Donald Trump and Florida Gov. Ron DeSantis have jumped to the defense of country music singer Jason Aldean after accusations of releasing a "pro-lynching" music video were leveled at him.
"Jason Aldean is a fantastic guy who just came out with a great new song. Support Jason all the way. MAGA!!!" wrote Mr. Trump on Truth Social.
"When the media attacks you, you're doing something right. @Jason_Aldean has nothing to apologize for," wrote Mr. DeSantis, retweeting a statement Mr. Aldean wrote in response to the accusations.
The accusations prompted Mr. Aldean to make a statement earlier this week defending the song he released in May.
"Try That In A Small Town, for me, refers to the feeling of a community that I had growing up, where we took care of our neighbors, regardless of differences of background or belief," he wrote in a statement that has been viewed 22 million times. The video uses actual news footage of protests, riots, and confrontations between civilians and law enforcement.
The accusations focused on the fact that the Maury County Courthouse, which appears in the video, was where 18-year-old Henry Choate was lynched in 1927. Country Music Television (CMT) pulled the music video on Friday after criticism and Mr. Aldean's song shot to the top iTunes spot shortly afterward.
'This One Goes Too Far'
In his Tuesday statement, Mr. Aldean wrote, "In the past 24 hours I have been accused of releasing a pro-lynching song (a song that has been out since May) and was subject to the comparison that I (direct quote) was not too pleased with the nationwide BLM protests. These references are not only meritless, but dangerous. There is not a single lyric in the song that references race or points to it—and there isn't a single video clip that isn't real news footage—and while I can try and respect others to have their own interpretation of a song with music—this one goes too far."
Mr. Aldean was on stage during the Route 91 Festival in Las Vegas in 2017, where a man opened fire on crowds, firing more than 1,000 bullets, killing 60 people and wounding more than 400. Many of his supporters pointed this out in defense of Mr. Aldean after the accusations, saying he was not advocating violence.
"As so many pointed out, I was present at Route 91-where so many lost their lives—and our community recently suffered another heartbreaking tragedy. NO ONE, including me, wants to continue to see senseless headlines or families ripped apart," Mr. Aldean wrote.
"Try That In A Small Town, for me, refers to the feeling of a community that I had growing up, where we took care of our neighbors, regardless of differences of background or belief. Because they were our neighbors, and that was above any differences.
"My political views have never been something I've hidden from, and I know that a lot of us in this Country don't agree on how we get back to a sense of normalcy where we go at least a day without a headline that keeps us up at night. But the desire for it to—that's what this song is about."
Openly Conservative
Mr. Aldean has always identified as conservative but didn't openly talk about politics in his career until the last presidential election cycle. In an interview with Rolling Stone right after the 2016 elections, the ACM Entertainer of the Year said it was the only year he hadn't voted, and declined to say if he would have voted for Mr. Trump but spoke to the president's popularity.
"Trump, like the guy or not, he was out there busting his butt on the campaign trail, talking to these people and putting it in laymen's terms for them, listening to what they had to say. He wasn't just focusing on the big companies and the big cities. He was digging in to the heartland of America. You saw those people come out in a big way to support that because they want to feel like they have a voice too. He shocked the world with that," he said at the time, responding to a question about his songs "My Kinda Party" and "Flyover States," which the magazine called an "anthem for rural and Middle America."
"The common man is highly underestimated," Mr. Aldean said.
But after the events of the 2020 presidential elections, Mr. Aldean felt he needed to start speaking out.
"When you got kids and you're kind of seeing the future for them, like what it looks like, it's pretty scary," Mr. Aldean told Taste of Country. "So I think for me, just seeing that, and you know, just how everything has been the last couple of years has been pretty wild. A lot of things that I don't agree with, and sometimes it's kind of hard for me to sit back and not say anything."
https://www.instagram.com/jasonaldean/?utm_source=ig_embed&ig_rid=e1acdf76-b120-4141-9192-0c566ef6e909
"If somebody doesn't listen to my music because of the way I think politically, that to me is kind of crazy, but whatever," he said. "To me, the bigger issue is we got kids and future generations that, we gotta get this stuff straightened out. It's kind of like the wild west out there right now. It's just been kind of crazy. It's hard to not have an opinion."