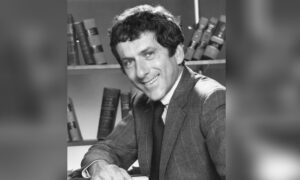 Emmy-nominated actor Barry Newman, known for his roles in 1971's cult action thriller "Vanishing Point"  and as an astute defense attorney in the NBC series "Petrocelli" has died. He was 92.
Newman died on May 11 in a New York hospital, according to social media messages posted by friends as noted in Deadline Hollywood. No further details concerning his death are currently available.
Born in Boston on Nov. 7, 1938, the actor was perhaps best known for his turn as Vietnam war hero and former race car driver Kowalski in the Richard Sarafin-directed "Vanishing Point".
Newman's character proved memorable as he played a free-wielding dragster behind the wheel of a Dodge Challenger who, after becoming entwined in a criminal scheme and making a wager with his drug dealer, embarks on a journey to transport a car from Colorado to California.
The movie would later be considered a cult classic and considered a landmark American action film of the 1970s to those familiar with the genre.
Ironically, more than two decades later, the actor would get back behind the wheel as another nefarious character involved in a car chase in director Steven Soderbergh's crime drama "The Limey".
The crime drama, which also stars Terence Stamp, Peter Fonda, and Lesley Ann Warren, centers around a tough and dangerous Englishman who travels to Los Angeles to avenge his daughter's death. There, he battles the city's most die-hard criminals, even surviving a near-death beating, in the quest to discover what exactly happened to his child.
Newman's other film credits include Sylvester Stallone's "Daylight" and Michael Lehmann's "40 Days and 40 Nights". He also appeared in "Manhood", "True Blue", "Good Advice" and "Bowfinger".
Breakthrough Role
His breakthrough role, however, was in 1970's "The Lawyer," which introduced him to playing Tony Petrocelli, a bright young defense attorney from New York who moves to a rich cattle town only to become entangled in a murder case there. The storyline was based on the case of Samuel Sheppard, an American neurosurgeon tried in 1954 for the murder of his pregnant wife.
That leading role would eventually lead to the TV sequel "Petrocelli", which debuted in 1974 and was created around Newman's character from "The Lawyer." The series took viewers, albeit this time in an episodic television format, along with the sharp-witted attorney on his various legal cases. Newman would earn both Emmy and Golden Globe nominations for the role.
He also landed television roles in the series "The Cleaner", "The O.C.", "NYPD Blue", "Jag", "Murder She Wrote", "LA Law", "Nightingales", "The Fall Guy" and "Quincy M.E."
It was in 2009 that the actor was diagnosed with vocal cord cancer, which led him to curb his time acting.
Newman joins other celebrity actors who have died in 2023, including actress Melinda Dillon, 83 ("Close Encounters of the Third Kind", "Harry and the Hendersons"), Dorothy Tristan, 88, ("Klute", "Gunsmoke") and actor Adam Rich, 54 of "Eight Is Enough" fame.
Newman is survived by his wife, Angela.