1 in 6 Hiring Managers Told to Deprioritize White Men, Study Finds
As part of many companies' efforts to become more diverse at the office, a growing number of hiring managers are being told to pass on white men, according to a new survey.
Resume Builder published the results of a study that evaluated businesses' diversity, equity, and inclusion (DEI) initiatives. The report learned that "reverse discrimination" is becoming more common in the hiring process, a strategy that avoids applicants who belong to a particular race or gender in order to meet DEI benchmarks.
Researchers discovered that 16 percent of hiring managers surveyed had been directed to deprioritize white men when evaluating candidates. Moreover, 14 percent have been encouraged to deprioritize hiring white women.
When asked how often they passed on qualified candidates because they were not "diverse enough," nearly half (48 percent) said "very" or "somewhat often."
Fifty-three percent reported being concerned that they would be terminated if they did not hire enough diverse employees. In addition, 47 percent of hiring managers noted they felt pressure from company higher-ups to bring diverse individuals to the workplace, while more than one-third (35 percent) believed they were pushed by customers. Thirty-one percent even felt pressure from colleagues.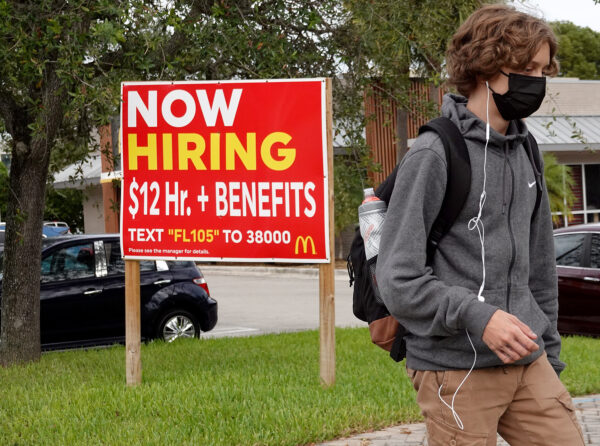 More than half of hiring managers (52 percent) think firms that maintain DEI targets are engaging in reverse discrimination when hiring.
"In this evolving and competitive workplace, companies are having to respond to the demands of workers, which includes modifying their hiring practices," said career expert Stacie Haller in the report. "With all of the rapid changes organizations need to meet, it's mostly middle management that implements the policies, and with many organizations, the support and tools provided to them are not there yet, especially when it comes to DEI."
Overall, 70 percent of survey participants say that organizations that possess DEI goals are doing so for "appearances' sake." Still, nearly all hiring managers purport that their companies have good intentions and have improved with DEI objectives.
"While the efforts to overcome inequality in hiring diverse populations continue to evolve, companies need to consider all aspects and the effects of these practices on their entire population and move carefully and thoughtfully," Haller added.
Open Discrimination?
In November 2021, it was reported that State Street Global Advisors, one of the world's largest investment firms, had to seek permission to hire white men. The financial institution plans to triple the number of black, Asian, and other minority staff in senior positions by next year. If executives fall short of their targets, they will receive lowered bonuses.
As part of the new mandate, recruiters will create panels of four or five employees, including a woman and a minority, when hiring middle management staff. While the company will still hire white men, hiring managers are required to prove the panels interviewed female and minority candidates.
"This is now front and central for State Street—it's on every senior executive's scorecard," Jess McNichols, the bank's head of inclusion, diversity, and corporate citizenship, told the Sunday Times. "All of our leaders have to demonstrate at their annual appraisals what they have done to improve female representation and the number of colleagues from ethnic-minority backgrounds."
State Street Corp. maintains a workforce of nearly 40,000 employees in more than 30 offices across the globe.
Meanwhile, 90 percent of U.S. companies are sharing worker race data with the federal government by submitting EEO-1 forms, which are documents that offer details about the number of white, black, Asian, Hispanic, and Native men and women employed at the company.
According to overall 2018–20 data gathered by Bloomberg, the share of white employees in management positions has declined 2.2 percentage points over the two-year span. Netflix led the way, as the number of white people in management tumbled by more than 7 percent. Asian representation in management increased by 1.2 percentage points, while black and Hispanic workers saw their share in management jobs increase by 0.4 percentage points.
But several major corporations have resisted filing these forms, arguing that it is an imperfect tool. Tesla Motors contended that the limited data it provides is sufficient. Berkshire Hathaway argued that the document is too simplistic in showcasing the racial makeup of a firm that is involved in multiple industries.
A May 2022 University of Maryland Critical Issues Poll (pdf) found that 30 percent of white Americans think white people have experienced "a lot more" discrimination in the past five years. Nearly 29 percent of white respondents stated that Asian Americans have endured "a lot more" discrimination in this time.