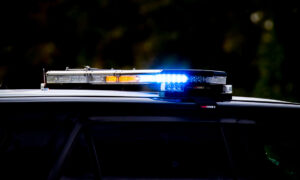 POMONA, Calif.—An 18-year-old man who police believe triggered a violent hit-and-run crash in Pomona, killing two people and critically injuring another, was arrested after he checked himself into a hospital in neighboring Montclair, authorities said May 29.
"Our officers responded and were awaiting his medical clearance so we could process the booking at our jail facility," according to spokeswoman Aly Mejia of the Pomona Police Department.
Erik Elias Perez of Pomona was later arrested on suspicion of vehicular manslaughter, grand theft auto, and hit-and-run resulting in death, police said.
It was not immediately known when Perez checked himself into the Montclair hospital.
The crash was reported at 8:45 p.m. Sunday on Garey Avenue north of Bonita Avenue. Three people were trapped in the wreckage of an overturned SUV, police said.
A man and a woman who were the driver and front-seat passenger were pronounced dead at the scene, police said. Firefighters freed a woman believed to be in her 50s from a back seat and took her to a hospital in critical condition.
News video from the scene showed the wreckage of the overturned SUV in the street and a car on the sidewalk that had crashed into a tree.
Police said the driver suspected of causing the crash fled the scene. They did not say whether the suspect abandoned the car or was in a third vehicle.
The department's Major Accident Investigation Team was investigating the crash and anyone with information was urged to call 909-802-7741 or 909-620-2048.