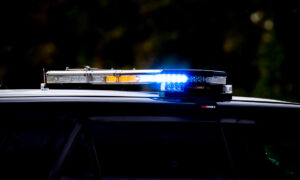 SAN DIEGO—A 49-year-old woman suffered life-threatening injuries and a 19-year-old woman was seriously injured in a head-on collision in San Diego March 3 evening that authorities said driving under the influence might be a factor.
San Diego Police Department officers were called at 4:36 p.m. to the 8300 block of Lake Murray Boulevard where they learned the olive 1966 Ford Mustang driven southbound by the 49-year-old woman crossed in front of a silver 2008 Subaru Impreza WPX being driven northbound by a 30-year-old man and struck it head on at Jackson Drive, said Officer Robert Heims.
The Mustang's driver suffered head trauma, an open fracture to the left humorous, and internal bleeding. The 19-year-old woman, who was a passenger in the Mustang, suffered facial and orbital fractures along with several other serious injuries, Heims said.
The driver of the Impreza was not injured.
The department's Traffic Division is investigating the collision. Anyone with information about the collision was asked to call 858-495-7800 or Crime Stoppers at 888-580-8477.