SAN CARLOS ISLAND, Fla.—The sun is sinking into a bruised plum horizon and eastbound traffic is thickening on the Matanzas Pass Bridge as beachgoers head home from Fort Myers Beach on Estero Island before nightfall.
"When the sun goes down, the beach shuts down," said Tina Tomasino, who owns Hurricane Tina's 5-Star Dive Bar on San Carlos Island near the east end of the bridge. "You can't see any light out there."
Five months after Category 4 Hurricane Ian made landfall on Sept. 28, 2022, with 155-miles-per-hour winds on nearby Cayo Costa, killing 149 and causing $139 billion in damage across the state, Ft. Myers Beach is a construction site within a massive disaster zone that sprawls north and south along Southwest Florida's Gulf Coast.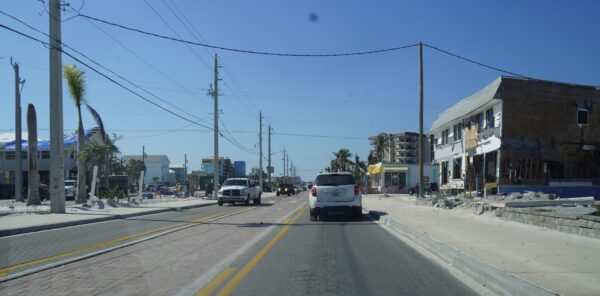 Where Lights Don't Shine
Mangled multistory hotels and condos and boarded businesses frame the tourist town's Estero Boulevard amid mounds of debris, twisted steel, splintered planking, and downed power poles. There is urgency in getting debris to curbs because free removal by Florida's Division of Emergency Management ends March 29.
The beachfront strip, deluged by an 18-foot storm surge, has no road signs or traffic lights and all of its 131 street lights are gone. It will cost $8 million to replace them and add another 249. They will all meet new soft-light codes to protect sea turtle habitat.
The town's retail and nightlife heartbeat, Times Square—an iconic pier destroyed, its shops, restaurants, bars devastated—remains dark at night but some businesses open by day, using generators to power makeshift operations.
The Lighthouse Tiki Bar & Grill is open and crowded in the afternoons, Cabañas Beach Bar & Grille is operating out of Cōste Island Cuisine until 8 p.m., La Ola Surfside Restaurant is serving out of a food truck, and Yucatan Beach Stand Bar & Grill and Wahoo Willie's are open until nightfall.
Fantasy's at the Beach reopened on March 3 as Vixens Fort Myers Beach which, for now, will be a "strip club in a tent," while work on the Gulfside Twelve, a condo complex that will rise from the rubble of the wrecked Carousel Inn, has begun.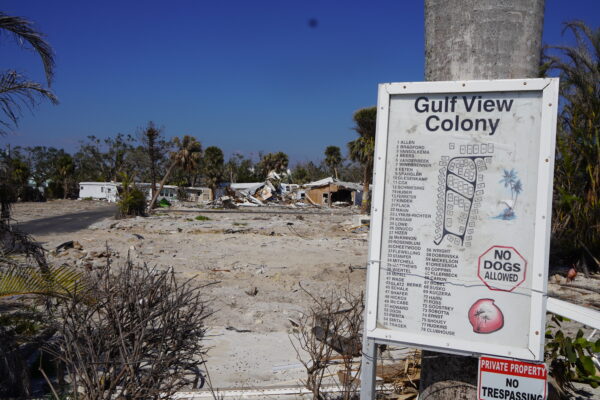 The 45-year-old Island Pancake House reopened in late February. Bella Mozzarella, 2000 Flavors Ice Cream, and H20 are among restaurants and retailers rebuilt and ready to reopen once power is restored.
That may not be for months.
Florida Power & Light reports it has restored power to nearly 1,000 properties in Ft. Myers Beach but is unlikely to have Times Square wired until June 1 because it wants to "underground" power lines.
Ft. Myers Beach had nearly 2,400 hotel rooms before the storm, according to the Lee County Tourism office. As of late February, less than 400 were open.
Those numbers are slowly growing. The Matanzas Inn will reopen soon. The DiamondHead Beach Resort reopened in mid-December, Edison Beach House in January, and the Pink Shell Beach Resort & Marina on March 1, all cautioning guests of limited amenities and ambient construction activity.
There hasn't been a curfew since November but between midnight and 6 a.m., only those who can show proof of residency or hotel reservations are allowed onto Estero Island via the Matanzas Pass Bridge.
Every day at sunrise, west-bound traffic on San Carlos Boulevard, which links the mainland to Estero Island as is spans San Carlos island into Ft. Myers Beach is clogged with construction workers. Later, the beachgoers come. As sunset nears, the tide is reversed.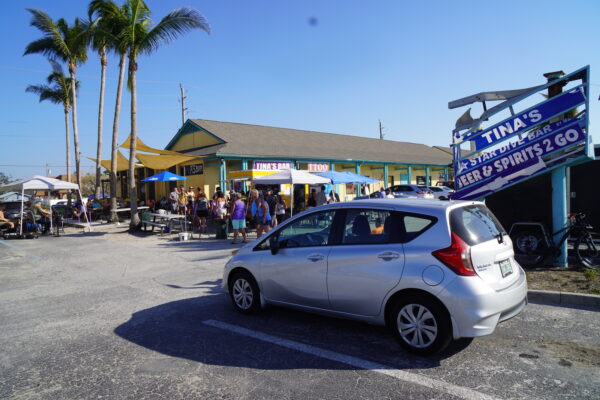 Permitting Purgatory
Tomasino, a Boston native, was preparing to celebrate Hurricane Tina's 5-Star Dive Bar's fifth anniversary in early October when Ian struck, knocking the bar out of business and destroying more than $10,000 in inventory in her liquor store next door.
The bar may have been closed but Hurricane Tina's lived on, serving food and drink to patrons, neighbors, and passerby on weekends in the parking lot from a food truck found flipped over in the debris, salvaged, and revamped as a "pop-up bar."
Since the storm, Hurricane Tina's has served as an ad hoc gathering place on San Carlos Island, a working-class "pass-through" barrier island between the beach and the mainland, where there are boatyards of storm-shattered ships tumbled together like bathtub toys and construction workers living in trucks, trailers, and tents.
The bar provided a free Thanksgiving dinner and opens on weekends for events, such as poker runs. It is cash only and it must close at sunset, Tomasino said.
On Feb. 26, Hurricane Tina's parking lot was abuzz with a live band and a barbecue, celebrating "Almost Open Part 1."
"My freezer was full of food for the celebration," she said. "We had a big barbecue in parking lot" to feed the storm-shocked.
Tomasino said her neighborhood bar has been "completely refurbished inside. Power has been restored. We're ready to open, good to go."
But she's been mired in a permitting morass since receiving a Feb. 8 "stop work" order from Lee County over the lack of a $20,000 "restoration permit" that she cannot afford to pay upfront.
"They're telling me to get a Small Business Administration loan. I don't want to take a 2 percent loan," Tomasino said. "Let us open up. We're good to go. I can't make any money, so how am I to pay the permit? Honestly, they need to let everybody get open."
She was confident the red tape will be untangled, somehow, but Hurricane Tina's March 4-5 weekend theme is "Almost Open Part 2."
How many parts it will take to get from "Almost Open" to "Open" is uncertain.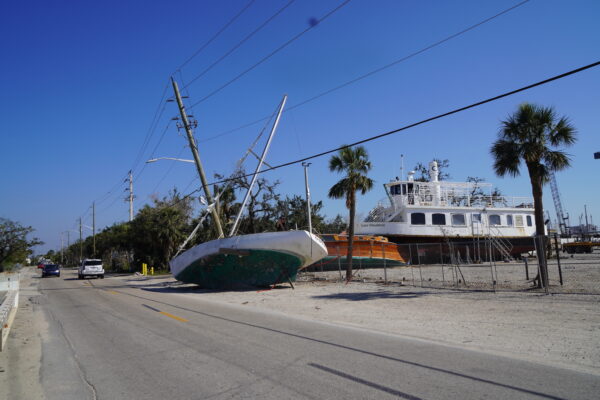 From Day One
Permitting is just one of the uncertainties that plague businesses trying to bounce back from the storm, Tomasino said, which is devastating for their employees.
"People don't realize, the kids working here—their homes were gone, too—but from day one, they've been doing everything for everybody," she said.
Ashley and Kate were working the pop-up bar. Both only work two days a week now, compared to at least five before Ian.
"It's been crazy but we're learning new things and making it work," said Kate, who had hoped the bar would open by Super Bowl Sunday.
Nevertheless, she said, she's proud to work with Tomasino at Hurricane Tina's. "We were the first place to open and Tina's been doing it ever since."
"We're trying. We're surviving," said co-worker Carlos Hernandez, grilling ribs and hamburgers under a tent in the parking lot.
"Tina has been doing this since day one," said Malinda Buchmann, a Cincinnati native who has lived in Florida for eight years, as she greeted friends and the band played on. "Why not be part of something like this?
Life Goes On
Without Hurricane Tina's, Anthony Szkotak said he'd probably have lose contact with more friends, many of whom have disappeared since the storm, along with his job as a marina manager.
"The whole operation is gone. My marina doesn't exist and the boats, they're in a mangrove somewhere," he said. "Our jobs are gone. Our friends are gone. Eleven people I know are dead."
Szkotak said he heard somewhere that it will take at least five-to-10 years for Ft. Myers Beach and San Carlos Island to recover.
But life goes on.
Spring training has begun with the Red Sox and Twins opening their camps in Ft. Myers, seasonal "snowbirds" are showing up, and tourists—instead of paying exorbitant rates at mainland hotels—are flocking to the beach by day.
On Matanzas Pass Bridge—soft pink in the sunset—eastbound traffic from Estero Island was brisk. The tide of the day had turned and visitors were headed home after enjoying a beautiful Sunday on Ft. Myers Beach.
Soon, it would be dark and only residents and encamped workers would be left.
"The sad, weird part is the tourists are still coming down and they get to live by the old rules," Szkotak said.