At least six people have died in central Alabama, and a seventh person was killed in Georgia after a powerful storm and tornadoes ripped through the South on Thursday.
A tornado claimed the lives of six people in Autauga County, Ala., 41 miles (66 kilometers) northeast of Selma, while around 40 homes were damaged or destroyed by a tornado, Ernie Baggett, the county's emergency management director, confirmed to Weather.com.
Baggett added that most of the deaths had occurred in mobile homes, and the communities of Marbury and Old Kingston had been the hardest hit by the tornado, which cut a path of about 20 miles (32 kilometers) across the rural communities.
Search and rescue operations are ongoing in the area.
In Georgia, a six-year-old boy was killed when a tree fell on the vehicle he was in with his mother on Haley Road and Highway 36, according to local reports. The Butts County Sheriff's Office confirmed that the mother was in critical condition but has since been released from a local hospital.
State of Emergency Declared
The severe weather prompted Alabama Gov. Kay Ivey, a Republican, to declare a state of emergency for six counties: Autauga, Chambers, Coosa, Dallas, Elmore, and Tallapoosa, which contains Selma.
"I — along with my partners at the Alabama EMA — will continue monitoring to determine if an expanded state of emergency is needed," Ivey said on Twitter. "I am ready to be a helping hand to our local officials. Please continue using caution, and stay safe out there!"
Ivey also confirmed the deaths of six individuals, writing: "My prayers are with their loved ones and communities. We are far too familiar with devastating weather, but our people are resilient. We will get through it and be stronger for it."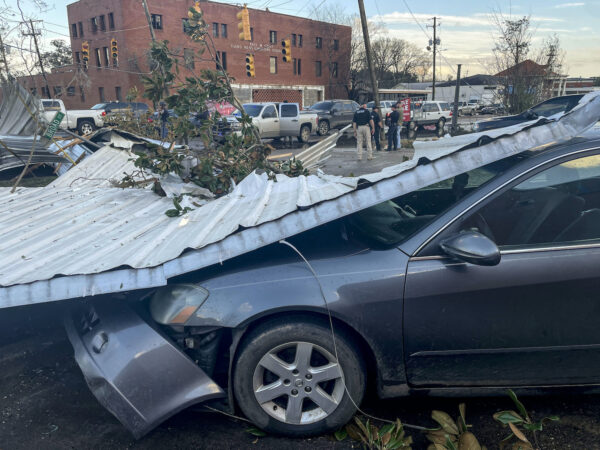 Georgia Gov. Brian Kemp also declared a state of emergency on Thursday and ordered "all relevant agencies to respond with an all-hands-on-deck approach to the affected communities," the Republican wrote on Twitter.
"Throughout this evening, Marty's and my thoughts will return to those impacted by today's severe storms and tornadoes," Kemp said, referring to his wife.
In a separate post, Kemp said he and his family were heartbroken over the death of the six-year-old boy. "As we continue to monitor state response to these storms, we are praying for this family as they mourn this terrible loss," Kemp said.
Elsewhere, the storm appeared to have knocked a freight train off its tracks in the same county southeast of Atlanta, while cars were blown over and buildings were damaged, officials said
In Griffin, south of Atlanta, multiple people were trapped inside an apartment complex after trees fell on it, officials said.
Firefighters also responded to an incident in which a man in Griffin had to be cut loose after he was pinned for hours under a tree that fell on his house.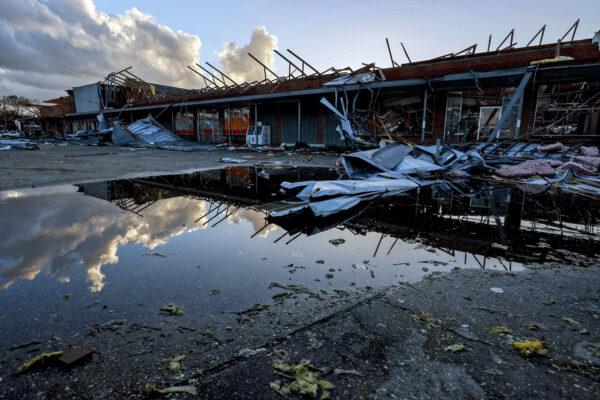 Trees Uprooted, Roofs Ripped Off
School buses were also canceled at four local middle schools, where officials determined the weather was too unsafe. The city of Griffin imposed a curfew from 10 p.m. Thursday to 6 a.m. Friday.
Meanwhile, the sheriff's office in Carroll County, Ga., said on Facebook that one woman had narrowly escaped injuries after a tree limb smashed through the roof and onto her desk as she worked at her office in the community of Fairfield Plantation.
Photos showed the down tree with its limb hanging just above a desk.
Homes and businesses were damaged in Alabama, particularly in Selma, where the National Weather Service in Birmingham had warned residents around noon that a "large and extremely dangerous tornado" was moving through the city.
The area saw significant damage as the tornado ripped off roofs, uprooted trees, and flipped over vehicles while power lines were knocked down, local officials said at a news conference Thursday evening.
According to utility tracker PowerOutage.us, 33,523 homes and businesses are currently without power in Georgia as of 01:43 a.m. ET, while 24,789 are without power in Alabama.
Over 40 tornados have been reported, according to the National Weather Service's (NWS) Storm Prediction Center.
Officials are hoping to get a better picture of the extent of the damage the severe weather has caused on Friday, when conditions are expected to improve.
The Associated Press contributed to this report.