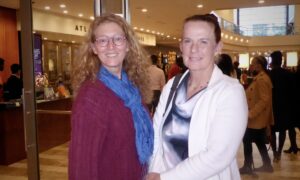 ATLANTA—Shen Yun translates into "the beauty of divine being dancing," and on Jan. 7 at the Atlanta Symphony Hall, a former classical dancer explained just how accurate the company's name was.
Lauren Lukert, a classical ballerina for two decades, was blown away by Shen Yun's dancers. She attended a performance of Shen Yun Performing Arts with her friend Marcia Weilbach, a business owner.
"They're clearly all very musical, their phrasing was exquisite, they're tremendous athletes," she said.
New York-based Shen Yun is the world's top classical Chinese dance company, which since its inception became a world phenomenon, putting a once nearly-lost art form on the map. The company was formed in 2006 and has since grown from one to eight equally-sized companies that tour the world simultaneously.
"Technically challenging? Oh!" Ms. Lukert said, explaining that the tumbling techniques seen in Shen Yun were not found elsewhere.
Classical Chinese dance is technically challenging, including dynamic flips and tumbling techniques as the originator of gymnastics. It is also famously expressive, with some roots in opera, and demands that a dancer's inner emotions drive the body into movement.
Ms. Lukert noticed something perhaps only another dancer would: the technique Shen Yun's dancers used to spin was unique in dance.
"So in classical ballet, when you turn, you're focused on a point and you return to that point. Generally, you pick a point at eye level, and that's how you keep from getting dizzy. Here, their focal points were on the ceiling, and on the floor—I would fall over. I've danced for years and years, and I would fall over if I did that," she said.
Classical Chinese dance uses three circular movement paths, according to information about the dance form on Shen Yun's website. There is a vertical plane, a horizontal plane, as well as a figure eight.
Ms. Weilbach added, "They weren't just dancing, they were performing a story."
Ms. Lukert said that the level of professional excellence the performers displayed clearly showed their dedication. On top of rehearsals, they must be taking classes and training throughout the year.
"This lifestyle that they have chosen is not just a profession. They all have to be so completely immersed in it, and so passionate about what they do, so I think it's challenging on so many different levels," she said.
They have incorporated so many performing arts with the vocals, the instrumentals on stage, the narrative—which was fabulous—I think that engaged us a lot
— Lauren Lukert
"We were just commenting … that they use the words 'Performing Arts.' You don't say that for a ballet company. But they have incorporated so many performing arts with the vocals, the instrumentals on stage, the narrative—which was fabulous—I think that engaged us a lot," she said.
"The stories were just mesmerizing. … I didn't know anything about this faith belief system before I came, and I can see how they're growing that faith, because they are so exquisite and so excellent at what they do, they have set such a high standard for themselves and each other, that I think that's going to endear people to their subject matter."
A Shen Yun performance consists of more than a dozen vignettes, and Ms. Lukerts said this production was so strong any of the pieces could have stood alone, but together equaled more than the sum of their parts.
"It was amazing," she said.
Reporting by Frank Liang.
The Epoch Times is a proud sponsor of Shen Yun Performing Arts. We have covered audience reactions since Shen Yun's inception in 2006.