A mysterious diagnosis can be daunting on its own. Add to that the demands of money and time needed to search for answers—and then treatments—and it quickly becomes one of the most grueling tribulations a person can face.
That's exactly where Justin Rhodes found himself in 2015 when he developed mysterious groin pain. It took two years to discover why—Lyme disease from a tick bite a decade prior—while bills racked up. Meanwhile, Rhodes was feeling betrayed by a body that could no longer tend to the farm, a big part of his family's income.
"Our bills were going up, and my ability to provide was going down," he said. "It was a scary time. In my heart, my subconscious, I knew there had to be a better way."
The Rhodes family knew they couldn't survive long on such a limited income with a family of four (now five) children. Farming was scaled back to a milking cow and chickens for the family. Rhodes was working one very part-time job and had to quit a part-time ministry and running, an activity he loved to do daily. Besides physical pain, he was overwhelmed by brain fog and depression.
"When you're a market farmer, it's heavily physical. I could tell that (career) was not going to be able to go anywhere," he said. "But that was still my passion."
They were dumpster diving and surviving on expired food from local grocery stores, but knew they needed better quality foods to heal and prevent more symptoms. Now a homesteading YouTube sensation with multiple non-farming streams of income, the family's journey of overcoming medical debt and rediscovering hope began with a library copy of a book on Kickstarter campaigns (they couldn't afford to buy a copy). They'd also been given a copy of Tim Ferriss's "The 4-Hour Work Week," which was all Rhodes felt that he could offer.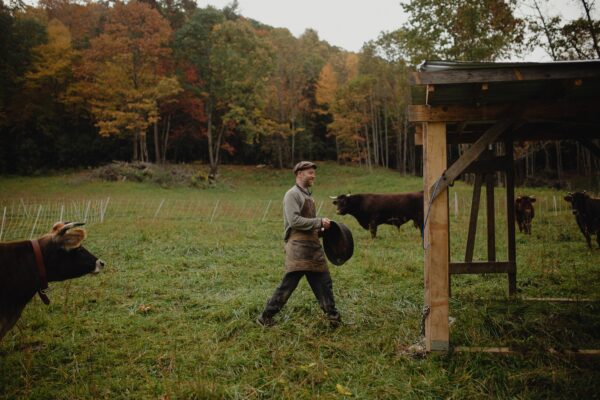 With these scant resources and an idea to educate other families interested in chickens, Rhodes devoted 30 days to learning all he could about building an online course and marketing it. When he launched Permaculture Chickens, his first online course, he had an email list of seven but sold 1,200 copies worldwide and made $35,000 in 30 days, marking the family's ascent out of darkness.
To inspire optimism, Rhodes shared with The Epoch Times his experiences and some tips for living healthy even in the midst of a hard diagnosis.
The Reality of Medical Debt
The panic of rising out-of-pocket healthcare expenses isn't an unfamiliar story for many in the United States. In June 2020, 17.8 percent of Americans had medical debt in collections, according to a study published in JAMA in 2021. The article acknowledged that there's limited understanding about those who are affected by medical debt and how it relates to health care policy.
Diagnostic tests are the top reason for overdue medical bills at 24 percent, according to Debt.com—an organization of financial experts, credit counselors, and journalists that aims to help people get out of debt. Its research also highlights a new dilemma: inflation is complicating debt paydown. Another report by the Kaiser Family Foundation found one-third of medical debt stems from bills that accrue due to chronic illness.
The Rhodes' story illustrates the magnitude of the medical debt dilemma in the United States, which affects people aged 25-44 more than any other age group at 63 percent, based on data collected by the U.S. Consumer Financial Protection Bureau. Medical debt is also more common among older people of color, older adults with incomes near the poverty line, the uninsured, unmarried adults, and those who don't own a home.
Chronic illness can be especially problematic. Lyme disease, a bacterial infection transmitted by the bite of infected ticks, costs the health care system $345 million to $968 million annually, based on 2016 statistics published by the U.S. Centers for Disease Control and Prevention. This doesn't account for other costs such as lost production caused by Lyme, which is diagnosed in about 476,000 people annually and is consistently in the top 10 reported conditions.
Early Lyme symptoms can include a circular and growing rash at the site of the bite and flu-like symptoms. Most patients recover with antibiotics, but in rare cases, the infection can cause neurologic, musculoskeletal, and cardiac complications.
Not as well understood is a long-haul variation of Lyme that seems to flare up throughout life, likely triggered by stress, causing fatigue, pain, and memory issues. One peer-reviewed study published in 2021 in the journal Cureus concluded the infection can cause post-Lyme autoimmune disease affecting the joints, something that isn't often picked up on by doctors.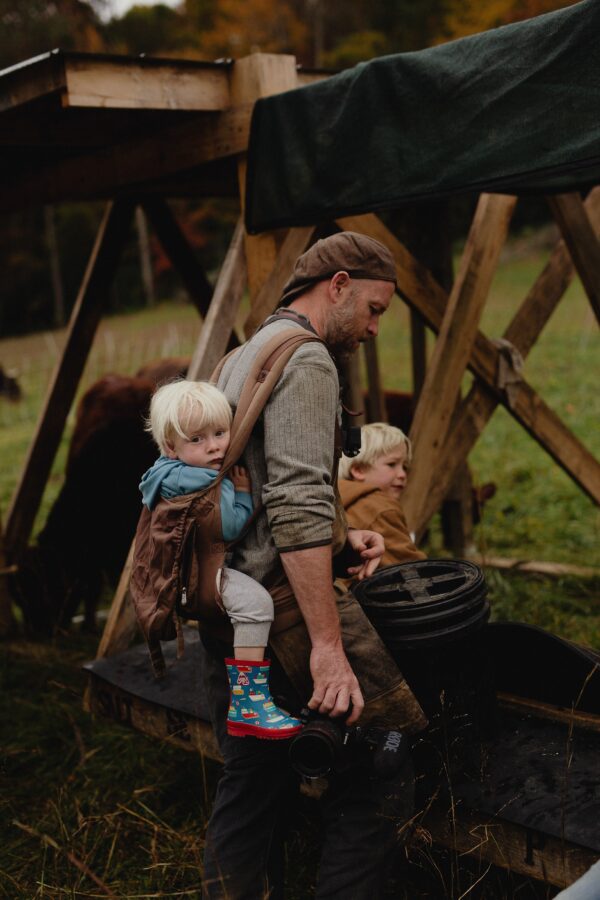 In Lyme and other diseases, there can be a cyclone effect in which symptoms that go unresolved cause mental suffering. The perfect mind-body storm accumulates mounting out-of-pocket expenses that may lead to credit card debt and possibly the inability to return to work. This was precisely what unraveled for Rhodes, fueling a kind of hopeless anxiety of unending catastrophic damage from the initial diagnosis.
Abundant Business Growth
The Rhodes have been committed to doing life with their children, and any idea to earn money for medical debt had to take into account not only his physical capabilities but also his desire to be a present father.
He decided to take one thing he was good at—homesteading—and create and monetize online content. Even that came with unlimited ideas, so they settled on a niche class with dreams of growing offerings as they built their audience.
"We were getting to the end financially and really needed a change. I wanted to stay in my passion. I still wanted to be around the food growing movement," Rhodes said. "When we told people about this idea, they knew the financial struggle we were in, you could tell they thought we were nuts."
Permaculture Chicken has now done more than $1 million in sales, first in DVDs and e-books and now in streaming courses. Rhodes has created more products, including his membership group Abundance Plus and book, "The Rooted Life," both fertile ground for his deep desire to teach about how homegrown food can create better health and security.
They even monetized their year-long trip across the country documenting sustainable yards, farms, and homesteads. They recorded daily videos for followers as they hit the road in 2017 in their converted school bus. The full documentary, The Great American Farm Tour, was released in 2018.
Gratitude became a theme woven throughout their journey to visit farmers, backyard gardeners, and homesteaders who all loved their piece of land—no matter how dry, small, or frozen it was.
Rhodes learned from Randy in Minnesota that his farm's temperature sometimes drops to negative 60 degrees, where your "face freezes off in three minutes and your car won't start." And he talked to Darnell in Arizona, where his farm only gets three inches of rain in a year.
"Randy in Minnesota could have moved south. It's a free country. You can cross state lines. Darnell in Arizona could have moved east where water magically falls from the sky. But they didn't. They were content," Rhodes said. "Every place had problems, but they had this deep satisfaction."
Part of the intention behind the tour was to scour the country for their own upsized homestead as they'd grown out of their eight acres. Rhodes's dad was ready to sell the family farm and none of his siblings were interested. He needed to explore all options before committing to the $500,000 price tag. Ultimately, his family made the choice to put down roots in the 75-acre homestead in western North Carolina that his grandpa paid $500 for in 1932.
His children are now the fourth generation to hand-milk cows on the property, and his appreciation of familial heritage continues to grow alongside his knowledge and the value of the farm.
The family has continued studying online platforms and apps to keep their business as sustainable as their farm. Once, Rhodes was doing a livestream when he picked up his son and wiped his nose as he talked, and it was at that point, they realized education and lifestyle could merge into something even more meaningful for their audience.
"I could say the smartest thing ever, but when I would pick him up and hold him, the hearts would just start flying," Rhodes said.
So, the family made a decision to let viewers into their lives, and that's when things really took off. They've been able to grow their audience and monetize their YouTube channel. Tears were shed when they learned YouTube accepted them in its partner program to earn advertising revenue.
"Getting to financial stability obviously takes off stress. It was one less thing to worry about which is a big thing. That was healing," Rhodes said. "Then I had resources to put toward that healing."
The Best Life Ever
Rhodes isn't cured, but he's better. He manages his symptoms by taking supplements, using a sauna, taking epsom salt baths, and most importantly, eating differently. He has found that a carnivore diet works best for him, and he consumes minimal carbohydrates.
"When food became my medicine, those animals became that much more special," he said. "Food energizes us. They're my healing. Now it's more important than ever… to treat them well."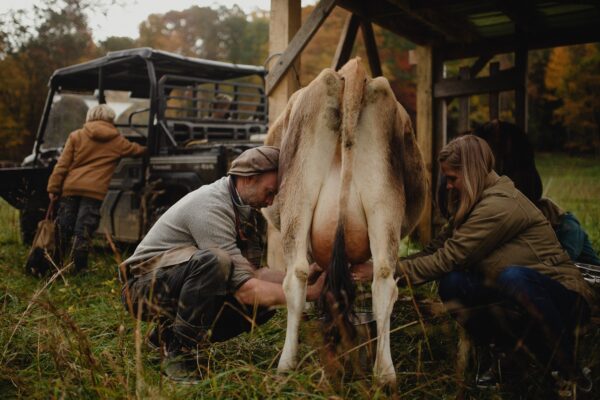 In addition to chickens, the Rhodes family raises pigs, cows, turkeys, and geese. They're all fed organically and raised with care. It's a mutual relationship of improving the value of life.
"People relate to giving animals their best life ever," he said. "As we consume more meat, we're making decisions. We are putting more time and energy into animals versus the gardening side."
Rhodes said it's more economical and practical to buy organic produce at the grocery store. To have organic beef and especially pork, the only option is to grow it themselves.
But their roots are in gardening, because his wife, Rebekah, thought it was healthier and because he saw the economic rationale. For instance, a bundle of kale is $3 and so is a pack with 100 seeds. They both agree that growing food should feed your soul.
"Grow what's right outside the door of your heart. So grow what you love;" Rhodes said. "Jesus said something like, 'Where your treasure is, there your heart is.'"
Dealing With a Diagnosis
Along his journey, Rhodes has chosen to count his hardships as blessings, which require both patience and intentionality.
When he had a new diagnosis in 2021, reactive arthritis due to the Lyme disease, Rhodes decided to read "The Gift of Pain" by Dr. Paul Brand and Philip Yancey. He sat down with a journal and wrote about how he could turn his situation into something good.
The experience reminded him of how much he's loved and how life is more than just health.
"You begin to look at pain differently," he said. "You begin to look at suffering differently, almost as a blessing."
Rhodes has three pieces of advice for anyone facing a difficult medical diagnosis or journey.
First, challenge yourself to discover what good you can find in your situation, and be willing to wait for the answers.
Second, keep moving, even if you don't feel like it.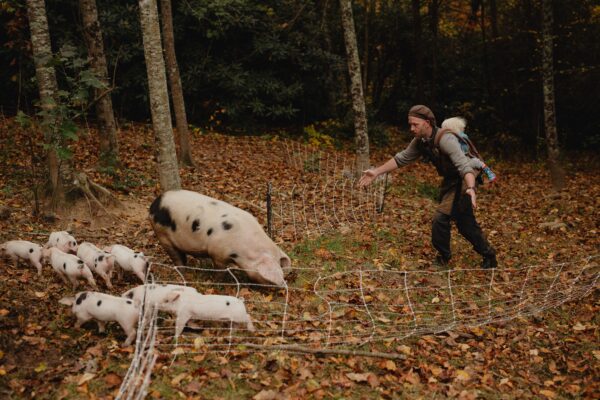 His farm and children force him to get up on the hardest days.
"Sometimes, emotion follows motion. Sometimes you have to move whether you want to or not, and you start feeling a little better," Rhodes said. "If you can't move, lay in the sun for an hour. I'm serious. That will do a world of good for you, just sun exposure."
Third, be a homesteader, at least in your heart.
You don't need a five-acre, off-grid homestead to support the lifestyle, Rhodes said. He used to buy only boneless, skinless chicken breasts, and his beginnings involved new, mindful habits to support sustainability.
He suggested buying a raw, whole chicken and learning how to prepare it with no waste. Or, he said buy a pumpkin and make a pie from scratch and then use the seeds to plant more pumpkins. You can do the same with zucchinis, cucumbers, squash, and tomatoes.
"Farming makes sense for the health world. You get up at the same time every day. You're tired because you work hard. You get cold and sun exposure. You're eating healthy food. You're getting exercise," Rhodes said. " I think it covers all the health elements. The ultimate health program is just to start a homestead."