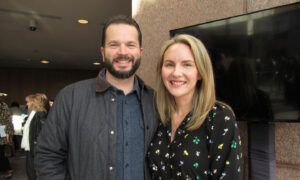 COSTA MESA, Calif.—Purchasing the last two available seats in the auditorium, James Webster, vice president for a metal fabrication company, took his fiancee Amanda Rawls to see Shen Yun Performing Arts at the Segerstrom Center for the Arts on the afternoon of March 4.
"It was beautiful … very striking … really well choreographed," said Mr. Webster.
He had seen advertisements for Shen Yun before, but didn't realize they would be performing so close to home. "We got the last two tickets that were available," he said. "So here we are."
Based in New York, Shen Yun Performing Arts is the world's premier classical Chinese dance company. Along with folk dances and solo performances, the production depicts story-based pieces that tell tales from ancient times to the modern day.
"It was a good mixture of promoting traditional Chinese culture, but also bringing awareness to the issues that are going on today," said Mr. Webster. "They did a good balance between that.
Along with myths and legends from ancient times, Shen Yun presents story-based dances involving current events. One piece in the program portrayed the persecution in China of Falun Dafa, a meditation discipline based on the principles of truthfulness, compassion, and tolerance. In 1999, the Chinese Communist Party (CCP) launched a persecution campaign against the spiritual practice, which is also called Falun Gong, and adherents have since been subjected to unprecedented imprisonment, torture, and abuse.
One dance piece this year depicts the state-orchestrated crime of forced organ harvesting from Falun Dafa prisoners of conscience in China, part of the CCP's persecution campaign.
"It was really good that they touched on the persecution [and] organ harvesting," said Mr. Webster. "People need to know … so that they can make important decisions in their lives … maybe support certain things or not support certain things."
"I was very touched by the performance," he added. "There's so much censorship today that if they don't promote really heavy subjects in a colorful way … and draw people's attention to it, it may get lost in the mix with all the disinformation."
China was once known as "The Land of the Divine" and its authentic culture is inseparable from its spiritual heritage. Shen Yun presents this culture by drawing upon the Middle Kingdom's Buddhist and Daoist philosophies.
Mr. Webster thought Shen Yun's uplifting themes related to the divine were the most important part of the performance.
"It reminded you of the bigger picture of things, and that even though we're going through sacrifices and terrible things, that there's a bigger picture to the things that we believe in," he said.
"In the end, there's still going to be hope, and if you do the right thing, and even if you give your life for it, there's something bigger than that," he added."It's a very good reminder."
Reporting by Linda Jiang and Jennifer Schneider.
The Epoch Times is a proud sponsor of Shen Yun Performing Arts. We have covered audience reactions since Shen Yun's inception in 2006.