A Sparkly, Spangly Flag Cake for Your Fourth of July Celebration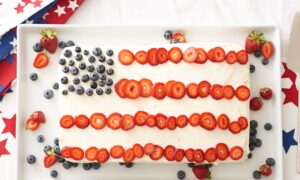 One of my favorite annual traditions is making this super-simple flag cake with my daughter. Yes, turning a cake into an American flag is somewhat cliché, but if you consider this the best way to dress up berry shortcake, then it's as fun to make as it is to share.
This charming, whipped cream-frosted cake has a colorful surprise inside. It's what makes this vanilla-cake-meets-berry-shortcake recipe stand out from the rest. To make a big impact, portions of the batter are dyed red and blue and then swirled into the pan to create a patriotic surprise.
A sweetened whipped cream is the best topping for this cake, as it complements both the cake and the berries. Use blueberries and sliced strawberries to decorate the top of the cake.
Flag Cake
Serves 16
For the Cake
Cooking spray
3 cups all-purpose flour
1 1/2 cups granulated sugar
1 1/2 teaspoons baking powder
3/4 teaspoon salt
3 large eggs
3/4 cup canola oil, or melted and cooled unsalted butter
1 cup whole milk
1 tablespoon vanilla extract
Red food coloring
Blue food coloring
For the Whipped Topping
2 cups cold heavy cream
3/4 cup granulated sugar
1 teaspoon vanilla extract
4 cups fresh strawberries, stemmed and sliced
1 1/2 cups fresh blueberries
Make the Cake
Arrange a rack in the middle of the oven and heat the oven to 350 degrees F. Coat a 9-by-13-inch baking pan with cooking spray; set aside.
Whisk the flour, sugar, baking powder, and salt in together a large bowl. Add the eggs, oil or butter, milk, and vanilla and mix with an electric hand mixer on medium speed until smooth, about 1 minute.
Pour 1/2 of the batter into the prepared baking pan. Divide the remaining batter between two bowls. Dye one red with 3 to 4 drops of red food coloring, and dye the other blue with 4 to 5 drops of blue food coloring. Dollop the red and blue batter onto the white cake batter. You can do a pattern or random placement.
Bake until the cake is lightly browned and springs back when tapped gingerly, 25 to 30 minutes. Cool on a wire rack for 30 minutes. Remove the cake from the pan and cool completely on the rack.
Make the Whipped Topping
Place the cream, sugar, and vanilla in a large bowl. Beat with an electric hand mixer on medium-high speed until stiff peaks form.
Cover the entire cake with the whipped cream frosting. Arrange the berries in a flag shape by making a square of blueberries in the top left corner and then making stripes with the sliced strawberries. You can use a small offset spatula to mark lines for the stripes, if needed.
Refrigerate the cake for up to 4 hours before serving or serve immediately.
Recipe Note: The cake can be baked, cooled, wrapped, and stored in the fridge several days in advance. Bring to room temperature before frosting.
Meghan Splawn is the food editor of skills content for TheKitchn.com, a nationally known blog for people who love food and home cooking. Submit any comments or questions to editorial@thekitchn.com. Copyright 2021 Apartment Therapy. Distributed by Tribune Content Agency, LLC.