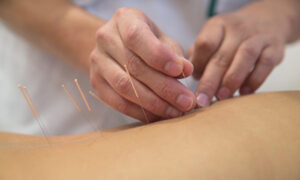 Diabetes mellitus is a difficult disease with a wide spectrum of morbidity. Studies suggest acupuncture therapy has a preventive and curative effect on this disease and its complications.
A recent study led by Sabina Lim, a professor at Kyung Hee University's College of Korean Medicine, investigated whether acupuncture could be used in reducing the risk of macrovascular complications in diabetic patients taking antidiabetic medications. The results of this study were published on Feb. 2 in the Journal of Integrative Medicine.
The study identified 21,232 diabetic patients listed in a Korean database called the National Health Insurance Service-National Sample Cohort (NHIS-NSC). The patients had been taking anti-diabetic drugs between 2003 and 2006 and many had also received acupuncture treatments.
To pare down the study population for closer examination, the researchers divided the patients into two groups: those who received at least three acupuncture treatments in the year following their diagnosis and those who did not. Each group then underwent a 1:1 Propensity Score Matching (PSM) that involved 3,350 finalists for the study. Among those selected, observation ceased at the occurrence of a major adverse cardiovascular event (MACE), including myocardial infarction, stroke, or death due to cardiovascular causes.
The study found the group receiving acupuncture treatments had a lower incidence of major cardiovascular events and mortality from all causes compared to the group that was not provided acupuncture. Mortality rates related to stroke, ischemic heart disease, and circulatory disease were also lower in the group receiving acupuncture.
According to Lim, her study confirmed how acupuncture contributes greatly to the prevention of diabetes and its complications. She said, "The objectivity of the data is undeniable since the study utilized large data accumulated by the National Health Insurance Service."
Not only were Lim's results conclusive in regard to the efficacy of acupuncture to treat diabetes, but they also reinforced the results of previous studies on this topic.
For example, a study published in 2022 in the Journal of Complementary Therapies in Clinical Practice likewise confirmed the efficacy of acupuncture in treating type 2 diabetes combined with obesity. The study involved a meta-analysis of 993 patients in a randomized controlled clinical trial.
Also in 2022, an Australian study published in the Journal of Holistic Nursing Practice found that acupuncture has a preventive and curative effect on diabetes and was instrumental in reducing incidences of prediabetes. The researchers from Edith Cowan University found that acupuncture was instrumental in improving key markers such as fasting blood glucose, two-hour blood glucose, and glycated hemoglobin.
In 2020, a clinical study published in the Journal of Diabetes found that acupuncture was effective in the treatment of diabetic peripheral neuropathy (DPN). This is a common and serious complication of diabetes that damages the nerves causing pain and numbness in the legs, feet, and hands.
A 2018 study published in the American Diabetes Association's journal Diabetes Care found that electro-acupuncture was effective in reducing DPN pain and numbness. This is an enhanced form of acupuncture in which the specialized needles carry a micro-electric current that interacts with the body's bioelectricity.