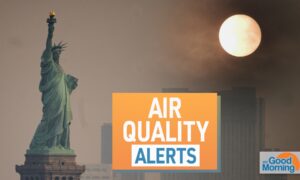 Wildfires in Canada spread east. Smoke from the out-of-control blazes is causing serious health concerns across the country and down into the U.S. We have the latest on the hazardous effects from the fires.
Florida Governor Ron DeSantis defends his decision to fly illegal immigrants to Democrat-run cities on a visit to the Southern border.
Fox News accuses former anchor Tucker Carlson of breaching his contract. His new show went out on Twitter June 6.
Topics in this episode include:
1. Wildfires Across Canada Continue
2. 11 House Republicans Stage Mini Rebellion
3. Fox Says Tucker Carlson Breached Contract
4. Gov. DeSantis Visits Southern Border
5. Biden Vetoes Bill to Block Student Debt Relief
6. Utah Congressman Submits Letter of Resignation
7. Utah Parents Protest Bible Removal From School
8. CDC Warns of Lethal Bacteria
9. US Issues Travel Advisory for Dominican Republic
10. FBI to Transfer Joran Van Der Sloot to US
11. Plot Against America?
12. Dominance of US Dollar at Risk: Hearing
13. Man Builds 74-Foot Steel Boat in Yard
14. Kilauea Volcano in Hawaii Erupts Again
15. Large Killer Whale Pod Spotted off SF Coast
16. WA: 10-Yr Old Girl Survives Alone in Mountains