Amazon Workers Embracing Great Resignation; Biz Activity Growth Slows to 18-Month Low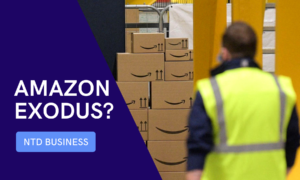 Business growth in the U.S. slowing down, thanks to the omicron variant, supply chain bottlenecks not helping either, we talk to a manufacturer and see how they are managing.
Peloton suffering another PR crisis, what happened, and why is one investor calling on the company to fire its CEO?
Amazon reportedly facing a worker crisis, with white-collar workers resigning in droves. what are the reasons?
Chase bank and Instacart working together to launch a new credit card, what are the benefits and should be apply for one? we talk to an expert
The ruins of an underwater Roman city draw tens of thousands of visitors each year. The ancient city used to be a playground for Roman senators and emperors. That's before it sank — in the fourth century.