America Is the Land of Opportunity for This Photographer
Applying conventional logic, Randy Bince should either be in prison or dead by now.
But he's not in prison and he's certainly not dead. He and his wife, Christina Murray, are living the American Dream with their own youth sports photography business.
A Childhood of Poverty
While Bince was born in Brooklyn, New York, in 1981, he spent his early childhood in poverty in Haiti. At 8 years old, he relocated to the Ravenswood Projects in Queens, New York, where he lived in more poverty with his parents and his three brothers and two sisters (whom he had never met until then) in a two-bedroom apartment.
Indoor plumbing was something new to him, and he had to learn how to flush. Bince also shared the apartment with creepy-crawly things, and the building was surrounded by rats.
Having only spoken Creole in Haiti, Bince started fourth grade not knowing English, but learned it rather quickly, thanks to English as a second language classes and "Sesame Street." Today, he speaks with an American accent.
Things Get Worse
One night, there was a big fight at the apartment between Bince's father and aunt.
"Guns were drawn and people were shot," he told The Epoch Times.
His father eventually went to prison.
Bince's mother had permanently returned to Haiti, so he and his siblings were sent to live with their two uncles and grandmother in another part of Queens.
"Grandma was a real parent," Bince said, with "education and church" being "the core foundation" of her parenting methods. Additionally, one of his uncles was "super strict," keeping Bince and his siblings on the straight and narrow, with school being a priority. Household chores were a close second.
He graduated high school, and thanks to public assistance programs, was able to attend St. John's University. However, the programs didn't cover everything and even with a part-time job, he couldn't make it work.
Bince transferred to a community college, which was far more affordable. Even so, his old-world, Haitian uncles weren't happy with him having a job—in their minds, school was to be his only job—and actually kicked him out of the house for working.
"So I went downstairs, I packed my bag, I walked out the side door, and I never turned around," Bince said.
At 17, he was on his own.
Hired at Legends
In 1999, Bince was hired at Legends Photography, which photographed youth sports. It was founded by husband-and-wife team Chris and Nancy Minerva in 1986. They shot team photos and individual portraits of players in organized youth sports on Long Island (where it's located) and in neighboring New York.
Generally, the spring season was baseball and soccer and the fall season was football and cheerleading. There were the occasional lacrosse, gymnastics, and ice hockey teams, as well as other sports.
The Minervas developed a method of photographing hundreds of players at a time, often having multiple units shooting at several locations over a weekend, both interior and exterior.
Photographs could be put on plaques, coffee mugs, custom-made trading cards, and a host of other items.
"Randy was Mr. Energizer Bunny," Nancy Minerva told The Epoch Times.
"I loved him. I loved his energy," Chris Minerva said of Bince.
Bince described his photography skills at this point as "absolutely zero," but having grown up in the environment he did, he was a "good soldier-kid" who followed orders and didn't talk back, which is what the Minervas were looking for.
Bince took it upon himself to go to the library and read books on photography, as well as look at fashion magazines he would swipe from his neighbor's recycling bin, thus launching his career in photography.
Eventually, Bince dropped out of college and worked at Legends full time. In between seasons, when business was slow, Chris Minerva often handed Bince cash "right out of his wallet" if he needed it to pay the rent and even gave him a car.
Legends is where he met fellow employee Christina Murray, whose first impression of him was "such a goodie-two-shoes," having no immediate attraction to him. At the time, Bince had no idea how this job would greatly change the course of his life for the better.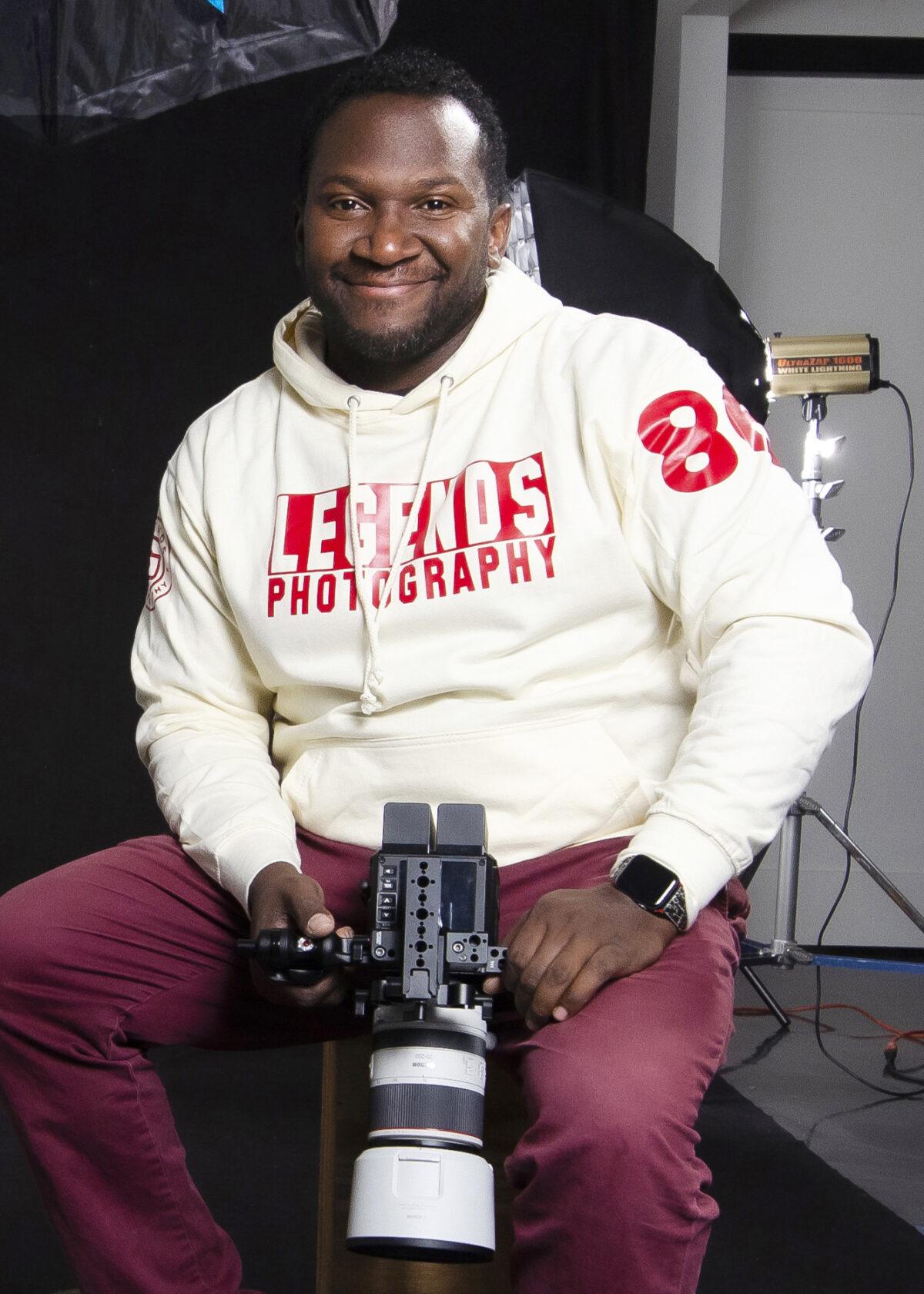 The Digital Age
When Bince started at Legends, it was the waning days of film. As the world made the transition to digital photography, so did Legends. So Bince learned how to shoot and edit digital photography from its early days.
Bince and Murray were married in 2015, and he became a stepfather to her daughter, Kaylee. They've had two children together, Abigail and Nathan.
Eventually, they knew everything needed to run and own the company. In order to raise capital, Bince sold every personal item he could and borrowed money from friends and family. He and Murray purchased Legends from the Minervas in 2017.
Their first order of business was to bring it into the 21st century, replacing much of what was done on paper with digital alternatives, which saved hours of manpower. They also hired a full-time equipment manager to upgrade the old, worn-out items with profession-grade equipment.
The step after that was to acquire more clients, often through social media, which they did.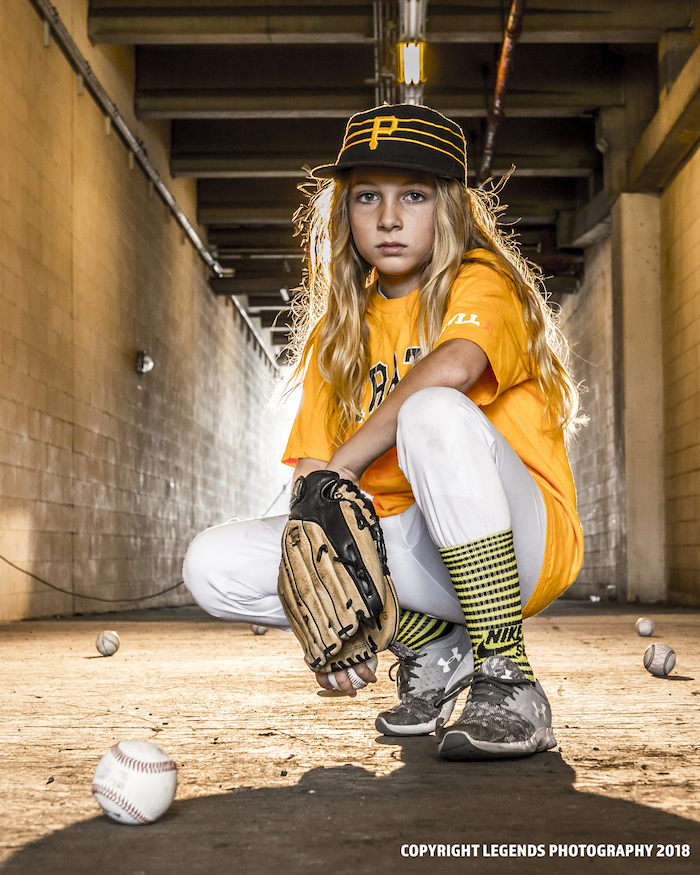 'MyStyle' Is His Style
While Legends shoots clean, professional pictures, every parent has a cellphone with a camera in it and can shoot pictures that are "good enough" for their purposes. Bince knew he had to shoot pictures that no one else could shoot and make them so desirable that parents and coaches just had to have them.
With inspiration from another photographer, the style he developed is high contrast with a lot of attitude. Instead of having the subject smile, he'll say, "Put on your game face." This, combined with either a jet-black background or an urban-looking location, results in the fiercest-looking 11-year-old girls' softball teams you've ever seen.
Bince also combines customized graphics with the photos so players can have their position and number included in the layout. He also makes composite team photos, commingling the individual portraits into one large poster.
Players love it, parents love it, and coaches love it. Bince calls the method "MyStyle" and copyrighted the term.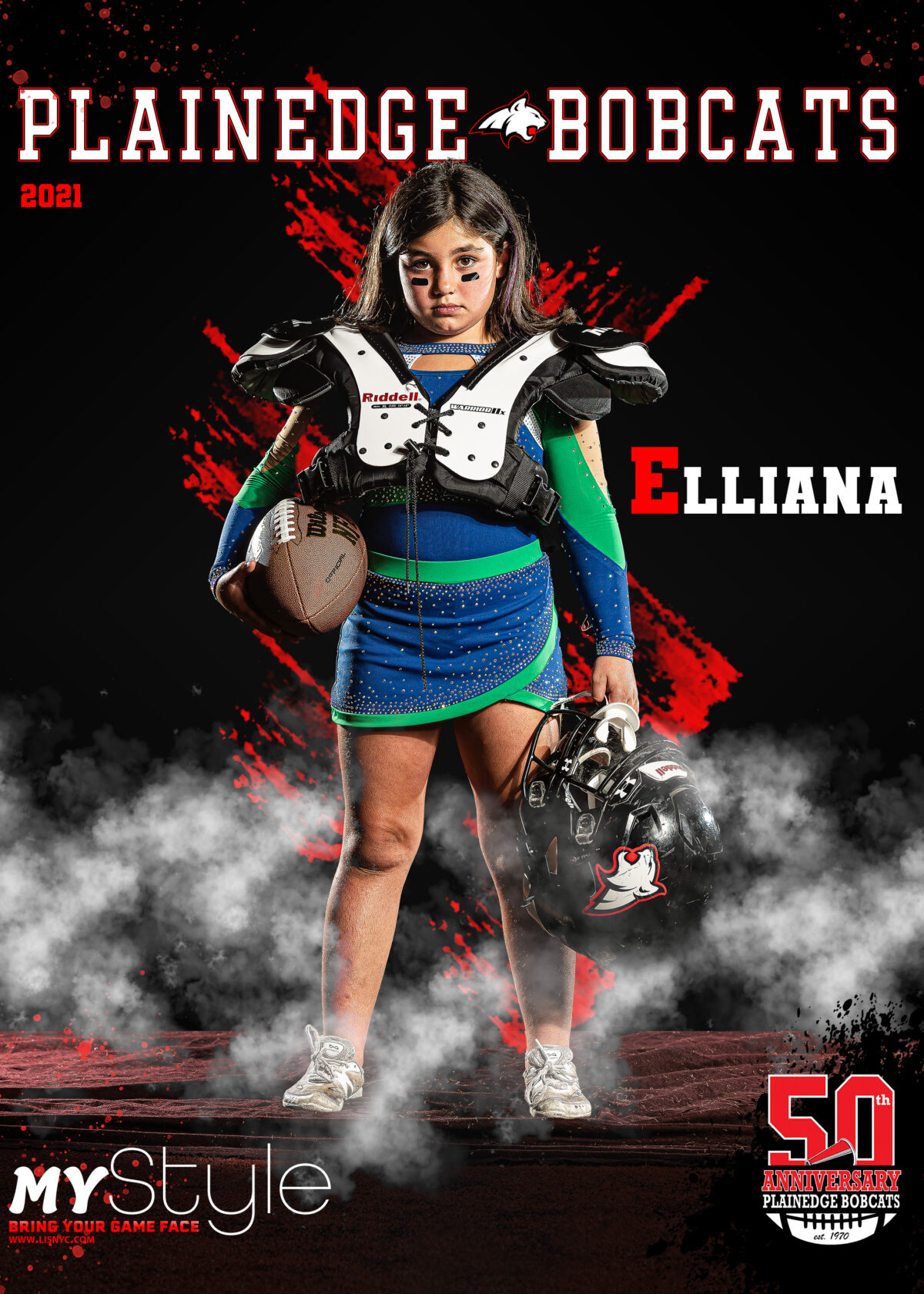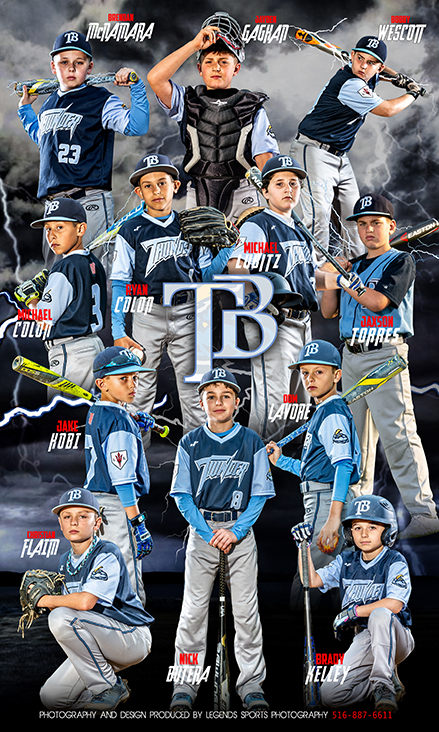 A Blessing in Disguise
As the spring 2020 season was approaching, Bince and Murray were expecting to have a banner season (with all the newly acquired clients) to the point of having to hire more staff and purchase more cameras.
The COVID-19 lockdown put an end to that.
"We were one step from falling off the cliff with everyone else," Bince said.
However, having zero jobs coupled with an SBA loan gave them the opportunity to renovate the office space that they rent. They tore down walls and ceilings, ripped up floors, and started from scratch. They made half the building studio space for their own use and for rental. They dubbed it, "Studio L."
Bince and Murray don't know what the future holds any more than anyone else does, but given his past as a Haitian immigrant born into poverty and his present as the co-owner of his own business, there's a good chance that they'll continue to thrive in the United States, making it the Land of Opportunity indeed.