An Insider's Peek into the Doscher's Candy Factory, Home to America's Oldest Handmade Candy Canes
In some ironic twist of fate, it was a fellow by the name of Claus (yes, just like "that guy" in the red suit) who handcrafted the first candy cane in the United States.
He was Claus Doscher, and back in 1871, after arriving in America, he opened up a candy shop on a downtown street corner in the Queen of the West, as the Midwest city of Cincinnati, Ohio, was dubbed way back when. Having learned the craft of candy cane making in his native country, Doscher soon began boiling up batches of pure sugar and corn syrup, adding in just the right amount of peppermint oil and turning out his red-and-white-striped treats for sweet-toothed customers to espy—and aspire to try.
The rest is holiday history. Soon after, candy canes—originally crafted as a Christian treat to help keep children quiet during long Christmastime church services—became as quintessentially Christmas in America as brightly-lit Balsam firs, scarf-clad snowmen, and yuletide carols. Not much has changed at Doscher's Candy Co. since it first opened its doors 150 years ago, setting its treasured path to becoming America's oldest candy cane maker. It now has three owners, including Greg Clark, who apprenticed alongside Doscher's grandson, Harry Doscher, the last surviving Doscher to run the candy company, before buying it in 2004. Clark eventually added a husband and wife team as his partners.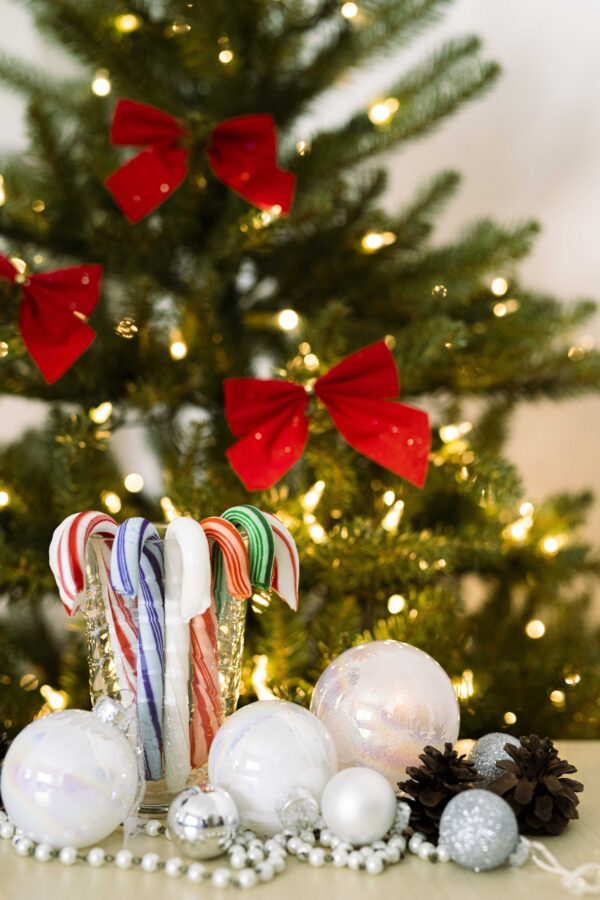 "Sometimes I feel like I know the Doscher family history more than my own," said Clark about his deep commitment to keep the Doscher name well preserved with the family's signature artistry of candy cane making. Unlike mass-produced candy canes, each Doscher candy cane is still handmade—hand kneaded, hand stretched, and hand cut. One by one, even the "shepherd's hook," as Clark calls it, is hand turned on each of the 56,000 canes the company makes daily.
It all starts in giant copper kettles, where cookers boil up a giant batch of fine sugar, corn syrup, and a little bit of water to about 300 degrees. When it reaches just the right substance, Doscher then adds another "signature step," and that is spending a few minutes removing any excess moisture left over from the cooking process. As minuscule as it might seem, Clark says the step prevents the cane from being grainy or brittle. Enter the "blobbers," who place giant blobs of the candy cane mix onto "taffy pullers." It's here that yet another Doscher signature craft takes place.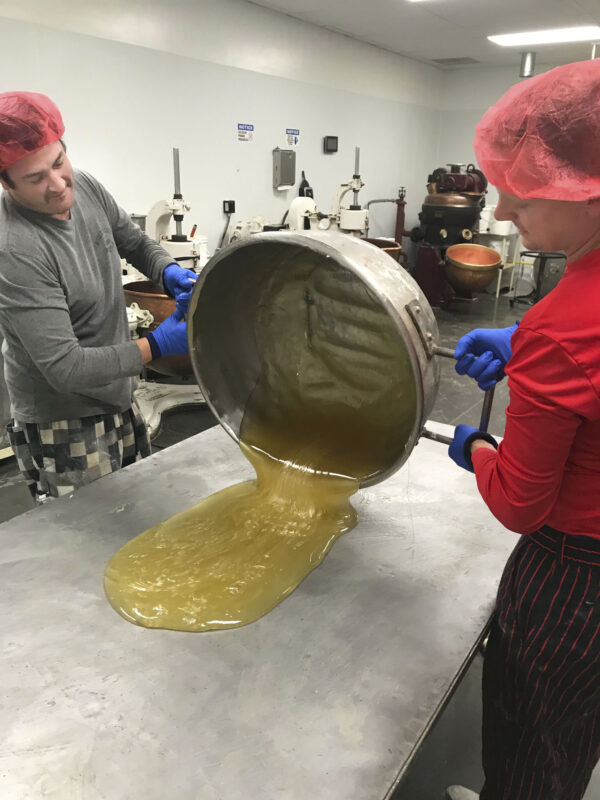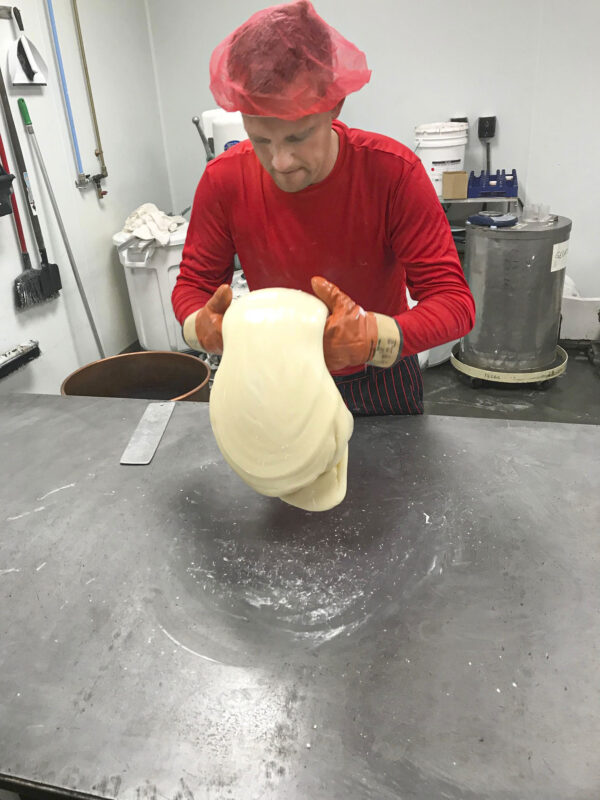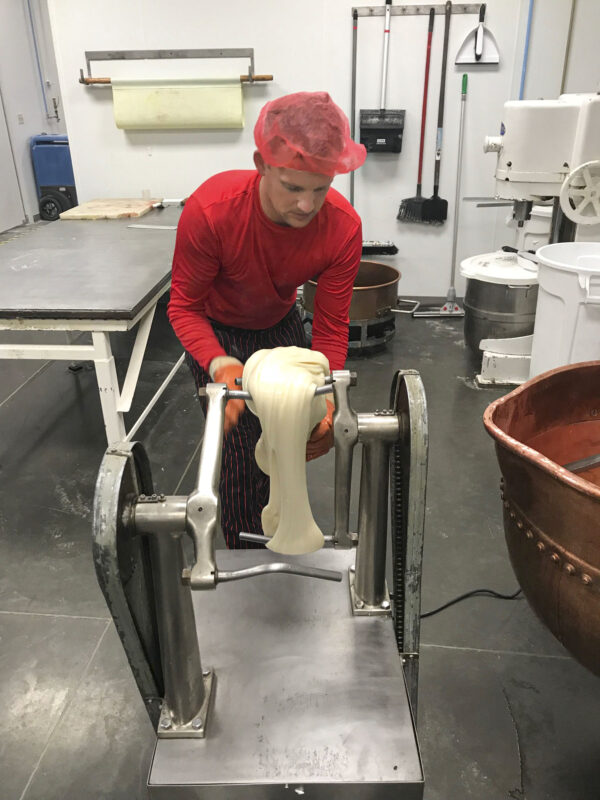 Unlike mass-produced candy canes that go directly from a giant vat to a conveyor, Doscher pulls its mix on taffy pullers just long enough to allow the air to naturally cool the sugar mass. "This process allows the air to breathe in and turns the mix whiter and shinier," explained Clark, "or what we like to call 'a snow white finish.'" The air, said Clark, also makes the canes a little lighter and crunchier than mass produced candy canes. Each batch yields about 700 canes under the process, a fraction of the thousands turned out by the mass producers of candy canes, most of which, today, are in Mexico.
In its dedication to strictly following the original Doscher recipe, the company also still "delicately pours," said Clark, the peppermint oil into the candy cane mix as the batch reaches its boiling point, "mixing it back and forth to get the best flavor." And then comes the ultimate Doscher signature—the pinstripes. The striping pattern of the classic Doscher candy cane consists of a red stripe, made from a still very hot mix with added food coloring. The stripes are wrapped around the all white candy cane, giving it the classic twizzle look that has earned the candy cane's comparison to a barber's pole.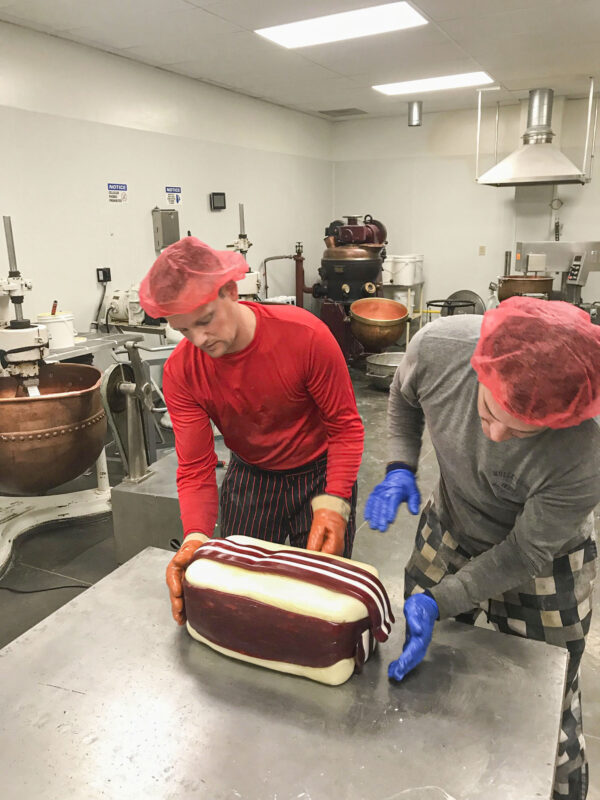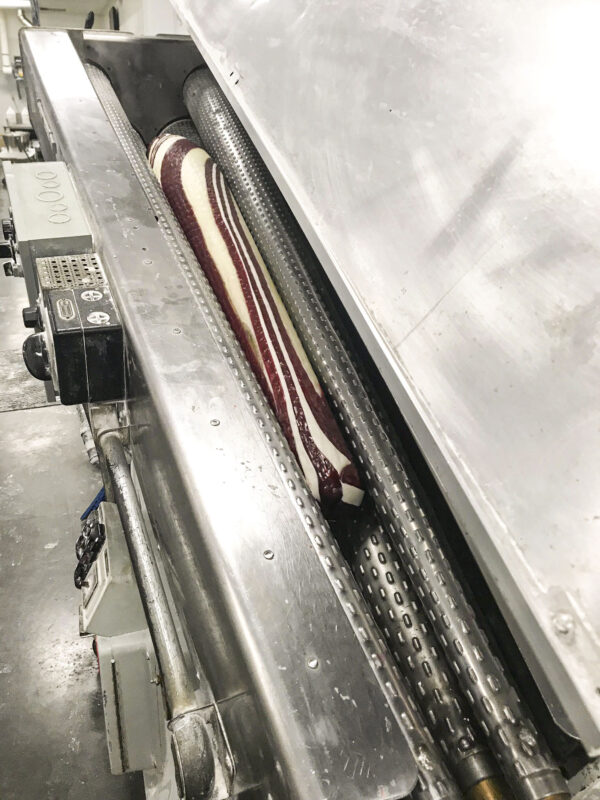 But then, just to give it that extra eye-watering nuance, the candy company carefully wraps each cane with three tiny red pin stripes—the same finishing touch that Doscher originally added to his candy canes. "That is the trademark of a Doscher candy cane. You won't find any other candy cane today that has the three pinstripes," said Clark.
Today, Doscher's makes candy canes in a variety of colors. It also makes what Clark called the "naked candy cane"—an all white cane with no red stripes. Clark made it on a whim in response to purists looking for a cane that didn't contain the red food coloring. Today, the "naked cane" is one of its best sellers. Besides being trendsetters in candy cane fashion, the Doscher family's legacy as America's first candy cane makers also includes some rather unsung heroism.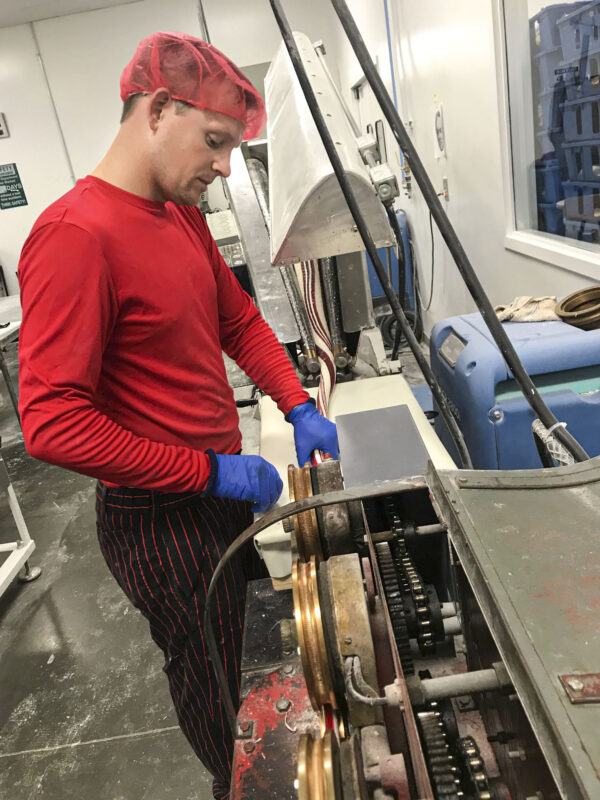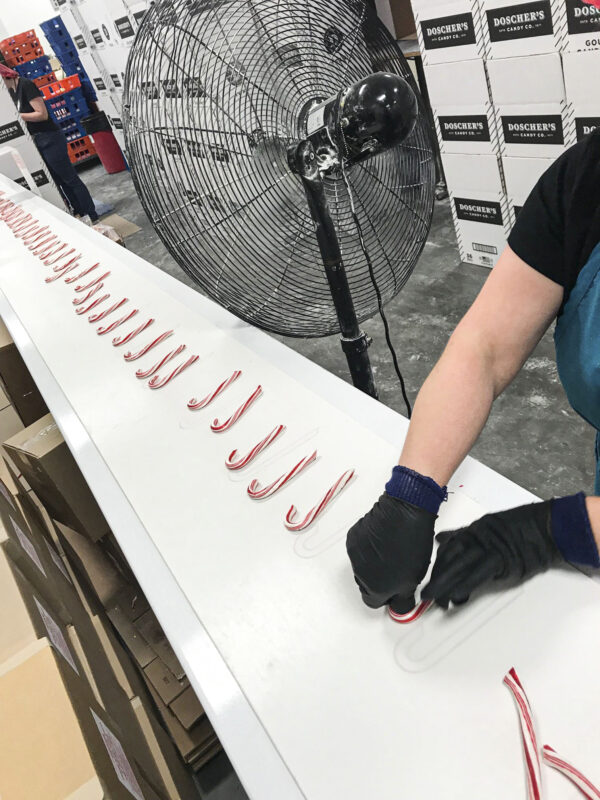 After Claus Doscher died in 1883, his brother, John, and Claus's two young sons, Harry and John, took over the company. Elsie Doscher was married to Claus's son Harry. She was a quintessential stay-at-home mom—that is, until the Great Depression, when tragedy struck the family hard and all three men, including Elsie's husband, died within a few years of one another.
Practically overnight, Elsie found herself at the helm of the Ohio candy company and during the worst economic times in U.S. history. She made her move, and in her first major decision, streamlining production, she reduced the nine different candies Doscher's was making down to just three candies—the French Chew, chocolate-covered Easter eggs (a big fad back then), and—yes (and most thankfully), the candy cane.
Needless to say, it was one very delicious decision for America. "She is truly, without a doubt, the real hero of the company," said Greg.
This article was originally published in American Essence magazine.