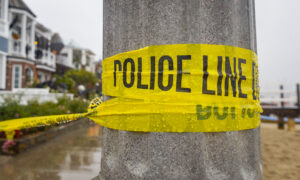 SAN DIEGO—A 37-year-old man was fatally wounded at the end of a short vehicle pursuit with police officers in San Diego, authorities said Jan. 21. It was the second fatal shooting by San Diego police officers in four days.
Officers conducting a routine traffic stop in the 1800 block of Logan Avenue at about 11:30 p.m. Friday contacted the driver, who suddenly sped away eastbound on Logan Avenue, said Lt. Chris Steffen of the San Diego County Sheriff's Department.
The pursuit ended about two blocks later in the 2000 block of Logan Avenue, where the man exited the vehicle, allegedly armed with a handgun, and the shooting by police occurred, Steffen said.
"As the man fell to the ground the handgun dropped from his person. Officers ordered the man to move away from the handgun, but he did not comply," Steffen said. "A police K-9 was used to pull the man away from the firearm."
Paramedics rushed the man to a hospital, where he died from his injuries.
The Sheriff's Homicide Unit responded and was investigating the shooting.
"No officers were injured," Steffen said. "There is body-worn camera footage of the incident."
The suspect was identified but his body was not immediately released pending family notification.
4 Days Prior
On Jan. 17, authorities identified a murder suspect who was fatally shot by police when he allegedly reached for a gun during a confrontation outside his home near El Cajon.
Frank Brower, 77, died at the scene of the shooting in the 800 block of La Cresta Boulevard in the unincorporated community of Crest, according to the sheriff's department.
The events that led to the deadly gunfire began shortly before 4 p.m. Tuesday, when the San Diego Police Department received a report of a violent dispute at a pharmacy in the 5500 block of Reservoir Drive, just east of San Diego State University.
Officers arrived to find the business locked, police department Lt. Steve Shebloski said. After forcing entry, they found 66-year-old Mary Ellen Carter of Lakeside suffering from stab wounds to her upper body. Paramedics took her to a hospital, where she was pronounced dead.
Investigators soon identified Brower, a workplace colleague of Carter's, as the suspected killer and determined that he had left the area in a dark-colored SUV.
Police then went to his home on La Cresta Boulevard. They found Brower near his vehicle, which was parked behind his house.
"When contacted, the suspect failed to comply with instructions, prompting officers to [shoot him with] beanbag rounds, which had no effect," Steffen said. "The suspect then reached for what appeared to be a shotgun from inside his vehicle."
San Diego Police Department Officers Salvador Laurel-Torres and Robert Raynor opened fire with their service firearms, killing Brower.