Audiences New and Old Admire Shen Yun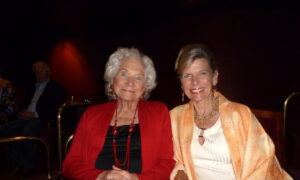 HOUSTON, Texas—Wildlife photographer Deanne Peterson and her mother attended their third Shen Yun performance together on Sunday, Sept. 19, at the Wortham Center Brown Theater in Houston, Texas. It's become a family tradition.
"We've come for probably four or five years, and it's always really wonderful to come back and to see the new choreography and the new routines and the new backdrops," Peterson said.
Shen Yun is a touring performing arts group based in New York whose mission is to revive the soul of 5,000 years of traditional Chinese culture, as it existed before communism, to the public through dance and music. Each year, its touring companies perform in at least 150 cities around the world. Each season's program is brand-new, making the experience both familiar and exciting for returning audiences like Peterson and her mother.
"The lines, the symmetry … It's really, really stunning and I know that the work that goes into this is endless hours," Peterson, who danced in her youth, said about the deep appreciation she had for the performance.
"I have a true appreciation for the dedication and the commitment that goes into making these routines absolutely pristine," she said.
Portfolio managers Gregg and Nubia Gillian described the dancers as "flying" and "floating." It was the couple's first time at the performance, having been eagerly awaiting the opportunity.
"We always wanted to come and see it, and we finally got the opportunity and we love it," Mrs. Gillian said. "For me, I love the way everything just comes together, everybody's very synchronized, the colors are beautiful!"
Mr. Gillian was especially taken by the fan dancing, a type of classical Chinese dance in which hand fans become part of the choreography and stage effect.
"The way it was choreographed was really incredible!" he said. "It's exciting, the gymnastics of it. [The dancers look] like China dolls! I mean, they're just beautiful!"
Aside from its dance pieces, Shen Yun also features solo vocalists. Inspired by the spiritual teachings of ancient China, Shen Yun's lyrics touch on themes such as the meaning of life, kindness, and salvation. Sung in Chinese, a translation of the lyrics are shown on the digital backdrop, giving audience members the full experience.
Mrs. Gillian was moved by one song in particular. "I love the part in the song when it talks about humans here on earth—they've become too materialist with everything," she said.
Attorney Jeff Matthews was inspired by the fact that Shen Yun's performances raise awareness of China's rich culture before it was destroyed by communism.
He said that a performance like Shen Yun "really does help shed light on that."
Since the communist takeover in 1949, the Chinese Communist Party has been systematically destroying China's traditional culture, and placing particularly harsh restrictions on religions. Cadres and the Liberation Army tore down temples and banned spiritual texts that had been the backbone of Chinese society for thousands of years. In its place, the party touted Marxist ideology; promoting struggle between social classes became the highest priority. As such, it is impossible for Shen Yun to perform in China today.
"It's sad to believe that in today's modern society, it's prohibited to share that beautiful culture," Matthews said.
In contrast, "This particular culture that I'm seeing (portrayed by Shen Yun) is very spiritual, optimistic, and compassionate. It really makes me wish well for China. I do know that they're going through a very tough time over there and people really need that kind of peace and optimism, for everybody else as well. I hope they get it."
"I want that for China," he continued. "I know they're having a lot of troubles with regard to the communist party and some of the, in my opinion, [are] really just ridiculous practices on curbing people's individual liberties and freedom to think, worship, and aspire to things that are beyond just mere self interest."
Reporting by Sherry Dong, Sophia Zheng
The Epoch Times considers Shen Yun Performing Arts the significant cultural event of our time. We have proudly covered audience reactions since Shen Yun's inception in 2006.