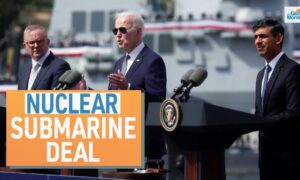 Australia will purchase nuclear-powered attack submarines from the United States. That's amid growing concerns over China's influence in the indo-Pacific region.
Fallout and after effects from the recent Bank failures. And the Fed investigates the collapse of Silicon Valley Bank to find out why regulators didn't see it coming.
A controversial oil drilling project in Alaska is now approved. The Biden administration gives the green light for a scaled back version of the project. What could does it mean for the future of America's energy supply?
Topics in this episode include:
1. Australia to Buy US Nuclear-Powered Submarines
2. Biden Approves Controversial Oil Project
3. Regional Bank Stocks Tumbled on Concerns
4. Financial Analyst: Banking Panic Unlikely
5. WV Seeks Ban on Minor Gender Reassignment Procedures
6. US Government Sues Rite Aid
7. Illegal Immigrants Entering Canada From US
8. North America's Largest Seafood Exposition in Boston
9. Yelp Names Best Pastry Shop in California
10. The Art of Vanishing Images on Books