Battle Over Critical Race Theory Pits Teacher Against Education System
Retired Michigan schoolteacher Ilona Rugg has slammed the state's public schools, accusing them of "following an exceedingly inhumane program [that] scares children by teaching that their accomplishments are vicious relics of white supremacy."
Rugg made her comments to a state Senate committee considering a measure to ban teaching critical race theory (CRT) in Michigan schools.
"The public school system is indoctrinating and shaming our children and teachers. Critical race theory pits minority children against whites. It drives a wedge between parent and child," said Rugg, who strongly supports banning CRT.
"Students are indoctrinated to hate their country, hate their gender, hate their parents. We have to stop allowing all of this madness to occur in our public schools. I support the bill."
A Democrat on the committee, Sen. Erika Geiss, responded: "We have just listened to the most bigoted rhetoric I ever heard in my professional life."
Geiss challenged several pro-ban witnesses at the hearing to produce evidence "that CRT is being taught anywhere in the country."
Rugg responded, "Even though schools will tell you they are not teaching CRT, they will lie or call it something else."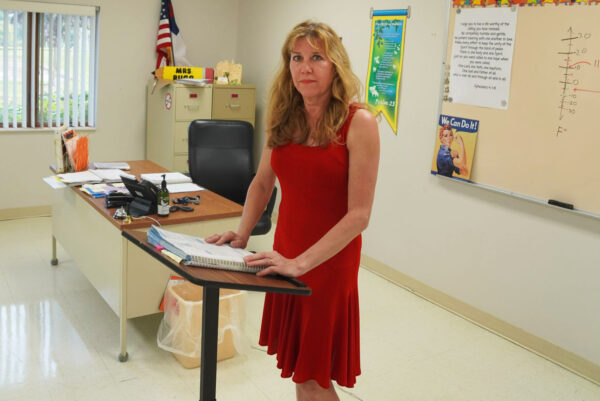 State Sen. Jim Runestad, a Republican, told his committee colleagues that he had visited more than 100 schools and found ample evidence that the precepts of CRT were being taught.
Dr. Pamela Pugh, vice president of the Michigan State Board of Education, urged senators to oppose the bill.
"I call on you to embrace critical race theory," she said.
Pugh said the "self-induced amnesia" that the legislation promotes will "suppress truth."
"To promote the comfort of some while ignoring the discomfort of others is an act of violence," she said.
Geiss declined to be interviewed by The Epoch Times.
Pugh didn't respond to a request for comment by press time.
Senate Bill 460, sponsored by state Sen. Lana Theis, a Republican, would dock a school district 5 percent of its state aid if it allows the teaching that any race is inherently superior or inferior to any other race, that the United States is a fundamentally racist country, that the Declaration of Independence and the U.S. Constitution are fundamentally racist documents, that an individual's moral character or worth is determined by his race, or that an individual is inherently racist by virtue of his race.
Rugg is no stranger to conflicts with authorities over her principles. She clashed with her school's administration by refusing to call students by their preferred personal pronouns.
"I teach English. It [a preferred pronoun] is ungrammatical and confusing," she told The Epoch Times. "These are children. I'm going to call them by their God-given gender."
Rugg said that after the murder of George Floyd, the faculty at her school organized a Black Lives Matter protest.
"I made a sign which read 'All Lives Matter.' That idea was rejected, and I got a talking to," she said. "I got talked to a lot over the course of my career."
One of the conflicts Rugg had with the school administration was over her displaying in her classroom a poster that read "In God We Trust," a picture of an American bald eagle, a poster saying "In Every Day Give Thanks and Praise," and a picture of then-President Donald Trump.
"Over several years, one lone parent complained," Rugg said. "Said it was disruptive to the learning environment. I got a talking to, but the stuff stayed up."
After retiring, Rugg has appeared at dozens of meetings to share her experiences and a portfolio of materials that she says expose the situation in some Michigan schools.
"I inform parents that the public schools are doing a disservice to them," Rugg said. "Children are not being taught moral values, or about our God-given rights as Americans. The public needs to know how their tax dollars are being spent.
"How did it get this bad? We let it happen. We gave up our kids to government institutions. Too many parents and teachers are afraid to speak up.
"I've been bullied. Falsely accused of things. I've been watched like a hawk.
"I'm waiting to be labeled a domestic terrorist."