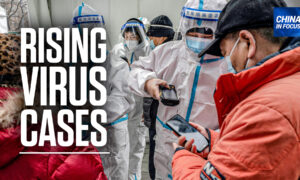 Apple becomes the top-selling smartphone vendor in China, again. The previous leader, Huawei, is suffering major losses thanks to U.S. sanctions.
Supply chain problems are expected to get worse, and soon. That's because of two upcoming events in China: the Lunar New Year holiday and the Winter Olympics.
The Chinese regime is making some edits to a Hollywood blockbuster—so that authorities, instead of anarchists, win the game. It's one of the many examples of censorship foreign films face in China.
Just a few days remain before the Winter Olympics Opening Ceremony. Locals say the atmosphere in Beijing is growing tense amid rising virus cases. And outside Beijing, workers in full protection gear are seen testing tables, chairs, and more.
Subscribe to our YouTube channel for more first-hand news from China.
For more news and videos, please visit our website and Twitter.