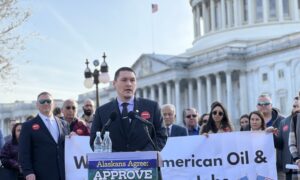 The Biden administration has green-lit a scaled-back version of the $8 billion Willow oil field development project, angering climate activists while delighting lawmakers from Alaska who have been battling to secure the project.
On Monday, the Department of the Interior (DOI) announced that it had approved three of the originally proposed five drilling pads by ConocoPhillips for the Willow project set within the 23 million acres of the National Petroleum Reserve-Alaska (NPR-A). The company acquired the leases in the late 1990s. ConocoPhillips will also relinquish rights to around 68,000 acres of its existing leases in the NPR-A.
The reduction of two drilling pads and relinquishment of 68,000 acres "reduces the project's freshwater use and eliminates all infrastructure related to the two rejected drill sites, including approximately 11 miles of roads, 20 miles of pipelines, and 133 acres of gravel, all of which reduces potential impacts to caribou migration and subsistence users," the DOI said in a press release on Mar. 13.
Abbie Dillen, president of environmental group Earthjustice, slammed the decision. "For all the talk of 'scaling back,' this decision green-lights 92 percent of proposed oil drilling and hands over one the most fragile, intact ecosystems in the world to ConocoPhillips. This is not climate leadership," she said in a tweet on Mar. 13.
Sen. Ed Markey (D-Mass) called the approval of the Willow project an "environmental injustice." The decision "leaves an oil stain on the administration's climate accomplishments and the president's commitment not to permit new oil and gas drilling on federal land," he said.
In contrast, Republican and Democrat senators from Alaska welcomed the decision. "After years of relentless advocacy, we are now on the cusp of creating thousands of new jobs, generating billions of dollars in new revenues, improving quality of life on the North Slope and across our state," said Senator Lisa Murkowski (R-Alaska), according to a press release on Mar. 13.
"Now, it's on us here in Alaska to make sure that we make the best of this opportunity—that we use the revenues and jobs and economic opportunity from this project to make investments in the future of Alaska," said Representative Mary Peltola (D-Alaska).
Over its 30-year lifespan, Willow is expected to produce more than 600 million barrels of oil while contributing up to $17 billion in revenues for state and federal governments as well as local communities. The Alaska House and Senate had earlier passed a unanimous resolution supporting the Willow project.
Limiting Drilling
Meanwhile, President Joe Biden will take action to "designate approximately 2.8 million acres in the Arctic Ocean nearshore the NPR-A as indefinitely off limits for future oil and gas leasing," the DOI said.
In addition, drilling limits have also been proposed for 13 million acres of land within the NPR-A. Since 2007, there hasn't been a single federal lease sale in the Arctic Ocean.
"With these actions, President Biden continues to deliver on the most aggressive climate agenda in American history," the DOI said in a statement.
"He has made the United States a magnet for clean energy manufacturing and jobs. He secured record investments in climate resilience and environmental justice … And his economic agenda has put the United States back on track to reach its climate goals for 2030 and 2050."
The Biden administration's decision has come under criticism. "One can only come to one conclusion … Sky-high fuel cost coming soon," Quang Nguyen, an Arizona Republican, stated in a Mar. 13th tweet while talking about the drilling limits in almost 16 million acres of land.
The DOI insists that new drilling restrictions are aimed at protecting wildlife as well as subsistence uses by indigenous communities.
The Biden administration also intends to restrict fossil fuel production at some places along the Colville River, Teshekpuk Lake, Kasegaluk Lagoon, Utukok Uplands, Peard Bay, and Kasegaluk Lagoon that are known for their rich wildlife.