Bob Gourley on China's Investment in the Metaverse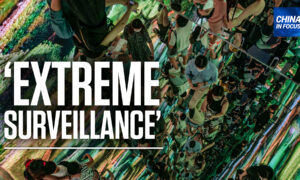 In this special episode, we sat down with Bob Gourley, chief technology officer at OODA, and John Mac Ghlionn, researcher and correspondent at the Brownstone Institute. They touch on the Metaverse, what is, how they see it expanding on the global stage going forward, and how bad actors, like China, could get involved.
Gourley said, "Nation states like China are already investing in the Metaverse in ways that I believe will help them conduct extreme surveillance of everyone—anybody in the Metaverse, not just their own citizens. And this has a detrimental effect on freedom of speech wherever you are. So this extreme surveillance by hostile nations like China is a key issue. Another is espionage. How do you know who is in a virtual world with you? And what are you safe talking about? Maybe you're collaborating on your latest business product or service, and unbeknownst to you, someone else is there recording everything and will be using that for their own purposes."
Mac Ghlionn said, "China's already ahead of the game when compared with U.S. government at least. They've established a Metaverse committee. So you have Chinese telecom companies teaming up with Chinese big tech companies plotting, scheming, I suppose coming up with ways of controlling the Metaverse. And to control the Metaverse, you will have to maybe suppress or limit the opposition. So yeah, there is a legitimate fear there because if this is—which many experts say it is—the next step, the evolution of the Internet, there's every reason to believe that bad actors will have a vested interest in controlling the Metaverse narrative."
Have other topics you want us to cover? Drop us a line: chinainfocus@ntdtv.org
And if you'd like to buy us a coffee: https://donorbox.org/china-in-focus
Subscribe to our YouTube channel for more first-hand news from China.
For more news and videos, please visit our website and Twitter.
Follow us:
EpochTV Facebook: https://www.facebook.com/EpochTVus
EpochTV Twitter: https://twitter.com/EpochTVus