Business Owner Says Shen Yun's Uplifting Message Is Important for the World to See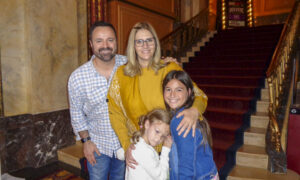 BUFFALO, N.Y.—This was the first time that Mary Celani, formerly in media and currently a business co-owner, saw Shen Yun Performing Arts. She came with her husband Scott Celani, a musician and business co-owner, and their children.
"We love it. … The dancing is unbelievable, the costumes are beautiful. It's just, it's stunning," said Mrs. Celani at Shea's Buffalo Theatre in Buffalo, N.Y. on June 10.
New York-based Shen Yun is the world's premier classical Chinese dance company. The company performs classical Chinese dance, some story-based, as well as ethnic and folk dances. These are accompanied by a unique orchestra that blends traditional Chinese instruments with classical Western ones. Shen Yun also boasts virtuoso vocalists who sing Chinese lyrics in the bel canto style.
In regards to the lyrics from one of the songs, Mrs. Celani found the message to be very impactful.
"The line where it says … 'you can't take your personal belongings or material things with you to the other side' really makes you stop and think about what's important in life," she said, "and I think that's the message I'm taking away tonight … to continue to just embrace."
"If we could all just love each other, and just continue to respect one another, and cheer for one another, … then the world would be a better place," she added.
Shen Yun's mission is to revive China's 5,000-year-old traditional culture after it came close to disappearing under the tyranny of communism in the decades since the seizure of power by the Chinese communist regime in 1949. Shen Yun says its performance this year demonstrates "China before communism."
Mr. Celani said that he and his wife chose to see this year's Shen Yun production because it promoted the traditional culture of China before the destruction of the Chinese Communist Party (CCP).
"I think the CCP is one of the worst things on Earth right now," Mr. Celani said. "That's why we came to this. I really appreciate that [Shen Yun's] showing the world what Chinese culture was like before."
"The history is very rich and the message is very positive and right now. There aren't a lot of positive messages coming out of China," he said, "so this kind of message … is really important for the world to see."
Mrs. Celani was impressed with Shen Yun's courage to showcase the ancient Chinese traditions worldwide despite the dangers and threats from the CCP. "We're so glad that these folks who train so hard in New York are traveling so that all of us can just get a little taste of it."
In regards to the pandemic and the decreased quality of life many experienced during the lockdowns, Mr. Celani believes that the spiritually uplifting messages and energy of Shen Yun are important to restore hope.
"There are some people who have been broken by the pandemic, and I think all the shutdowns did a lot more damage than they did good. And I think the message that [Shen Yun] conveys, the energy that [they] convey is very important. Especially for people in the most oppressed nations and cultures right now, … it's uplifting."
The Celani's two daughters also attended the Shen Yun performance in Buffalo, New York, and are both studying dance. The eldest who is dancing competitively, left inspired by the professionalism and skill of the Shen Yun dancers.
rs. Celani said, "I could just see her up there, just staring and watching it, and she said that [it] was absolutely beautiful."
"And then on top of that," added Mr. Celani, "seeing the professionalism of the dancers, I think that inspires her because she works really hard at dancing, … so seeing dancers at this level is very inspirational.
Reporting by NTD and Jennifer Schneider.
The Epoch Times is a proud sponsor of Shen Yun Performing Arts. We have covered audience reactions since Shen Yun's inception in 2006.