California, Colorado, New Mexico Say All Adults Can Get Booster Doses as Hospitalizations Rise
A trio of western states are expanding access to COVID-19 vaccine booster doses as they grapple with rising hospitalizations despite strict rules and high vaccination rates.
Officials in California, Colorado, and New Mexico said this week that any adult who received a Moderna or Pfizer series at least six months ago or a Johnson & Johnson jab at least two months ago can get a booster.
"I strongly encourage every New Mexican to register for a booster today—we have appointments available and are ready to get shots in arms," New Mexico Gov. Lujan Grisham, a Democrat, said in a statement.
Studies have shown that the vaccine's protection from infection wanes over time, driving federal health officials to grant emergency authorization for boosters of the three vaccines cleared for use in the United States.
There are also concerns about eroding protection against severe disease, particularly as hospitals in some states see their capacity dwindle due to COVID-19 patients and other factors, including the loss of healthcare workers from COVID-19 vaccine mandates.
California has imposed one of the strictest set of rules in the nation during the COVID-19 pandemic. New Mexico is one of the few states that still have an indoor mask mandate in place. Colorado had a school mask mandate in place through the summer, and many local jurisdictions still have mandates in place.
The entire western and Midwest United States is designated as having high levels of COVID-19 transmission, with only southern states, Maryland, and Connecticut in lower tiers.
Hospitalizations attributed to COVID-19 have risen in a number of states in recent weeks, including among the vaccinated, driving the expanded booster recommendations.
The Centers for Disease Control and Prevention (CDC) says people under 65 should not get a booster unless they're at "increased risk for COVID-19 exposure" due to their living or work situation or they have serious underlying conditions like cancer. The latter group has been termed by some as high-risk.
The New Mexico recommendation included declaring the entire state high-risk.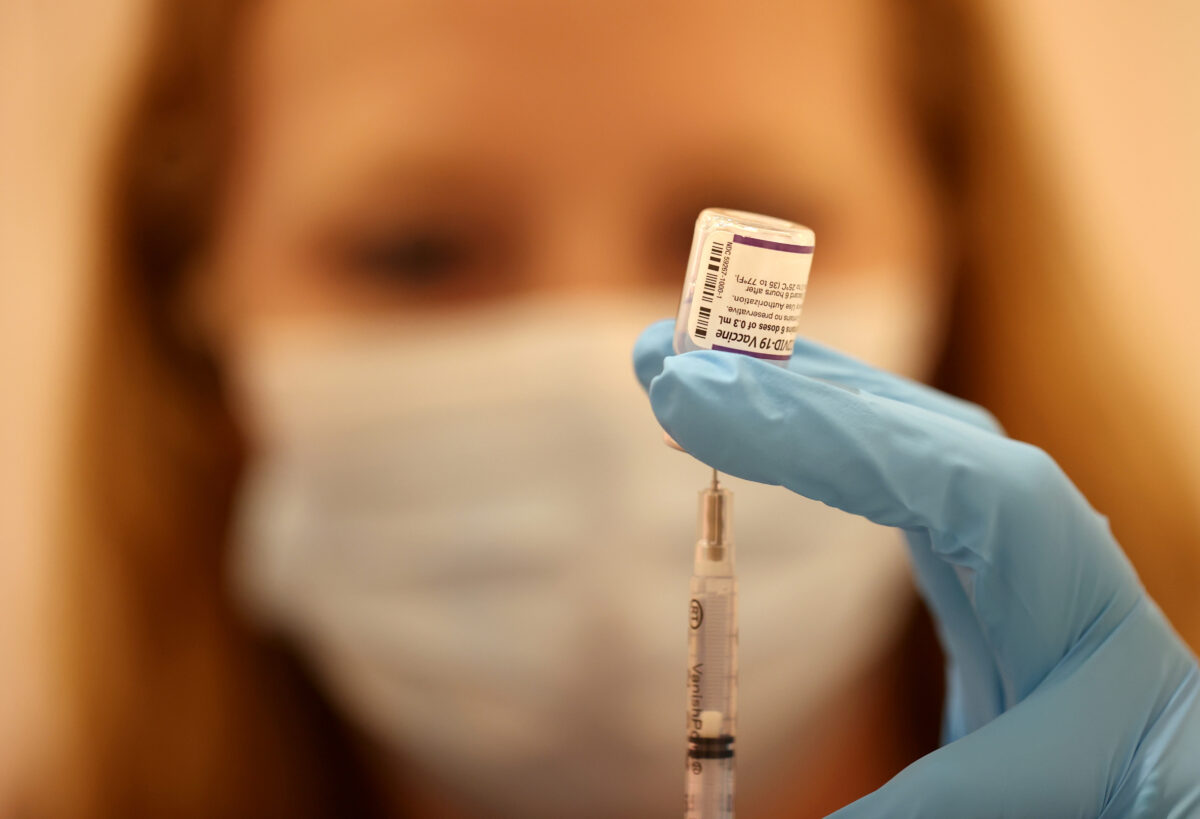 "Case counts are significant, spread rates are far too high, and the Delta variant is far more transmissible than previous variants. In addition, our hospitals are well beyond capacity, and several have declared Crisis Standards of Care," acting New Mexico Health Secretary David Scrase said in a statement. "Those factors absolutely make New Mexico a high-risk setting."
Presbyterian Healthcare Services and University of New Mexico Health on Thursday said they were activating the crisis standards to deal with "unrelenting patient volumes."
New Mexico hospitalizations were rising in recent months but have lately dipped, providing a glimmer of hope that a prolonged drop in COVID-19 metrics will happen.
Just 567 of the 3,195 inpatient beds being used in the state, out of 4,248, were taken up by COVID-19 patients, according to the Department of Health & Human Services, as of Nov. 10.
Other states are also seeing a minority of patients with COVID-19 but say the disease is adding pressure to already overburdened systems, making it imperative to expand booster access.
In Colorado, 95 percent of the intensive care unit beds across the state were in use as of Nov. 11, according to data compiled from hospitals.
Approximately 36 percent of hospital facilities in Colorado expect to have shortages of intensive care unit beds and approximately 42 percent expect staff shortages in the next week.
While most patients in hospitals did not have COVID-19, approximately 1,476 COVID-19 patients were hospitalized—the highest number since Dec. 14, 2020. Nearly one in five are listed as vaccinated, illustrating how vaccine-provided protection is waning against the disease.
California's top health official, Health Secretary Dr. Mark Ghaly, said California was widening booster recommendations because of increasing evidence of waning immunity among the vaccinated.
"If you think you will benefit from getting a booster shot, I encourage you to go out and get it," he told reporters this week, adding that he did not believe the state's guidance conflicted with federal guidance.
The expanded recommendations contradict many Food and Drug Administration advisers, who said in a recent meeting that the evidence thus far doesn't prove young, healthy people would benefit much from boosters and rejected boosters for all adults.
The panel may soon take up the matter again. Pfizer on Tuesday asked the agency for clearance for boosters for everybody 16 or older.
Democrat Colorado Gov. Jared Polis, meanwhile, said people who are unvaccinated should get a shot before urging people who have gotten a vaccine to get a booster.
Polis attributed the jump in COVID-19 metrics in the state to "a regional spike" that "probably" has something to do with the weather.
"But really, scientists simply don't know exactly why our region has a spike," he told a briefing on Friday.
Some experts say COVID-19 has a seasonal pattern, which it's following for the second consecutive year. Some say that harsh measures like lockdowns or mask mandates have shown little proof of success.
Colorado officials also urged people who contract COVID-19, the disease caused by the CCP (Chinese Communist Party) virus, to seek out monoclonal antibodies, which studies have shown greatly reduces the chance people who test positive require hospital care.