Gov. Gavin Newsom announced Jan. 10 a $297 billion budget proposal, with substantial cuts and delayed spending in various areas aiming to close California's projected $22.5 billion shortfall in the next fiscal year.
The proposed budget for the fiscal year 2023–24, which would start in July, would postpone and reduce funding for some programs, such as Newsom's climate measures and clean transportation initiatives, without compromising homelessness programs, health care, affordable housing, public safety, and education, the governor said. State law requires a balanced budget.
"We're in a very volatile moment," Newsom, a Democrat, said in a press conference. "Perhaps a moment I've never been in … and few of us have never experienced, of uncertainty as it relates to our revenue picture."
Newsom avoided dipping into California's rainy-day fund or other reserve accounts, which have about $35.6 billion.
The state has gone from having a $98 billion surplus to large deficits in one year. The sharp drop in revenue could reach up to $60 billion if recession predictions by economists are realized later this year.
The tax revenues received so far this fiscal year are $4.6 billion below expectations, not including some one-time corporate tax payments that state officials said they weren't counting on, according to figures published by the Associated Press.
Capital gains taxes are projected to be about 5.5 percent of the state's revenue, down from 9.75 percent last year, according to the news outlet.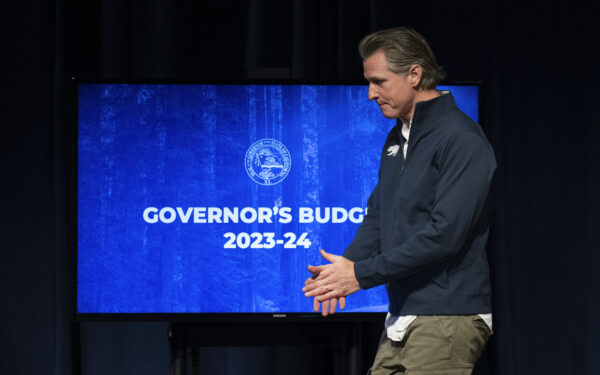 Cuts, Delays, Funding Shifts
To close the gap, Newsom, who introduced a series of multi-billion-dollar climate measures last year and allocated $54 billion over five years, proposed to reduce such budget to $48 billion.
The plan would also use different funding sources to fill $4.3 billion in expenses.
For instance, zero-emission vehicle infrastructure projects would be shifted from the state's taxpayer-funded general fund to a special fund created by fees paid by polluters. Also, bonds will be issued for various California State University construction projects instead.
The proposal additionally included $3.9 billion of "trigger reductions"—cuts that would be restored the following year if the state's economic outlook brightens—primarily in climate and clean transportation funding.
About $7.4 billion would be postponed to the following years and $5.7 billion reduced in some areas—including slashing $3 billion from inflation adjustment funds and $750 million from unemployment insurance programs.
Revenue Prospect Worst Since Great Recession: Legislative Analyst's Office
The governor's deficit forecast was slightly lower than the $24 billion projected by the nonpartisan Legislative Analyst Office last November.
According to the office, the gap was mainly attributable to lower revenue estimates, which are $41 billion lower than projections in last year's budget. Revenue losses are offset by lower spending in certain areas, the office reported.
However, should a recession occur later this year—which many economists have predicted will hit the county considering the persisting inflation—revenues could be $30 billion to $50 billion below the current estimate, according to the report.
"Reflecting the threat of a recession, our revenue estimates represent the weakest performance the state has experienced since the Great Recession [in 2008 and 2009]," the report read.
Newsom agreed with the report.
"Even in a moderate recession, revenue declines below the Budget forecast could be significant," the governor said in his budget plan.
Still, California's economic prospect is not necessarily all doomed.
Of the $131 billion in general fund surpluses the state has had in the past four years, most of it—about $80 billion—has paid for things that do not require ongoing funding, like construction projects. Just $10 billion in such spending has paid for ongoing commitments, according to the analyst's office.
Education
Newsom said education remains a top priority. He proposed spending $ 108.8 billion on K–12 schools and community colleges—about $24,000 per pupil, which he said would be the highest ever in California.
"As it relates to education, we will continue our unprecedented transformation of public education and investment," the governor said.
In light of the rise of the fentanyl crisis among children, the budget also set aside $3.5 million to send opioid antidotes to middle and high schools.
Homelessness
To address the state's homelessness, Newsom plans to allocate $1 billion to local government programs.
The budget also includes $16.5 million for local counties to implement the CARE (Community Assistance, Recovery and Empowerment) Act—the governor's plan to address California's worsening homelessness by forcing some individuals with severe mental illnesses to receive medical treatment through a civil court order.
The plan would dedicate $750 million to clearing encampments, and Newsom said he expects to see results.
"People just want to see these encampments cleaned up," he said. "They're done. They're fed up."
California has the largest homeless population—about 171,500—in the country, according to an annual report released last December by the U.S. Department of Housing and Urban Development (pdf).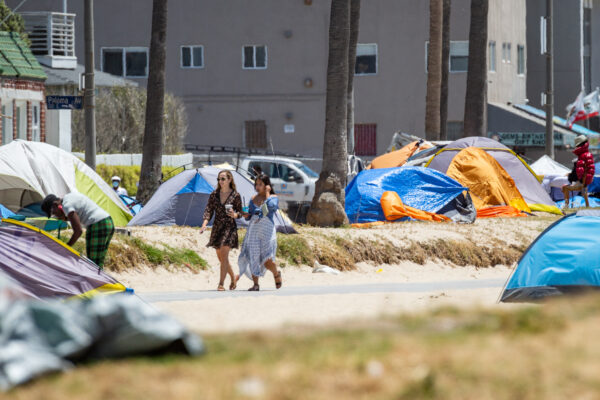 Appraisals
The governor's plan was welcomed by Democratic legislators.
"The projected shortfall is manageable thanks to years of smart, responsible budgeting decisions and our more than healthy reserves," state Sen. Nancy Skinner (D-Berkeley), chair of the Senate Budget and Fiscal Review Committee, said in a statement.
The California Retail Association lauded the allocation of more than $564 million over the next three years to law enforcement efforts addressing retail theft and other crimes.
"[The association] applauds Governor Gavin Newsom for recognizing … the importance of supporting business in uncertain economic times including the prioritization of protecting the safety of retail employees, customers and neighborhoods from growing organized retail crime and retail theft rings," CEO Rachel Michelin said in a statement.
Other law enforcement funding increases are planned for drug enforcement at the border, Newsom said.
Criticisms
The California Republican Party said the plan "gets a big fat F for failing Californians."
"It has unprecedented spending yet is woefully short on solutions that will fix the problems that are plaguing California," wrote Chairwoman Jessica Millan Patterson.
State Assembly Republican Leader James Gallagher (R-Yuba City) said California's record surplus has been wasted by Democratic policies on "new social programs and pork projects."
"Now we are faced with a $22 billion deficit as a result of their fiscal recklessness. It's high time we refocus our budget on the core functions of government," he said in a statement.
He said the state needs new water storage considering the flooding and drought, but the plan presented no dedicated funding while "protect[ing] failed programs that haven't made a dent [in] our state's highest-in-the-nation poverty rate."
State lawmakers are expected to pass the final budget by June 15, following a revision in May when the revenue picture becomes clearer after income tax returns are filed.