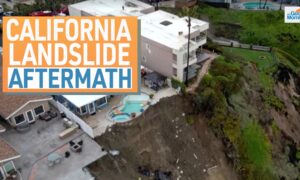 More flooding and mudslides in California after a storm hit the state earlier this week. Thousands were evacuated and over 100,000 were left without power.
Credit Suisse financial troubles echo through stock markets worldwide. Find out what caused the bank's shares to tumble, and whats being done to help.
A Chinese Billionaire critical of the CCP was arrested in New York on Mar. 15. Gou Wengui is accused of cheating investors in an alleged one-billion dollar fraud scheme.
Topics in this episode include:
1. Credit Suisse to Borrow Up to $54 Billion From Swiss Central Bank
2. How Credit Suisse Chaos Rippled Across Markets: Analyst
3. Judge Mulls Banning Abortion Pill Mifepristone
4. California Hit By Storm Causing More Mudslides, Floods
5. Exiled Chinese Businessman Arrested in New York
6. Honduras' China Switch Driven By Taiwan Debts: Minister
7. Video: Dramatic Rescue of 3-Year-Old
8. Fasting Tips for Beginners
9. Couple Preserves Tradition to Help Achieve Artistic Visions