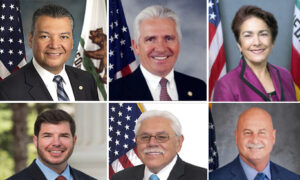 FRESNO, Calif.—As a part of its 2023 touring season, the world's leading classical Chinese dance and music company Shen Yun Performing Arts will be returning to Fresno, Calif., for three consecutive performances from Jan. 28 to Jan. 29, at the William Saroyan Theatre.
Ahead of its arrival, California state officials issued many greetings and certificates to honor and welcome Shen Yun artists.
Mayor Jerry P. Dyer sent a greeting on behalf of the City of Fresno, expressing his "pleasure to welcome the participants, instructors, and distinguished guests to the 2023 Shen Yun Performing Arts event."
The mayor extended his thanks to Shen Yun artists "for choosing to bring its classical Chinese dance performance to Fresno." He added in his letter that "it is a special honor for Fresno to be host for this exciting performance."
Based in New York, Shen Yun Performing Arts has been bringing China's 5,000 years of civilization to life through dance and music since 2006.  Every year, Shen Yun presents a brand-new set of programs to its audience worldwide.
Sal Quintero, the chairman of Fresno County's board of supervisors, issued a proclamation stating that "Shen Yun is a gloriously colorful and exhilarating performance" that "evokes themes of virtue, compassion, and courage, and with orchestra blending the music of East and West, leaves audiences feeling uplifted and inspired."
The proclamation further praised that "Shen Yun's success has been remarkable, with artists and critics alike agreeing the production is among the best in the world."
Shen Yun dancers are highly trained in classical Chinese dance. Perfect through the millenniums, it is one of the world's most expressive and comprehensive dance forms. Together with the orchestra—the first in the world to seamlessly blend Chinese and Western instruments—Shen Yun performers are bringing to the stage stories from ancient times to the modern day.
Since its establishment, Shen Yun has grown to include eight equally sized companies that tour the world simultaneously. This year, the artists are scheduled to perform in 12 cities across the state of California.
In the welcome letter sent by California Senator Alex Padilla, he wished Shen Yun "the best of luck" in all its performances and thanked them for "sharing traditional Chinese arts and bringing to light thousands of years of Chinese cultural heritage."
The senator expressed that Shen Yun's "performances throughout the world preserve and celebrate the culture of ancient China and allow people to appreciate the arts."
Decades ago, Chinese people were very spiritual and had a deep belief in the divine. However, after the Chinese communist takeover, traditional culture went through a period of mass destruction.
Since its founding, Shen Yun has made it its mission to bring back to the world the beauty of China before communism.
To commend this effort, Congressman Jim Costa presented Shen Yun with a Certificate of Special Congressional Recognition on Jan. 28, for their commitment to "preserving and promoting Chinese Culture through performance."
On the same day, Senator Anna M. Caballero's Certificate of Recognition wished Shen Yun a happy Lunar New Year while applauding the company's "mission to revive the essence of historical Chinese civilization by creating a bridge between the East and West through the universal language of music and dance."
Last but not least, Dr. Joaquin Arambula of California's legislature assembly issued a certificate honoring Shen Yun. In addition to letting the artists know that their efforts are "appreciated and valued," he extended his thanks and congratulations to the company for their "contribution to the arts in Central Valley and beyond."
Reporting by Jennifer Tseng.
The Epoch Times is a proud sponsor of Shen Yun Performing Arts. We have covered audience reactions since Shen Yun's inception in 2006.