CCP Manipulates Cyberspace to Drown Out Critical Narratives on Xinjiang: US State Department
The State Department has released a warning about tactics the Chinese Communist Party (CCP) is using to dominate global discourse on Xinjiang.
According to the Aug. 24 report, the CCP's messaging tactics seek to flood the internet with pro-CCP narratives to drown out messages it perceives as unfavorable to its interests, and to create an appearance of support for its policies.
The CCP aims to discredit independent sources reporting ongoing genocide and crimes against humanity, conducted against predominantly Muslim Uyghurs and members of other ethnic and religious minority groups in the Xinjiang Uyghur Autonomous Region, said the report.
Messaging Tactics
Entitled, "PRC Efforts to Manipulate Global Public Opinion on Xinjiang," the report examined how the CCP manipulates cyberspace to its advantage.
For instance, propaganda officials in Xinjiang created thousands of videos of Uyghurs apparently denying abuse in the region and claiming they were "very free." These first appeared on CCP-controlled platforms and then spread to YouTube and Twitter, in order to manipulate public opinion.
The CCP also uses sophisticated AI-generated images to make fake user profiles look authentic. Some of these fake accounts repeatedly deny CCP atrocities in Xinjiang, asserting that the overwhelming and objective evidence of atrocities is a fabrication of the United States and its allies.
The Chinese regime works to silence dissent by engaging in "digital transnational repression," trolling, and cyberbullying, said the report. Particularly in Chinese diaspora communities, on- and offline harassment aims to prevent users from sharing their stories or to intimidate them into self-censorship. Trolling campaigns frequently escalate into threats of death, rape, or assault.
China uses private media companies and multilingual social media influencers to reach global audiences. Trolls play a lead role in "attacking, stirring controversies, insulting, and harassing netizens, in order to poison the information environment" and distract from critical narratives, according to the report.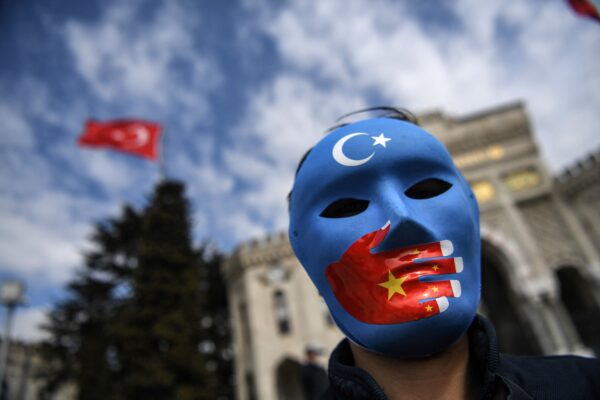 Tactics to Distract and Deflect
The report noted that the CCP uses "whataboutism" and false equivalencies to distract from its policies in Xinjiang and to portray accusers as hypocritical. "Their arguments do not advance the case that the PRC is innocent; rather, they make the point that other countries are equally guilty of abuses," it said.
Amplifying "positive stories" to counter/disprove accusations of genocide and crimes against humanity in Xinjiang is another CCP tactic. The report gave examples such as CCP actors using hashtags such as #AmazingXinjiang and #Xinjiang to project the image of a multicultural society living in harmony. That contrasts with the reality of China's extensive surveillance of Uyghurs, including its policy that CCP officials pair up with Uyghur or Kazakh families as "relatives," living in their homes for at least six weeks a year.
According to the report, analytics firm Miburo Solutions identified more than 200 third-country influencers affiliated with Chinese state media to reach young international audiences. These influencers create social media content in at least 38 languages, including English, Spanish, French, Arabic, and Russian, reaching an average of 309,000 followers. They advance CCP narratives about Xinjiang by obscuring state media employees' affiliations and by orchestrating tours of Xinjiang for pro-CCP Western influencers, said the report.
Genocide and Crimes Against Humanity
The report details reports of CCP crimes in Xinjiang. For instance, the CCP's "demographic engineering" campaign aims to systematically increase the Han Chinese population in Xinjiang and to "dilute" Uyghur population concentrations in the region. The CCP subjects Uyghurs to forced labor; including transferring an estimated 100,000 Uyghurs out of Xinjiang in "coercive labor placements" to work in factories elsewhere in China. The CCP has imprisoned an estimated one million people, with credible evidence of torture, forced sterilization, and other abuses.
The State Department's report was prepared by its Global Engagement Center, which addresses foreign adversaries' use of disinformation and propaganda to undermine U.S. interests.