Celebratory Wines for Special Occasions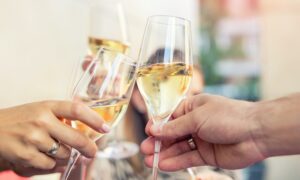 Public-relations people around the world are always thinking up "clever" ideas to "help" magazine and newspaper writers—although the main reason is that such articles will help the promoters sell the products they're hired to hawk.
This year the PR folks who are hardest at work know that the end-of-year holidays are imminent, so the pitches I and most writers see are for gifts, including chocolate, cars, jewelry, and (yes, you guessed it!) wine.
I know: I get a lot of suggestions. Some are for dark red wines to match with winter dinners of beef, game, and lamb. And yes, there are lots of good wines we can share with any wine lovers at any time of the year.
However, most of the wine suggestions I get for major family gatherings such as Mother's Day, graduations, weddings, Thanksgiving, and New Year's Eve are celebratory. Which leads us to thinking of bubbles—a sound idea!
Real French Champagne typically is the most authentic way to celebrate special occasions, but unless the participants really are experienced at understanding the subtleties of great Champagne, the exalted prices we're asked to pay for it ($40 is about as low as you can find) can be wasted.
Less expensive alternatives would be any decent sparkling wine, and the level of sweetness that you choose should be determined by how sweet or dry the participants want their drinks to be.
The term "brut" (pronounced broot) is supposed to refer to a very dry wine. But these days it really refers to wines that are only relatively dry. And curiously enough, the phrase "extra dry" on a bottle of bubbly actually refers to wines that are a little bit sweeter than brut!
The most popular Italian alternative sparkling wine prosecco isn't quite as dry as most bruts. Prosecco can come either as a white or a light rosé. Prices range from $9 to about $17.
Slightly drier than that would be Spanish cava, which can be extremely appealing when paired with typical appetizers. Most are under $18. (See Wine of the Week.)
California sparkling wines also have great application with meals, and although prices tend to be a bit higher ($17 to roughly $35), the higher quality is obvious.
An important point: Many people like to make mimosas for toasting at festive brunches. But it makes no sense to use an expensive sparkling wine when you're mixing it with orange juice. OJ merely wipes out most of the flavors in a high-quality bubbly.
Mimosas don't rely on the wine quality to impart character. More important is the quality of the orange juice (i.e., fresh versus canned), so choose an inexpensive sparkling wine with which to make mimosas.
For my own celebrations, I prefer California sparkling wines, usually at the upper echelons of quality. This could well mean spending $25 to $45 for a bottle, but at that level of quality, I really understand why this most difficult-to-produce wine carries such a price tag.
Inexpensive bubblies often are made with lesser grapes and a far more rapid creation of the bubbles. To mask some of the simplicity imparted by low-flavor grapes, such cheaper sparkling wines usually are sweeter than I prefer.
Wine of the Week
NV Los Dos Brut Cava, Penedes ($12): This lovely bubbly comes from Spain's Penedes, a cool wine district just outside Barcelona that's famed for its moderately priced sparkling cuvées. Unlike Champagne, which is made from chardonnay and pinot noir, this fine wine is a blend of local varieties Macabeo, Xarel-lo, and Parellada. The fresh, brisk aroma of blossoms and a hint of brioche are supported in the aftertaste with a bit of citrus. It is dry but not austere.