This is for all you cheese lovers out there! Cheese ball is a combination of mild, creamy cheeses, flavored with digestive herbs and spices, and rolled in pecans.
A cheese ball is the perfect centerpiece for an appetizer platter when guests come over for drinks, or as a tasty accompaniment for a winter evening's card game with the neighbors.
Despite its rather bland sounding name, a cheese ball looks elegant and beautiful. You can decorate it with pecans, walnuts, almonds, cranberries, olives, capers, orange zest, or whatever else delights your heart.
Serve it with your favorite crackers, pita chips, or toasted bread pieces. You can get as creative as you want with it.
Around Christmas, you can serve it alongside mandarin oranges, dried cranberries, grapes, pickles, mixed nuts, pretzels, and cocktails or mocktails.
Easy to Digest
Cheese ball is an example of how you can balance the difficult-to-digest qualities of a food you love, like cheese, while supporting your body's ability to assimilate and absorb all the good nutrition.
By nature, cheese is heavy and a little difficult to digest. When you add garlic, onion, black pepper, bright green onion, and fresh parsley, you are adding heat and metabolic energy to cut through the heavy cheese.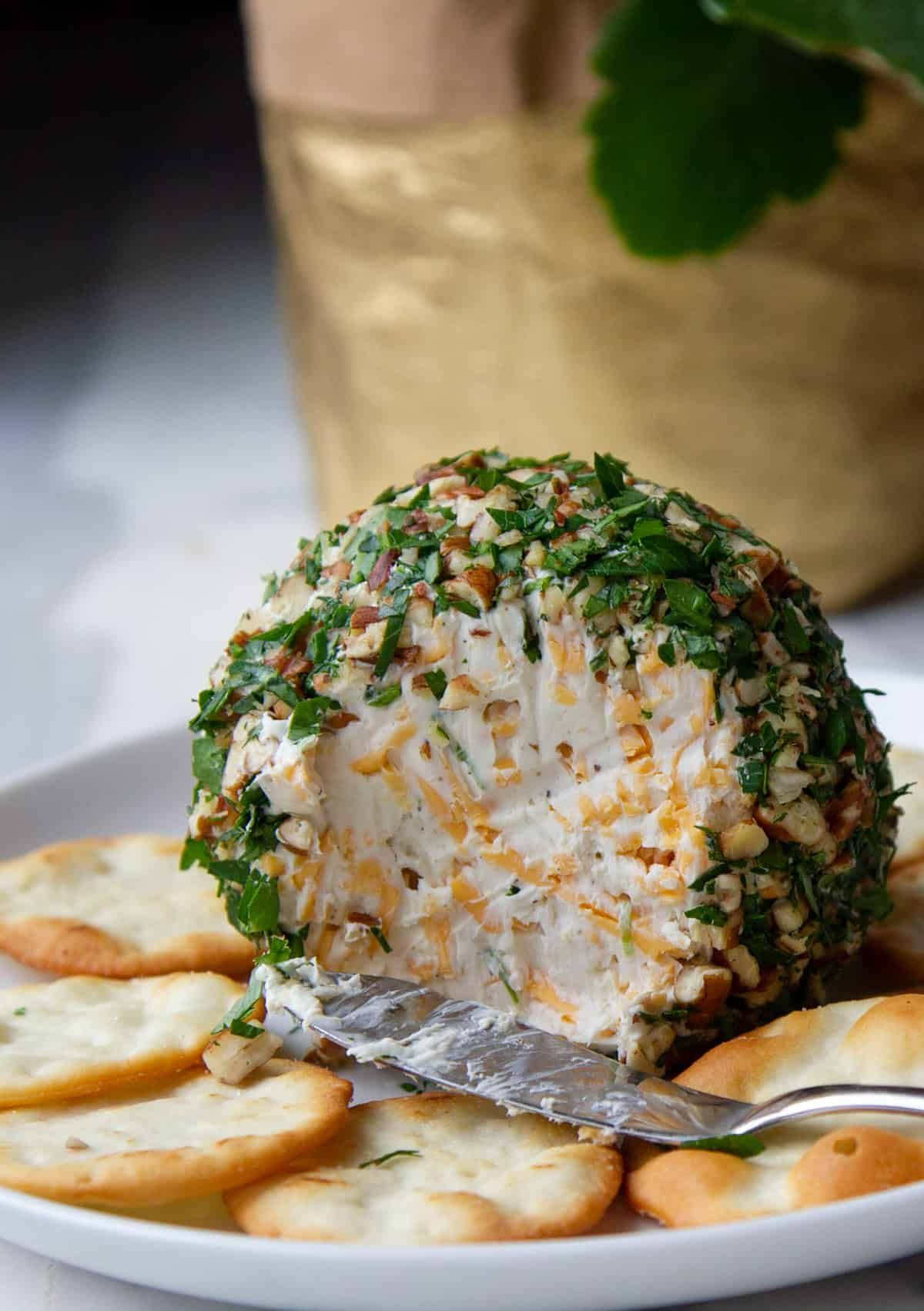 Health Benefits
The health benefits of the most supportive ingredients are listed below. Since they are dried spices, the garlic and onion powder are mainly just for flavor.
Lemon juice: Increases the secretion of digestive juices, adds warmth, and softens stools.
Black pepper: Stimulating; destroys mucus and dispels gas
Green onion: Pungent, heating, and stimulating (the opposite of cheese)
Parsley: Bitter and pungent, heating, and diuretic (another antidote to cheese)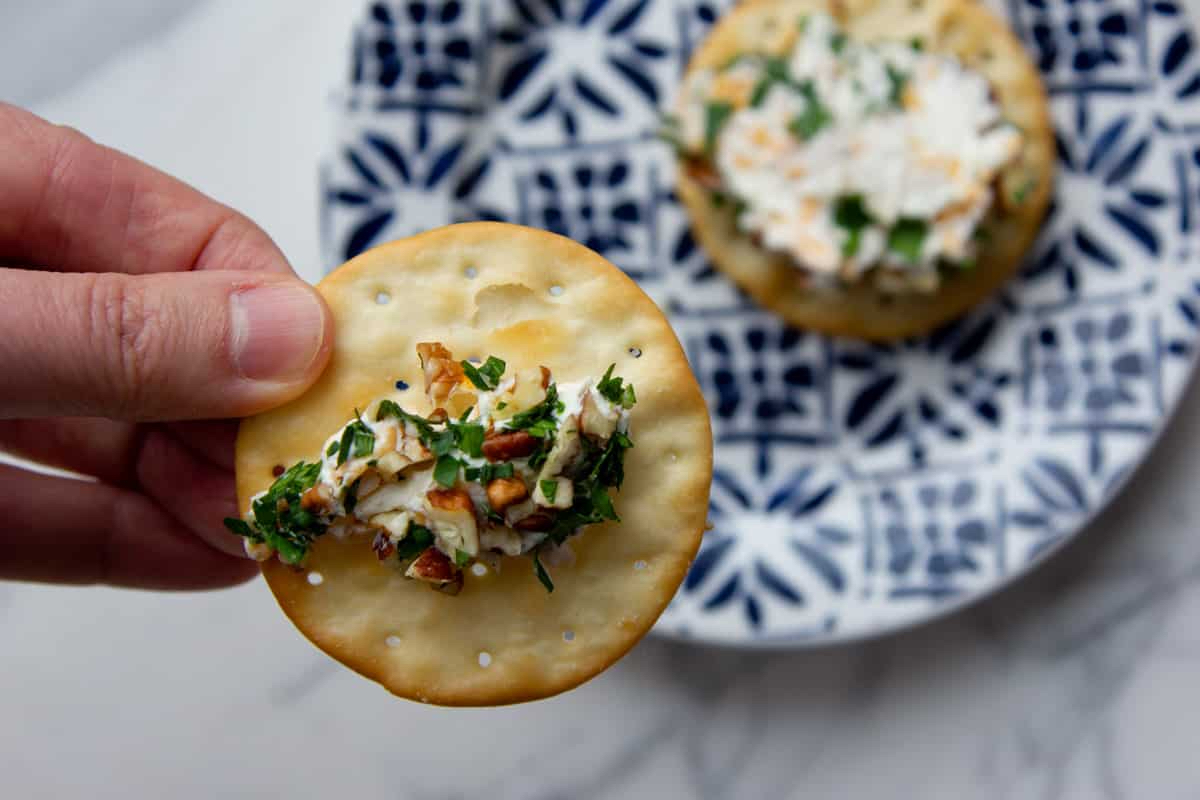 Cheese ball is the perfect package because it allows you to have the cheese you love, and digest too!
Learn more about how to cook for your digestion here.
Enjoy Anytime
I used to love cheese ball as a kid, when my mom would make it for Christmas, New Year's, and other special occasions involving guests.
I'm pretty sure the reason I loved it was because of the herbs and spices, which weren't used that frequently in our home.
Anything enhanced with spices has always been a favorite in my books because it feels good on the tummy.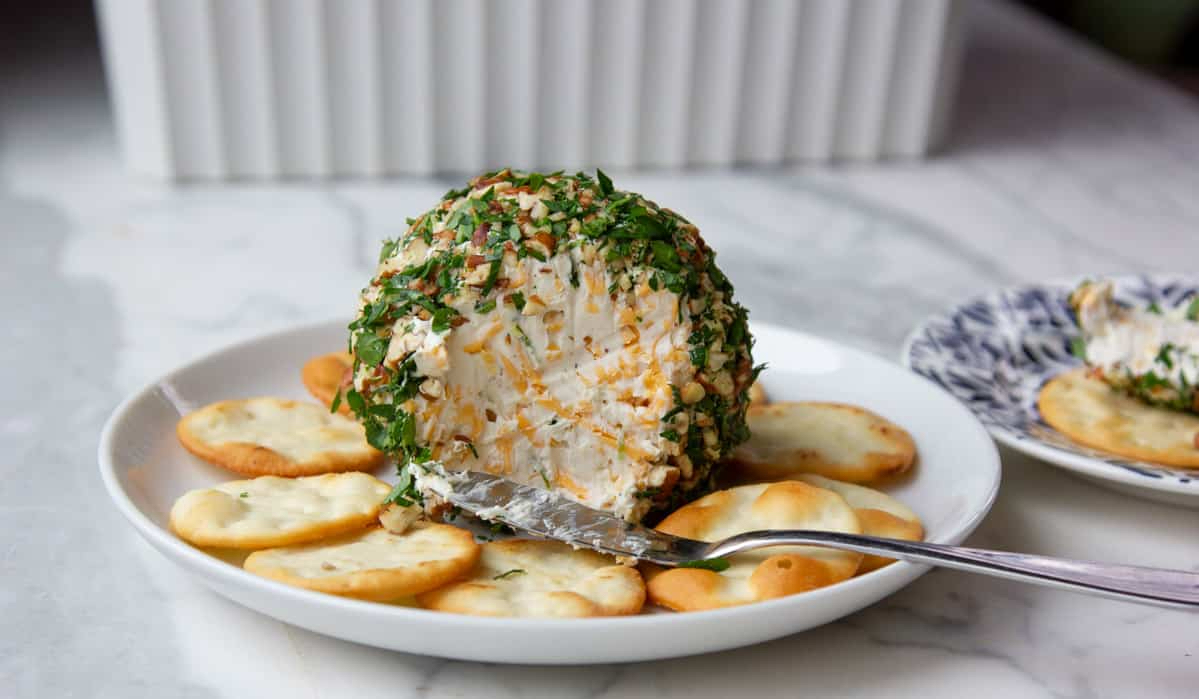 When you make cheese ball yourself—especially following my recipe—it will be fresh and festive.
You don't need guests, or a special reason to make this. You can eat the whole thing yourself. It's that good! I actually love it spread on toast.
Hopefully I've explained to you why eating cheese ball is better than just regular cheese. Remember, it's the digestive support you get with it.
If you've never tried a cheese ball, then I suggest you make one right now. You'll be glad you did!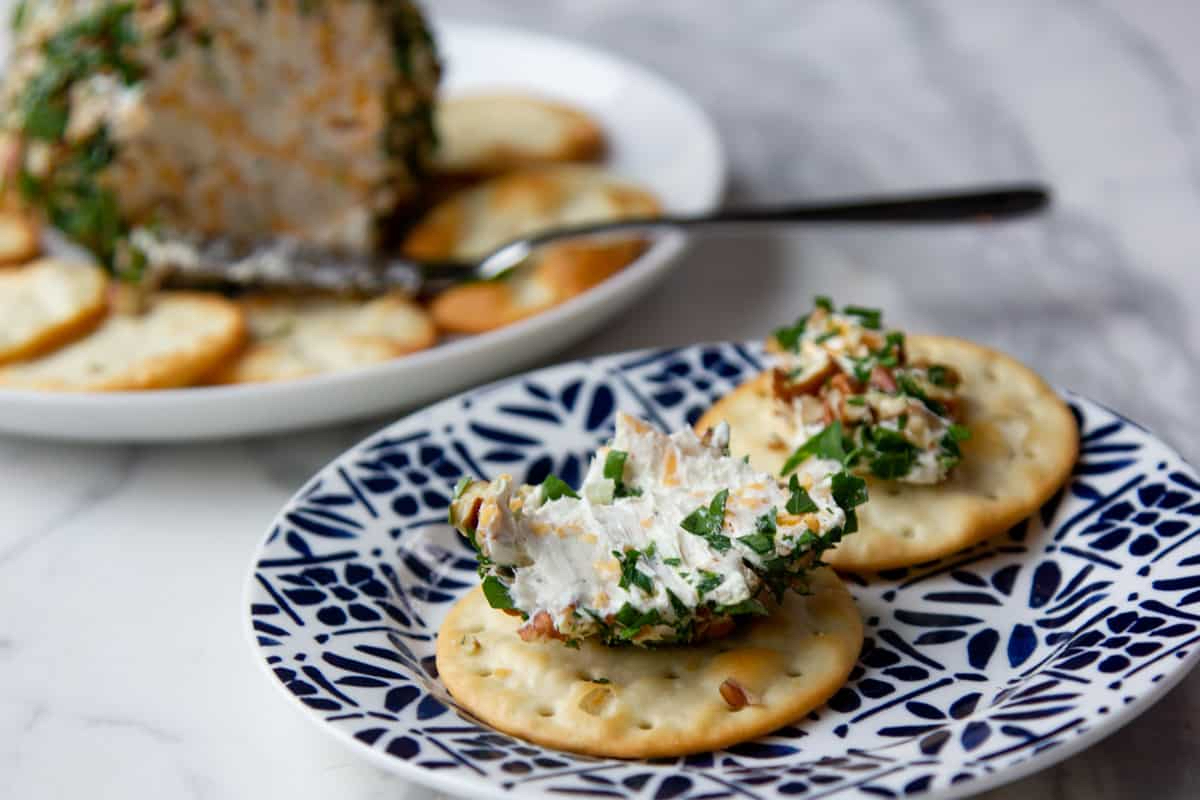 Cheese Ball With Herbs and Spices
Prep Time: 20 minutes
Resting time: 2 hours
Servings: 12 servings
Calories: 136KCAL
Author: Andrea at Buttered Veg
Cheese ball is a tasty and elegant appetizer – a combination of creamy cheeses flavored with digestive herbs and spices, rolled in pecans and parsley.
Helpful Kitchen Tools:
Ingredients
Combine
1 package cream cheese (8 ounce), room temperature
2 tablespoons sour cream, see notes
1 tablespoon lemon juice, freshly squeezed
¼ teaspoon garlic powder
¼ teaspoon onion powder
¼ teaspoon black pepper
1 tablespoon green onion, minced
Add to Mixture
4 ounces cheddar cheese (1 cup) , shredded
To Roll In
½ cup pecans, finely chopped
2 tablespoon fresh parsley, finely chopped
Instructions
Take the cream cheese out of the fridge about an hour before making this recipe to soften it. I recommend using an electric mixer to combine the cheese with the other ingredients, but you can also use a wooden spoon.
In a medium mixing bowl, add cream cheese, sour cream, lemon juice, garlic powder, onion powder, black pepper, and green onion. Mix with an electric hand mixer or wooden spoon until smooth.
Mix in the shredded cheddar cheese using the spoon, or get your hands in there. Cover the bowl and chill for at least 1 hour.
Finely chop pecans and parsley and combine in a clean bowl.
Remove cheese ball mixture from the fridge and shape into a ball using a spatula and wet hands.
Gently roll the cheese ball in the pecans and herbs until fully covered.
Notes
Substitute sour cream with whole milk yogurt, kefir, buttermilk, or milk.
Serving Instructions
Serve on a platter with crackers, and your favorite condiments, such as pickles, mandarin oranges, dried cranberries, grapes, pickles, mixed nuts, and pretzels. Include a cheese knife for cutting and spreading.
You can also enjoy it as a spread on toast or in sandwiches.
Storage
Store cheese ball the refrigerator. Cheese ball will keep for up to 1 week. (If it lasts that long)
Substitutions
Substitute the pecans and parsley for your favorite nuts and fresh herbs, such as walnuts, almonds, cranberries, olives, capers, or a bit of lemon or orange zest.
Nutrition
Calories: 136kcal | Carbohydrates: 2g | Protein: 4g | Fat: 13g | Saturated Fat: 6g | Polyunsaturated Fat: 1g | Monounsaturated Fat: 4g | Cholesterol: 32mg | Sodium: 121mg | Potassium: 63mg | Fiber: 1g | Sugar: 1g | Vitamin A: 424IU | Vitamin C: 2mg | Calcium: 93mg | Iron: 1mg