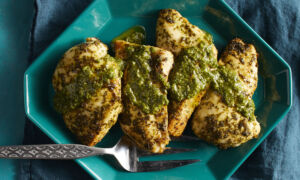 Chimichurri is a no-cook herby-garlicky sauce from Argentina and Uruguay. It's delicious on grilled proteins and vegetables. Here, it's used to double the flavor of basic grilled chicken breasts. The chicken is both baked with and topped with this flavor-packed sauce.
Chimichurri Chicken
Serves 4
Active Time: 20 minutes
Total Time: 40 minutes
Ingredients
1 cup packed flat-leaf parsley leaves
1 cup packed cilantro leaves
1 medium jalapeno pepper, chopped
1 small clove garlic, minced
1/4 cup extra-virgin olive oil
2 tablespoons lemon juice
1 tablespoon red-wine vinegar
1/2 teaspoon salt, divided
1/2 teaspoon ground pepper, divided
1 teaspoon ground cumin
1 pound boneless, skinless chicken breasts, cut into 4 pieces, or 4 boneless, skinless chicken thighs
Directions
1. Preheat oven to 400 F.
2. Place parsley, cilantro, jalapeno, garlic, oil, lemon juice, vinegar, 1/4 teaspoon salt and 1/4 teaspoon pepper in a mini food processor. Process until mostly pureed.
3. Stir cumin and the remaining 1/4 teaspoon salt and 1/4 teaspoon pepper together in a small bowl. Sprinkle over chicken and place the chicken on a baking sheet. Remove 3 tablespoons of the chimichurri sauce and use it to baste both sides of the chicken. Bake until an instant-read thermometer inserted into the thickest part of the chicken registers 165 F, 17 to 22 minutes.
4. Serve the chicken with the remaining chimichurri sauce.
Tasty tip: To make ahead, refrigerate chimichurri sauce (Step 2) for up to one day.
Recipe nutrition per serving: 261 Calories, Total Fat: 17 g, Saturated Fat: 3 g, Cholesterol: 63 mg, Carbohydrates: 3 g, Fiber: 1 g, Total Sugars: 1 g, Protein: 24 g, Sodium: 357 mg, Potassium: 318 mg, Iron: 2 mg, Folate: 31 mcg, Calcium: 42 mg, Vitamin A: 1591 IU, Vitamin C: 28 mg.
EatingWell is a magazine and website devoted to healthy eating as a way of life. Online at www.eatingwell.com. Copyright 2023 Dotdash Meredith. All rights reserved. Used with permission. Distributed by Tribune Content Agency, LLC.