College Professor Leaves Shen Yun Performance Feeling Lighter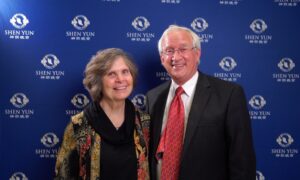 SALT LAKE CITY, Utah—Audience members usually leave Shen Yun Performing Arts knowing a little more about China's 5,000 years of civilization. For college professor and author Paul Skousen, his experience was no different.
"This was an absolutely delightful introduction to a culture about which I thought I knew something. Clearly, I did not," Skousen said. "I learnt many new things about some wonderful people I would like to get to know a lot more."
"I clearly was left wanting more. I need to come back and watch it again."
Skousen expressed that moments of the performance had really struck a chord deep down inside.
"What touched my heart was the portrayal of sincere people trying to build good lives based on good principles, and to see the forces of darkness try to crush that light … that just seems to be a common theme all around the world, so I really enjoyed seeing that portrayed, how beautiful life can be, and how important it is we preserve that and stand up against the forces of darkness that are trying to destroy that," he said.
The professor was also touched by the lyrics in the songs performed by New York-based Shen Yun's singers, who are trained in the bel canto style. Translations of the lyrics were projected onto the stage for audience members to follow along.
"As I read those, I thought, 'Those are things I believe in, those are things that I take and hold dear to my heart!'" Skousen shared. "Clearly, there's a depth and a richness in all of our friends on the other side of the world I just didn't really appreciate, until tonight."
As the author of "The Naked Socialist" and son of W. Cleon Skousen who wrote "The Naked Communist," Skousen has spent his life researching oppressive regimes.
"I really appreciated the way they showed the horrible, oppressive power of communism over a beautiful people just trying to have joy and prosperity, like everyone else," he said. "Clearly, [there is] not a place on this earth for that kind of a dark force and the sooner the Chinese people can rise up and throw that off, the sooner the entire world will benefit from all they have to give that has been suppressed because of the communist party of China.
Skousen remarked after the show that he was going home feeling like 10 pounds had been lifted off his shoulders.
"I feel lighter!" he said. "It was really a wonderful experience.
"I'm so glad I came tonight. I would encourage all my friends and family, make this a time to come share with some wonderful people that we ought to be closer to and know more about."
Reporting by NTD and Maria Han
The Epoch Times considers Shen Yun Performing Arts the significant cultural event of our time. We have proudly covered audience reactions since Shen Yun's inception in 2006.