Community Recovery Hubs Open in Flood-Affected Areas of Queensland, Australia
As part of the Queensland (QLD) Government's flood disaster recovery and clean-up effort, community recovery hubs began opening in affected areas of the state on Thursday, providing financial assistance and support services to residents impacted by the recent flooding and severe weather events.
This comes after floods devastated the southeast of the state over the weekend and beginning of the week, with 10 people dead and thousands of homes and businesses damaged or destroyed.
Minister for Communities and Housing, Leeanne Enoch, announced on Thursday that the first of the recovery hubs are now open in Caboolture, Redcliffe and Gympie.
"We're seeing devastating images from the disaster zones across South-East Queensland, and it's just heartbreaking to see the widespread destruction these floods have caused to people across our communities," she said.
"We know there are challenging times ahead as people begin cleaning up and getting back on their feet, and that's why our community recovery operation is now in full swing."
Police Minister and Member for Morayfield Mark Ryan said that the hubs are places where residents can talk to recovery workers, get referrals for community organisations and government agencies, as well as apply for grants.
"This includes Emergency Hardship Assistance grants, of up to $180 per person and $900 for a family of five or more, to help cover the costs of essential items, such as food, medication and clothing, for people who have been directly impacted by this disaster," he said.
Financial assistance is available to residents under the jointly-funded Commonwealth/State-Disaster Relief Funding Arrangements (DRFA).
As authorities identify further areas of need and gain access to those affected communities, more of the recovery hubs will be set up.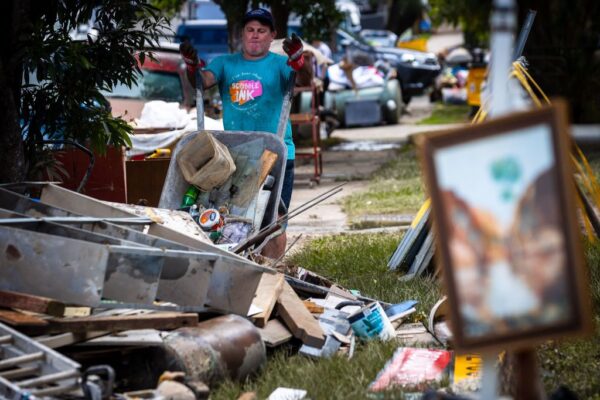 The opening of the hubs and clean-up efforts are taking place amidst the backdrop of further severe weather warnings over the next two days.
The Bureau of Meteorology (BOM) has forecast isolated severe thunderstorms with the possibility of localised heavy rain and damaging winds in southeast QLD on Friday afternoon.
BOM has also warned that catchments are still saturated and therefore will respond quickly to heavy, short duration rainfall.
"I urge everyone to heed the advice from authorities to limit your movements as these thunderstorms roll through in the next 24 to 48 hours," Enoch said.
Meanwhile, work has begun on the Gold Coast Disaster and Emergency Management Centre at Ashmore, a dedicated facility for the city's emergency services in times of natural disaster or emergency.
The new facility, made possible through $9.81 million from the QLD Government's $100 million South East Queensland Community Stimulus Program (SEQCSP), will function as a command centre for first responders in such emergencies.
Present when shovels first hit the ground at the new site, Environment Minister Meaghan Scanlon said the events of this week confirmed the need for a fit-for-purpose disaster management centre such as this.
"Having a dedicated, central location for our agencies to coordinate and respond to emergency situations in real-time is absolutely critical, especially during times of flood or fire, which we know can quickly escalate," Scanlon said.
"As this week has shown, our emergency services and council staff always go above and beyond to help the community. And this project is about better supporting them, particularly in the face of extreme weather events."
Gold Coast City Mayor Tom Tate welcomed the new facility, saying the existing one has been the mainstay of the Gold Coast's disaster management response for over three decades, but a structural assessment of the building some years ago revealed it would not withstand a Category 4 or 5 cyclone.
"Building for the future is critical as our city will reach a population of one million in the next decade," he said.
Weather permitting, construction of the facility is expected to be completed by the end of 2022.