Building a tablescape is a challenge every host faces at least once in their lives — but it's not one you have to face alone. Whether you're a seasoned decorator or a beginner looking for guidance, we've got you covered. I've compiled some of my most frequently asked questions into this handy tabletop guide for you to save and review the next time you're hosting a dinner party, or are just in the need of some inspiration.
How Many Plates Do I Need at Each Place Setting for a Dinner Party?
While the answer to a question like this is more dictated by the menu than a set standard (at least in this day and age), here are a few items I like to keep in mind when building up my place settings.
Chargers: Don't forget about this foundational piece. It's a great way to add texture and design to your place settings. Chargers can be made of a variety of materials and add a little extra oomph between your tableware and the table that makes each stack of dishes really pop.
Dinner plates: Depending on how you stack it, your dinner plates might not get that much time in the limelight before dinner is served, so feel free to stick with a simpler, more versatile option. Perhaps the hardest working piece, the dinner plate's job is to make your meal look fabulous and help the food shine.
Salad and appetizer plates: Depending on the formality of your dinner, this could be one or two pieces and is a great place to incorporate more personality into your table. Use the appetizer plate as a way to tie in the colors from your centerpiece for a polished look.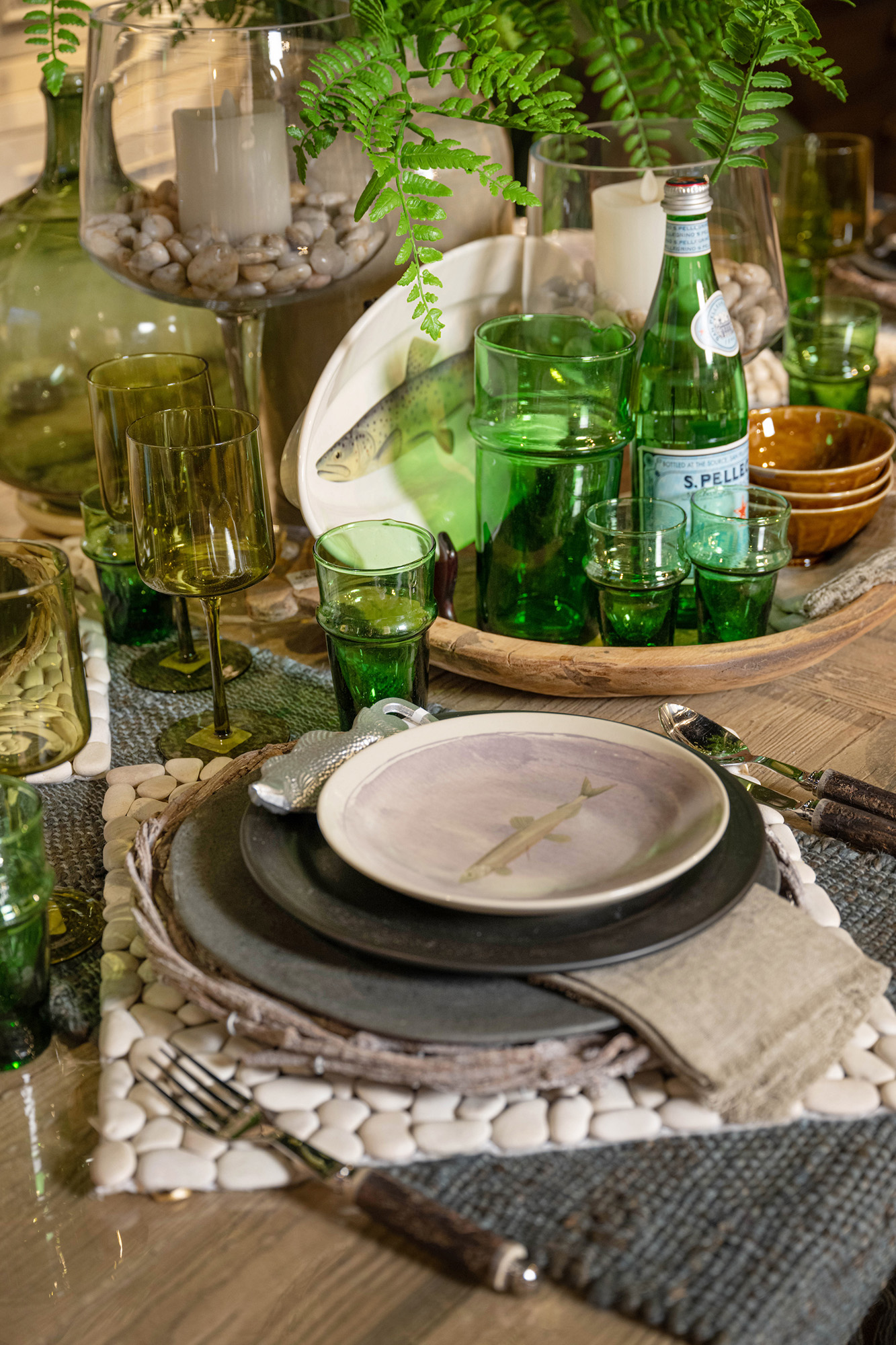 Bowls: Bowls are a great opportunity to make your tabletop sparkle. Use them practically — for berries, soup, or something else yummy — or for decor, topping them off with design elements like boxwood balls or seasonal decor like sweet birds or bunnies during the springtime.
What Glassware Is Appropriate at Each Place Setting for a Dinner Party?
Stemware is typically located at the top right of the place setting, in a way that is convenient and symmetrical. For hosting an elevated soiree, here's what you might need.
Wine glass: For elegant occasions (or events attended by wine lovers), you might have a glass each for white and red, but we think it's acceptable to pick one for a standard event. I prefer the shape of a red wine glass, so I tend to lean in that direction.
Water glass: So many options available here, from goblets, to glasses and stems, in endless colors and textures. Incorporating fun drinkware is an unexpected way to add a dash of your style into the design and playing up the water glass makes it fun for everyone, since not all your guests may require the use of wine glasses.
Dessert glass: Are you planning a dessert wine or a toast of champagne to finish off the evening? If not, or if your event isn't as formal, we say go ahead and skip it.
Hot beverage glass: During the cooler months and especially around the holidays, I love to offer a warm beverage that can be served with or without alcohol. To accommodate this libation, I like to tuck an Irish coffee mug or something similar among the other glasses.
How Do I Create a Tablescape Centerpiece for a Dinner Party?
Consider layout. If you plan to keep food on the table after it is served, think through how much space you have to work with for decor. If food will be kept elsewhere, or you're serving buffet-style, you'll have a little more room for decor.
Pay attention to scale and lines of sight. While a larger room and table may be able to accommodate a large arrangement, you don't want to prevent your guests from seeing each other and easily conversing by plopping a huge centerpiece in the middle of the table. Draw your arrangement out across the table and keep the bulk of it low so guests can talk over it.
Incorporate varying heights. The goal is for your eye to travel throughout the tablescape vignette. While your guests should be able to see and speak over most of the centerpiece, incorporate a few taller elements to add some dimension. My favorite element to polish off a dinner party tablescape is light candlesticks for both movement and ambiance.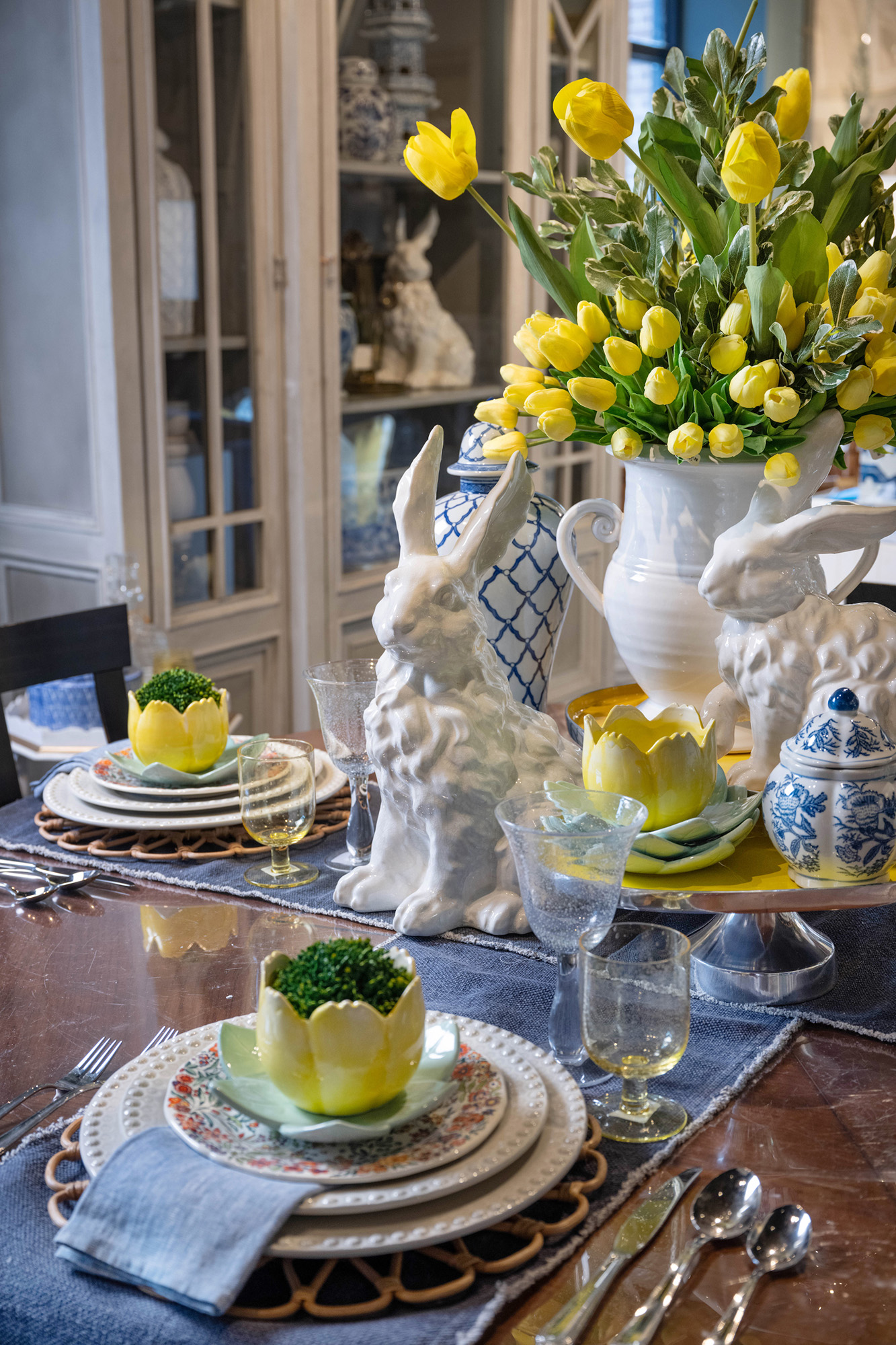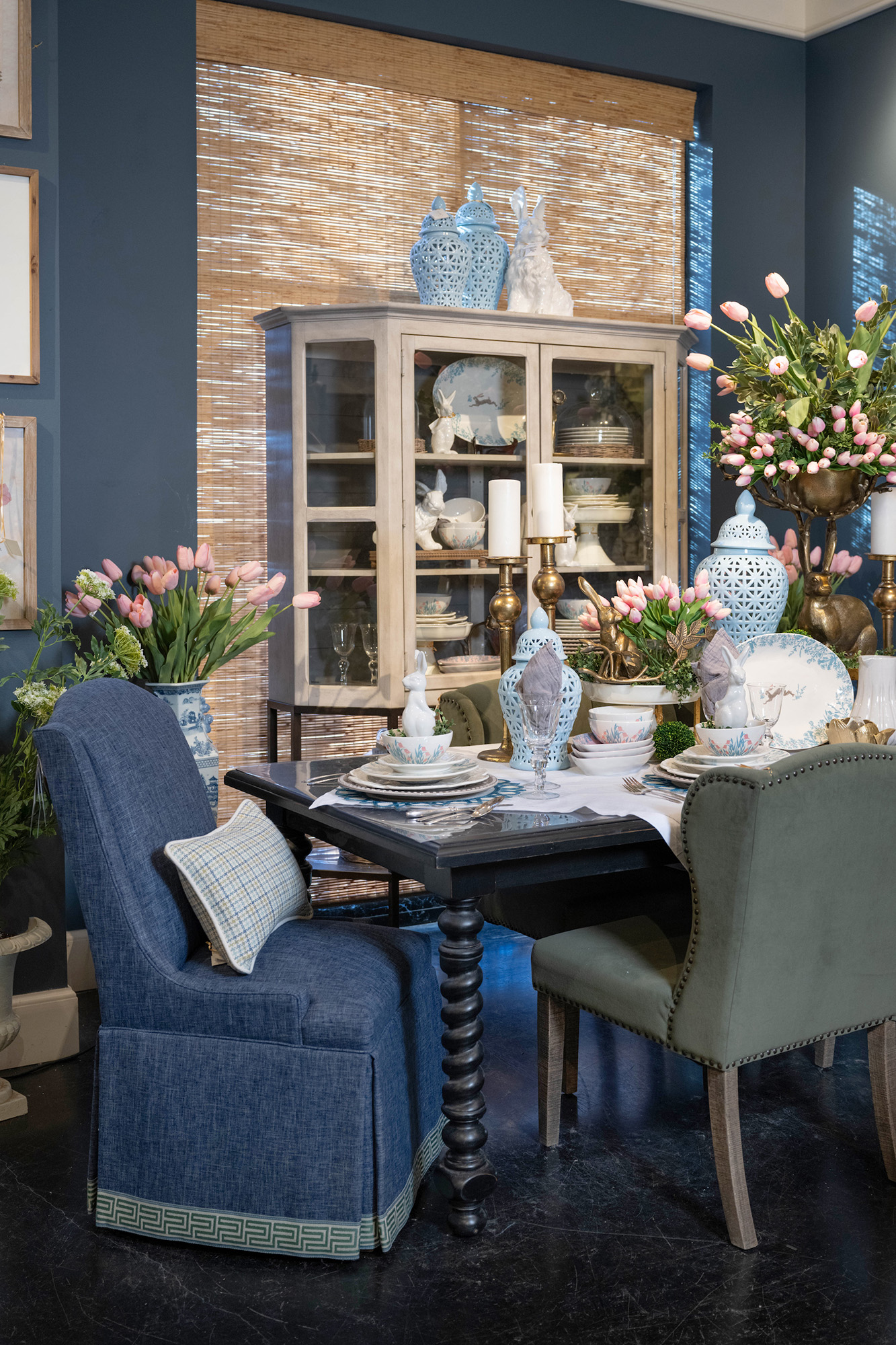 What Are the Essentials for Creating a Beautiful Tablescape?
I hesitate to create rules around design, because it differs so much from depending on a person's goals and personal style, but here are the things I like to have on hand when creating a tablescape.
A tablecloth, runner, or place mats: Although these pieces aren't necessary, they do help anchor your centerpiece or place settings and are a great foundational element to build upon.
Plates, bowls and other necessary dinnerware: Tailor your dishes to the menu being served. At a dinner party, the goal is to use every dish presented, not just creating a stack of pretty plates at each place setting.
Drinkware and stemware: These should also be tailored to the menu; we wouldn't add a wine glass if we had no intention of serving our guests wine. In many instances it is completely acceptable to stick to having a water glass and allowing guests to bring their drink of choice to the table with them.
Flatware: This is another great opportunity to incorporate more fun details into your design and elevate your tablescape. I love the weight of quality flatware and like to match the formality of the event by keeping a couple of options on hand.
Napkins: Incorporate the napkin into your design. It could add visual interest to a stack of dishes or flourish to a wine glass. Adding a beautiful napkin ring is another way you can get creative.
A centerpiece: Of course, the centerpiece is quite often the star of the show. Although your centerpiece and place settings don't have to match, per se, we do recommend using color or theme to tie them in together.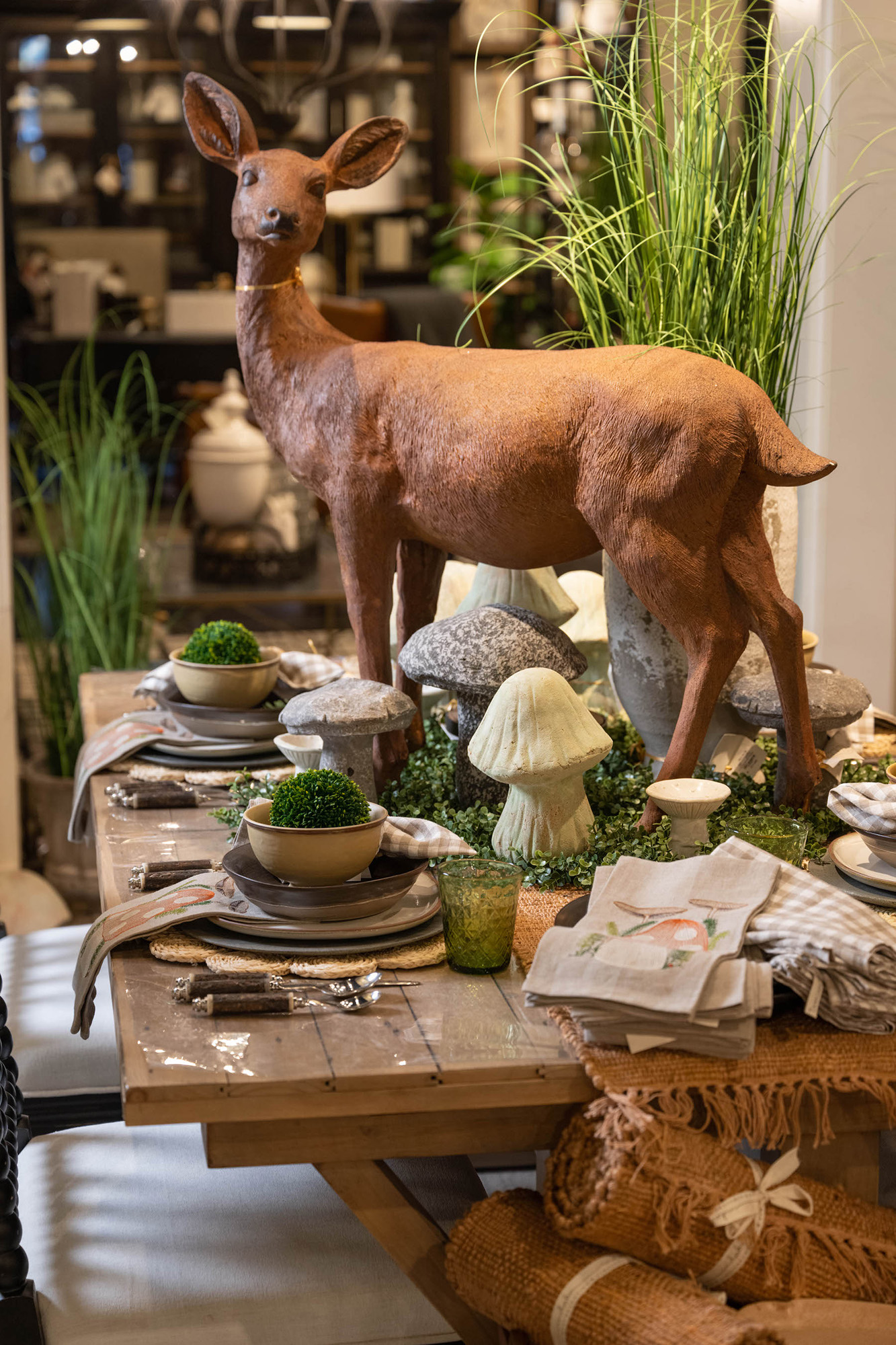 If You Can Only Splurge on One Thing for the Tablescape, What Should It Be?
Definitely the table. This piece of furniture is the foundation for your entire tablescape, after all. Investing in quality dining room furniture makes a statement and helps creates a space that feels designer.
When searching for the right table, take into account the size and shape of your space. In a square room, a round table is a great option. In a longer space, a rectangular table works best. If you like to entertain often or have a large family, perhaps a piece with removable table extender is something you'd like to invest in.
With careful planning and attention to detail, you can create a tablescape that not only looks beautiful, but also serves its intended purpose. So take your time, be creative, and have fun designing your perfect tabletop!
Adapted from nellhills.com. Katie Laughridge is the owner of Kansas City interior design destination Nell Hill's. For more information, contact Katie at info@nellhills.com. Copyright 2023 Tribune Content Agency, LLC.